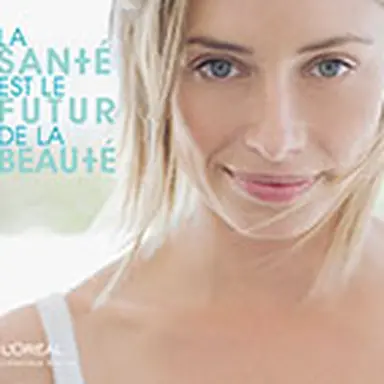 "Health Is The Future Of Beauty" is an exclusive study carried out by Ipsos for L'Oréal Active Cosmetics in five countries (USA, Germany, France, Brazil, China), among 5000 women, to understand the numerous connexions existing between health and beauty. The results of this global survey show that beauty today is becoming increasingly linked to health - a key insight which has led to a shift in consumer expectations towards future beauty products and services.
In each of the countries surveyed, 1000 women have been interviewed (samples representative of each national Population aged 16-75 for the US, France, Germany, Brazil, and 18-50 for China). In total, 5000 women have been interviewed from February 29th 2016 to March 7th 2016. The interviews were carried out online.
The social role of beauty
Beauty benefits more than our skin: not only it has consequences on the way women feel about themselves, but also how they perceive the world around them and interact with it. Beauty has long been known to boost self-confidence, a conviction that is widely shared by more than 75% of our respondents. While Chinese and Brazilians are more than 8 out of 10 to believe that taking care of their beauty builds up their confidence and self-esteem, women in France seem to give slightly less credit to the social role of beauty (67%), even compared to Germans (70%) and Americans (74%).
Furthermore, the study has proved that beauty can be a powerful social enhancer. Indeed, for almost 1 out of every 2 women in France, beauty contributes to improving their capacity to communicate with others (47%) and it acts as an incentive to go out more easily and meet new people (45%). These numbers, though quite significant, are even more impressive in China and Brazil. On a larger scale, 57% of women in all countries think that taking care of their beauty upgrades the way they communicate with others.
L'Oréal Cosmétique Active comments 'Thus, these figures dispel the notion that beauty is a futile obsession and highlight its social role and contribution to boosting overall wellbeing and confidence, affecting how we view others and how we look at ourselves'.
The healing power of beauty
As a consequence of this social function of beauty, women firmly believe that their daily beauty rituals have a positive impact on both their psychological and physical health conditions. 78% of French women highlight the fact that such rituals help to level up their mood, a number close to the global average of 83% of all respondents globally sharing the same belief. Regarding the physical impact of beauty routines, a clear majority of women world over declare that beauty improves their wellbeing (72%) and overall health condition (near 60%) – the former, also echoed by the French.
The study also concluded that around 25% to 27% of French women truly considered these beauty rituals to have an impact on their immune system, and their blood pressure and cardiovascular system. It might seem modest in comparison to Brazilians and Chinese (50% and 61% of them respectively see a positive influence on their immune system), but knowing that almost 1 in 4 women in France establish such strong connections between beauty and health is a forceful support to this new vision, one that puts forth the impact that beauty rituals can impress on all aspects of our life.
L'Oréal Cosmétique Active comments 'All in all, this belief, that beauty can lead to greater health and play a key role in living a vital life, is particularly visible in emerging markets like China and Brazil, followed by the US, Germany, and lastly, France, revealing how people are becoming more and more conscious of the all-round power of beauty, inside and out.'
Health and beauty, closely intertwined
As times continue to become more hectic for a lot of people, women actively seek for ways to improve their wellbeing and health. In all five countries, 64% of women claim that being in good health is their top priority in life. Among them, 64% of those questioned in Germany as well as France hold that conviction. Health also appears to be a top priority concern for a large portion of young women aged 16-24 years' old in France (53%) and Germany (64%), showing how young generations are becoming more and more invested in taking care of themselves, inside and out.
93% of respondents from all five countries agreeing that by taking care of your health, you can remain beautiful and fit for a longer time. 97% of women in China and 94% of those from Brazil especially agreed to this claim, followed by USA (92%), France (91%) and Germany (90%).
With a strong environmental awareness leading the way, skin protection now comes as the number one goal for 94% of French women when using skincare, before preservation (90%), treatment (57%) and transformation (19%).
L'Oréal Cosmétique Active comments 'A key takeaway, which reflects a radical shift in consumer expectations.'
A healthy and safe beauty
As consumers take more ownership of their health, pursuing more natural lifestyles, they also seek safer and more efficacious products. Consequently, their knowledge influences their beauty choices and explains why, among the routines to take care of, 24% of women across all countries pay close attention to ingredients and formulations. In France specifically, answers given by the respondents are in keeping with this general trend, with a strong 26% of French expressing their consideration for ingredients in beauty products (as compared to 30% in China and 18% in Germany).
At the same time, 65% of women are gravitating towards more natural and minimal formulations, versus scientifically advanced formulas. French and Germans lead this trend with 72% and 71% of them rather using natural products over the most advanced, innovative ones to take care of their skin. Around 2 in 3 American and Chinese women share this opinion whilst Brazilians women are probably the most keen on using advanced and innovative skincare (52% would choose products from that category over simple and natural ones).
L'Oréal Cosmétique Active comments 'This increasing demand for natural products is partly due to heightened concerns about harmful chemicals: for example, 14% of the respondents in France see chemicals as a beauty enemy.'
Health professionals step into the beauty sphere
Beauty today is a serious business and seeking specialist medical advice is becoming an integral part of a woman's routine, with 27% of them claiming to do so. Women in Brazil lead the way, with 44% visiting skincare experts or dermatologists for regular recommendations to maintain their skin health. Germans and French, for all that, are least dependent on professionals with a medical background to guide them, with only 12% and 17% of them considering this as a necessity.
As the choice in skincare products and services are increasingly being formed at the advice of professionals, consumers are reinstating the need for expertise in the creation of these products. As such, an average of 21% of women think it's key for manufacturers to collaborate with health professionals in developing and creating products. In France, 24% of women expect this kind of approach: this shows that even though French women do not heavily rely on health professionals' advice, they still value their input when it comes to guaranteeing the expertise and seriousness behind skincare products.
© 2017 - 2023 CosmeticOBS