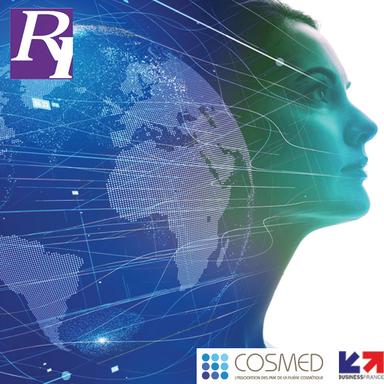 On March 22, 2019, COSMED organizes a day dedicated to international regulations of cosmetic products: The International Meeting. A day to master the international cosmetics news in 2019, which will take place in Paris.
This International Meeting is aimed at business leaders, creators, managers or executives regulatory affairs, R&D, marketers, responsible pharmacists.
To facilitate the participation of all professionals in this day, Cosmed also provides the possibility, for those who could not travel, to follow these Meetings live from an office. With #RICosmed, you can ask your questions directly to the experts.
On the agenda
Cosmed survey report: The risks of international controls and inspections
Catherine Apolinario, Cosmed Regulatory Affairs Officer, will present the results of the Cosmed survey conducted in 2018 among all companies in the sector identifying the main international inspection themes and the countries where controls are most active. Inspection reports, carried out by some local authorities (China, Turkey, USA…), will also be presented.
Export of cosmetics to China: the end of registrations?
The latest news regarding the registration of cosmetic products in China will be presented by Grace GAO & Lydia YANG - HengCheng Group. The simplification of this procedure as well as the modalities of marketing by e-commerce will be detailed, with a focus on the latest draft Regulation (CSAR).
China: Key figures and main players in e-commerce
François Victor NOIR, Export Business Manager - Business France Shanghai, will detail all the key points of e-commerce in China: main players, key figures, key products…
China : What marketing strategies for the Chinese market launch?
A marketing agency specialising in China will present the two strategies: traditional distribution channels (via distributors) and e-commerce. Claire VEROT - Sales Director France - Gentlemen Marketing Agency will review the profile of the Chinese consumer and present the opportunities to develop a brand in this growing market. A focus on social networks and influencers will be presented.
Exchanges and opportunities of e-commerce in Southeast Asia
This comprehensive presentation (marketing and regulatory), by Steve CESSE - Business Development Manager - Enterprise Singapore, on e-commerce in ASEAN, will detail the key figures, the main players by country, and compare the advantages of e-commerce compared to a traditional marketing procedure.
Brazil: Implementation of a "regulatory guillotine" to simplify administrative procedures. What impacts for cosmetics?
The simplification of registration procedures in Brazil, as well as the regulatory agenda and future projects will be presented by Renata AMARAL - ABIHPEC.
Brazil : Specificities Market and flagship products
Maria-Dulce OSINSKI, Head of Export Division, Business France Sao Paulo, will present the key points of the cosmetics market in Brazil.
Colombia : Specificities Market and flagship products. Focus on Peru
Jacqueline CHAUPART - Export Advisor, Business France Colombia Sofia MALBEC - Export Advisor, Business France Santiago de Chile Competence for Peru will conclude the day with a market presentation of the main CAN countries and a focus on Peru.
Andean Community: update on regulatory projects
Marcelo AGUILAR - Secretary General of the CAN will review the new texts published in November 2018 and present the latest changes on marketing procedures (registration, CVL…), GMP, and announce upcoming projects.
FP
© 2019- 2021 CosmeticOBS