Impossible to avoid it in 2021! It seems that if a sunscreen does not have the mention "Ocean Respect" or "Coral safe", it could not be able to be sold this summer! Brands are working hard to reduce the water footprint of their products. And between protecting our skin and respecting the marine environment, we don't choose anymore! But blue beauty doesn't stop at sunscreens. It is starting to be used in skincare and makeup…
A profusion of waves, seaweed, coral branches, various labels ranging from "tested in marine conditions" to "Ocean protect", including "Reef or coral friendly"… blue beauty (for those who don't know yet, it's the one that respects the oceans!) is in full swing this summer.
Logically, it is first of all sun products that benefit from it, which implies clean formulas that have demonstrated their absence of harmful impact on the aquatic environment, but also virtuous packaging.
The biodegradable formulas and the eco-tested and non-controversial sunscreens (no octinoxate, oxyenzone or octocrylene), target 100% of the solar spectrum (which includes UVB, short and long UVA but also blue light) The products are water resistant and remain on the skin's surface.
The packaging is also eco-designed and more durable: 100% recycled and recyclable aluminum or plastic bottles (Alphanova Sun certified organic High Protection Family Sun Spray Face and Body SPF 50, 150 ml, €23.90; Lait Haute Protection Eco-Conçu SPF 50 visage et corps Garnier Ambre Solaire, 200 ml, €11.90), tubes integrating cardboard, i.e. 45% less plastic (Anthelios Lait hydratant Ultra Protection Ultra Résistance SPF 50+ ou 30 La Roche-Posay, 250 ml, €18.20; Lait solaire éco-conçu SPF 50+ Visage et Corps Capital Soleil de Vichy, 200 ml, €23,60 or tube 75 ml, €14.10).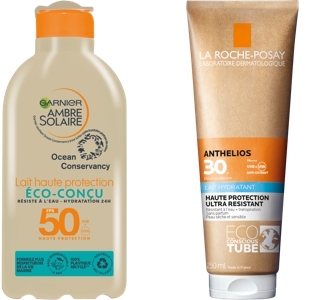 Finally, brands are forging partnerships to clean up beaches, regenerate marine ecosystems and preserve the oceans (Plastic Odyssey, Ocean Conservancy, Surfrider Foundation, Spéro Maré, Tara Ocean Foundation, Pur Projet, Coral Guardian…). Instead of reviewing all the sunglasses that claim to be blue beauty, it is more interesting to discuss the innovations of the most important players in this field, those who make the largest volumes. It is clear that the largest groups (L'Oréal, Pierre Fabre, Beiersdorf) have reacted quickly to adapt to new requirements.
One of the pioneers of blue beauty
Blue Beauty is at the heart of Biotherm's DNA, a fitting return since the brand with its 100% natural Plancton de Vie™ probiotic comes from aquatic and marine life. In 2020, the brand had obtained the rigorous Nordic Swan ecolabel for its Waterlover Sun Milk SPF30 and SPF50 sunscreens. It will be the first L'Oréal Group brand to benefit from Carbios' unique enzymatic bio-recycling technology, which allows plastic to be recycled infinitely (whereas with current techniques, most plastics can only be recycled two or three times). Carbios' transformational recycling technology uses naturally occurring enzymes to break down PET plastic into its constituent parts and produce a virgin, like-new quality of plastic. Carbios' process aims to keep the plastic in a circular loop, an excellent way to conserve resources. This is a major step in the evolution of the use of food-grade PET plastic and a world first in the beauty sector.
At the end of June 2021, Biotherm unveiled the bottle of the future with its first Waterlover sun milk made of 100% bio-recycled plastic (production start-up in 2025). This development will transform Biotherm from a brand with strong commitments (since 2012, its Water Lovers program has been working to raise public awareness of ocean preservation) to a fully sustainable brand.
For the time being, its new Waterlover SPF30 & SPF50+ Sun Protection and Moisturizing Milks for face and body (200 ml, €30 or 400 ml, €44) are packaged in mixed cardboard and plastic tubes. The 400 ml format is available in a 100% recycled and recyclable PCR plastic bottle.
As for the formulas, they are 94% biodegradable. The brand aims to reach 100% recycled PET by the end of 2021. By 2025, 100% of its plastic packaging will be reusable, recyclable or refillable (Carbios' bio-recycled plastic will be used on a large scale).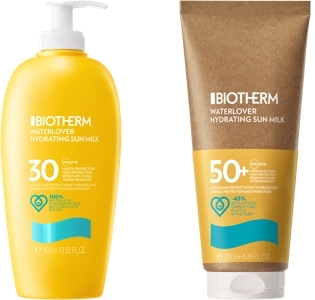 Safer sunscreens
For its part, Eau Thermale Avène displays "skin protect ocean respect" in its latest truly universal sunscreen (Intense Protect Ultra Water Resistant Fluid SFP 50+, babies, children, adults, face and body, 150 ml, €18.90), which incorporates a new ultra-broad-spectrum sunscreen (which includes visible high-energy blue light), derived from Pierre Fabre Research, TriAsorB™. The latter has been tested non-toxic on three key species of marine biodiversity: coral, phytoplankton and zooplankton.
This is also the case for the Sun Secure biodegradable protective suncare water SPF 50+ from the SVR Dermatological Laboratory (200 ml, €19.90), which has been shown to be non-toxic on algae and aquatic invertebrates.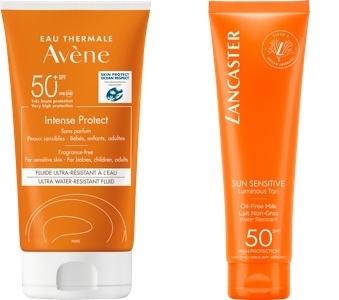 Let's also mention the new Sun Sensitive range from Lancaster with eco-designed packaging (Non-Greasy Milk SPF 50, 150 ml, €36.90; Water Resistant Milky Spray for Children Face and Body SPF50+, 150 ml, €36.90), dedicated to sensitive skin and children, one of the most sensorial (no doubt that this one will make you want to reapply it!) The clean & ocean friendly formulas contain non-water soluble sunscreens (no oxybenzone, octinoxate, octocrylene, homosalate and no nanoparticles). The delicious fragrance is free of labelable allergens.
Certified organic formulas that respect the sea bed
This is the case with Patyka's new suncare products (Certified Organic Sunscreen Body Spray SPF 50+ or 30, Adults & Children, 100 ml, €29.90; Certified Organic Sunscreen Face Cream SPF 50+ or 30, 40 ml, €29.90; After Sun Milk Gel, 150 ml, €29.90). Special mention for their nanoparticle-free composition, enriched with moisturizers (hyaluronic acid, organic Aloe Vera) and powerful antioxidants (pongamia extract obtained from karanja seeds and green micro-algae with high astaxanthin content). The eco-designed formulas are biodegradable and water resistant. The non-water soluble mineral filters (so not assimilated by living organisms) respect algae and corals.
We also note the Alga Maris range of Biarritz Laboratories (Sun Spray SPF50+ Face and Body certified organic, 100 ml, €21.90; Sun Cream Face tinted SPF 50 certified organic, 50 ml, €22.90) and Alphanova Sun, adhering to 1% for the coral and helps collect plastic waste from beaches and oceans (Sun Spray Monoï High Protection Face and Body Organic SPF 50, 125 ml, €19.90).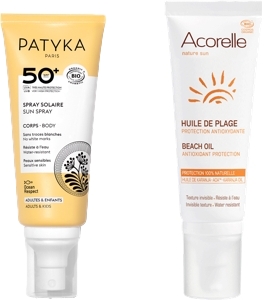 Acorelle is also committed to 1% for the Planet and supports the Surfrider Foundation Europe. The Agen-based brand offers an Organic Sun Spray (SPF 50, 100 ml, €22 or SPF 30, 100 ml, €20.50), whose mineral filter is coated with a hydrophobic material to remain on the surface of the skin as well as that of the water and thus preserve the health of corals. In addition, it incorporates an advanced anti-oxidant synergy selected for its optimal biodegradability (Api Oléo Actif™ composed of pollens and propolis, organic karanja oil, organic turmeric extract, raspberry seed oil…). Pollens and propolis, combined with Aloe Vera, Bisabolol and glycerin are found in the Refreshing After-Sun Gelée (biosourced plant plastic tube 150 ml, €13.75). Acorelle also offers one of the first suncare refills (Spray Solaire Enfants SPF 50, 150 ml, €21.75).
Oolution prefers plant filters (present in karanja, buriti, raspberry and coconut oils) which, according to the brand and tests conducted by an independent laboratory, "ensure a protection index higher than 20 for the oil and 30 for the Balm". Of course, as their creator, Anne-Marie Gabelica, acknowledges, "they are not sun products in the sense defined by cosmetic regulations because they contain plant ingredients not yet recognized by health authorities as sun filters. However, the molecules contained in our synergy of organic plants allow the absorption of solar radiation, just like the usual solar filters. It is the same way of working from a physical point of view but without the risks associated with conventional filters because these filtering molecules have been naturally synthesized by plants to protect their DNA from UV rays. We have selected, assembled and concentrated them in such a way that they constitute our 100% plant-based sun filter." It is true that the two products contain no less than 49 first cold-pressed vegetable oils! (Hello Sunshine Protective Body and Face Oil and No Ray Protective Body Balm, 100 ml, €45 each). Last detail: the packaging is returnable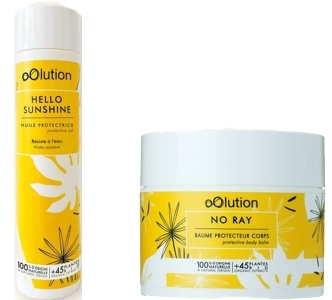 The first suncare products that preserve the skin's microbiome
We owe them to Nivea Sun and Korres. The first explains that "the ocean modifies the microbiota. Researchers have indeed analyzed the skin, without sunscreen, of different bathers immersed in the ocean for ten minutes. Their skin microbiota, originally different for all of them, tended to get closer… and to contain bacteria from the ocean! But don't panic, after 6 hours, the volunteers had found their original microbiota." In any case, in summer, between overexposure to the sun, sand, chlorine, seawater, and the use of sunscreens… the microbiome is put to the test. The new Protect & Hydrate formulas protect the skin and act in balance with its microbiome by ensuring that the invisible layer of natural bacteria on the skin is well preserved. When used on the skin, the formulas do not alter the number of bacterial cells present on the surface, thus maintaining the natural balance of the skin's microbiome. In addition, the moisturization provided for 48 hours also protects the protective barrier. The clean and minimalist formulas (57% less UV filters for the same guaranteed protection) "respect the Hawaiian law on the protection of corals and do not contain filters suspected of damaging the seabed (Octinoxate, Oxybenzone and Octocrylene)". Easily biodegradable, they are packaged in 95% recycled PET (Protect & Hydrate Spray SPF 50+, 200 ml, €11.90 or SPF 30, 200 ml, €11.50; Protect & Hydrate Milk SPF 30, 200 ml, €11.30).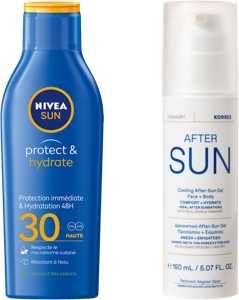 For its part, Korres has created a new suncare range with real edible yoghurt (overdosed with probiotics) and clary sage bio-ferment (Yoghurt Sun Cream-Gel SPF 30, 40 ml, €19; Yoghurt Sun Emulsion Spray Face & Body SPF50 or SPF 30, 150 ml, €23; Yoghurt Lip Stick SPF 20, 4.5 g, €6.40 ; Korres Yoghurt After-Sun Gel Face & Body, 150 ml, €19.90) The Greek brand is committed to reforesting the Mediterranean's underwater Posidonia forests by partnering with Archipelagos, the Institute for the Conservation of the Sea, to help protect the biodiversity of the Greek seas.
When the ocean inspires make-up and skincare
Blue beauty is also starting to take over makeup and skincare. In the first category is the new Sea de Tarte line (at Sephora) formulated with marine plants and algae, and decorated with starfish, corals or seahorses (Super Curl Volumizing Mascara, €25, Super Curl Waterproof Gel Liner, €22, Breezy Cream Blush or Breezy Cream Bronzer, €33, H20 Gloss, €23). The highlight of the line? The shell-shaped Be a Mermaid & Make Waves Eyeshadow Palette (€42, 14 shades). But the American brand founded by Maureen Kelly also offers "mermaid" serums (Mermaid Skin Hyaluronic H20 Serum, moisturizing serum, 30 ml, €46; Deep Sea Vegan Collagen Super Serum, 30 ml, €40), refreshing mists or gel-masks for lips (Jelly Glaze Anytime Lip mask, €16).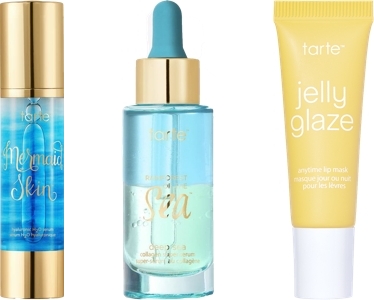 Still in the skincare category, we can also mention the two products from Ren Clean Skincare, which is very involved in the fight against plastic in the oceans. Its Energizing Body Cream with Atlantic Algae and Magnesium (200 ml, €32) and its Energizing Shower Gel (300 ml, €25) were made in part with plastic harvested from the oceans by TerraCycle. Even their springless pump can be fully recycled.
On the hygiene side, Love Beauty and Planet's Ocean Editions of the Wave of Hydration range with seaweed and eucalyptus are also packaged in plastic bottles harvested from the Asian coast and recyclable (Shower Gel, 400 ml, €4.99/€5.20; Moisturizing Shampoo and Conditioner, 400 ml, €6.99/€7.20 each).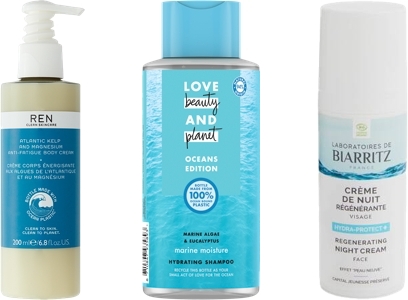 Finally, Biarritz Laboratories will launch the Hydra-Protect+ range, which intensely moisturizes for 24 hours, protects against daily aggressions (blue light, pollution, stress) and prevents skin aging (Repulpant Sérum Visage, 50 ml, €26.90; Moisturizing Face Fluid, 50 ml, €18.90; Moisturizing Face Cream, 50 ml, €19.90; Regenerating Night Cream, 50 ml, 24.90 €; Revitalizing Eye Contour, 15 ml, €16.90; Protective Hand Cream, 50 ml, €8.50; Nourishing Body Cream, 200 ml, €15.90). All certified organic skin care products are formulated with algae, such as Alga-Gorria® (a patented extract of red algae, a powerful antioxidant already present in the sun care range) or an amino acid derivative from a microorganism (Halomonas elongata) that lives in extreme conditions (high salinity sea, deep waters, arctic ice, hot springs…). The primary and secondary packaging are fully recyclable and the Basque brand has been part of the 1% for the Planet collective since 2020.
Ariane Le Febvre
© 2021 - 2022 CosmeticOBS