March 12, 2019
| 
SCCS
Acetylated Vetiver Oil: Final Opinion of the SCCS
pro
Add to my portfolio
pro subscription only feature
see our subscription plans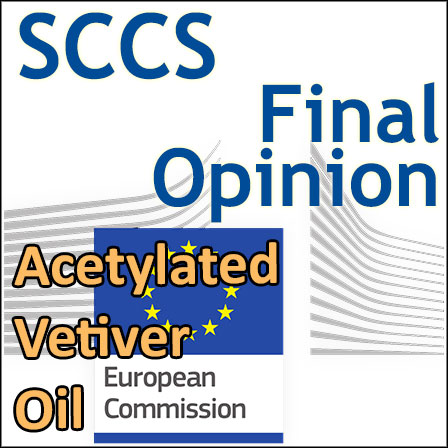 The SCCS has just published its final Opinion on the safety of Acetylated vetiver oil as a cosmetic fragrance ingredient. It has been adopted during its plenary meeting of 26 February 2019, and includes some modifications compared to the previous version.
Reading time : ~ 4 minutes
Background
The SCCS adopted its Opinion on the safety of Acetylated Vetiver Oil ((Vetiveria zizanioides root extract acetylated).
This Opinion has been subject to a commenting period of a minimum eight weeks after its initial publication (from 10 September until 14 November 2018). Comments received during this time were considered by the SCCS.
For this Opinion, comments received resulted in the following main changes: sections 3.3.1.1. - 3.3.2.1 - 3.3.6.2. (SCCS comment), 3.3.2.2. (SCCS conclusion), 3.3.10, and 3.4.1. Changes in the discussion part and in the SCCS conclusions have been made accordingly.
For further information
• See the article Acetylated Vetiver Oil, 1,2,4-THB: 2 Opinions of the SCCS of July 9, 2018
The new conclusion
in bold italic, parts modified
1. On the basis of currently available information, does the SCCS consider Acetylated Vetiver Oil (AVO) safe for use as fragrance ingredient in cosmetic leave-on and rinse-off type products in a concentration limit(s) according to the once set up by IFRA as reported above?
On the basis of the safety assessment carried out using a conservative approach, the SCCS considers the use of Acetylated Vetiver Oil (AVO) added with 1% alpha-tocopherol as a fragrance ...