April 13, 2015
| 
SCCS
MBBT [nano], β-Arbutin, Dichloromethane: 3 Opinions of the SCCS
pro
Add to my portfolio
pro subscription only feature
see our subscription plans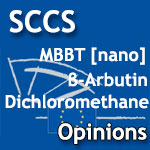 During its plenary meeting on March 25, 2015, the SCCS has adopted three Opinions on the nano-UV filter Methylene bis-benzotriazolyl tetramethylbutylphenol, on β-Arbutin, and on Dichloromethane. These Opinions are open for comments until May 22, 2015.
Reading time : ~ 12 minutes
Methylene bis-benzotriazolyl tetramethylbutylphenol [nano]
Background
Submission II on MBBT was submitted to the Scientific Committee on Consumer Safety (SCCS) in January 2013 to assess the safety of its nano form. The SCCS opinion concluded that:
"Since no appropriate data on genotoxicity of nano form of MBBT were provided, no conclusion on the safety of this substance can be drawn. However regarding systemic effects there seems no concern for the dermal application of nano-sized MBBT." (SCCS/1443/11)
In August 2014 BASF has transmitted a new safety dossier that summarizes analytical and toxicological results obtained for genotoxicity studies performed with nano and non-nano forms of MBBT.
For exhaustive background information, see the article
• SCCS: 3 requests for Opinion (January 7, 2015)
Opinion
1. In light of the new data provided, does the SCCS consider Methylene bis-benzotriazolyl tetramethylbutylphenol (CAS No.103597-45-1) safe when used in cosmetic products in its nano forms under the current use conditions up to a maximum of 10%?
The calculation for margin of safety in this Opinion is based on a 39-week dermal toxicity study in the mini-pig, as no repeated dose toxicity study with the nano-sized material is available in rats. Also, dermal penetration data are not available for mini-pig skin. The SCCS has based this Opinion on the ...