May 20, 2019
| 
SCCS
Zinc Pyrithione : request for the Opinion of SCCS
pro
Add to my portfolio
pro subscription only feature
see our subscription plans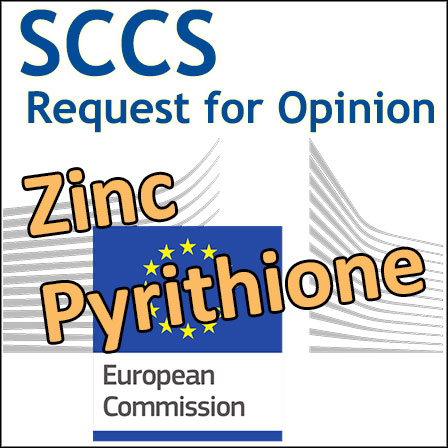 The safety of the cosmetic ingredient, preservative and anti-dandruff agent, Zinc Pyrithione, will be re-assessed by the SCCS. The request was published from the European Commission following the the proposal to classify the substance in CMR 1B. The Scientific Committee has until October 2019 to give its Opinion.
Reading time : ~ 5 minutes
Background
The cosmetic ingredient Zinc Pyrithione (ZPT) (CAS No.13463-41-7, EC No.236-671-3) with the chemical name Bis[(2-pyridyl-1-oxo)-thio]zinc is currently regulated as a preservative in rinse-off products (excluding oral hygiene products) in a concentration up to 0.5% in general and up to 1.0% in hair products (Annex V/8). Furthermore, ZPT is also allowed in a concentration up to 0.1% in leave-on hair products (Annex Ш/101).
Zinc Pyrithione has been subject to different safety evaluations by the SCC in 1984 (XI/389/84), SCCNFP in 2002 (SCCNFP/0671/03), and the SCCS in 2014 (SCCS/1512/13) and 2018 (SCCS/1593/2018). In particular, in the SCCS opinions from 2014 and 2018, Zinc Pyrithione was found safe as an antidandruff agent in rinse-off hair care products at a maximum concentration of 2.0%.
In October 2016 a CLH dossier was submitted by the Swedish Chemicals Agency ("KEMI") to ECHA to support the harmonised classification and labelling of ZPT as a CMR 1B.
On 14 September 2018, ECHA's Risk Assessment Committee (RAC) adopted an opinion proposing harmonised classification and labelling at EU level of ZPT as a CMR 1B substance under Regulation (EC) No.1272/20081.
According to Article 15(2) of the Cosmetics Regulation, "The use in cosmetic products of substances classified as CMR substances, of category 1A or 1B under Part 3 of Annex VI to Regulation (EC) No.1272/2008 shall be prohibited.
However, such substances may be used in cosmetic products by ...