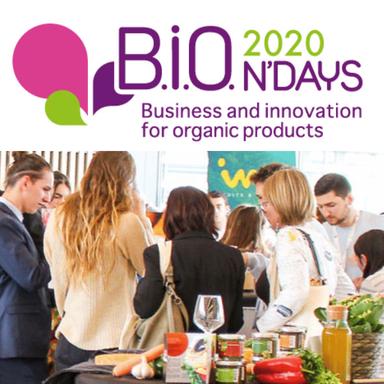 This event dedicated to organic products, organised by the Bio Auvergne-Rhône-Alpes Cluster and the Drôme Department, has become over the years the international business meeting to anticipate and exchange on the organic products of tomorrow. The 6th edition, which was to be held in Valence (France) on 25 and 26 March 2020, was first rescheduled to 8 and 9 July, following measures taken by the French government to limit the spread of the coronavirus, and then finally postponed to 9 and 10 June 2021.
For this 2020 edition, national and international experts will shed light on the sustainability of organic growth, in a context of increased development of supply and demand with the emergence of neo-consumers.
Organic consumption has the wind in its sails. The curiosity and appetite of the French for organic products are no longer to be demonstrated: in 2018, nearly 9 out of 10 French people (88%) declare having consumed organic products.
Even though organic consumption is now commonplace in France, 73% of the population has been consuming organic products for less than five years.
The challenge of this rapidly growing market is twofold: to develop the loyalty of new consumers while responding to the evolution of their expectations.
For two days, national and international experts will share their insights and experiences, allowing companies to gain insight into the future challenges of the organic market.
This convention will also be an opportunity to present the evolution of the prospective study conducted by the Organic Cluster, which aims to anticipate the organic markets of 2025, by developing a trend scenario since 2014 around different variables on consumption, distribution, public support and the evolution of purchasing power.
Conferences, Workshops, Round Tables
• What's the first assessment since the États Généraux de l'alimentation?
Florent Guhl, Director of the Agence BIO
• The organic market figures in 2019
IRI (Information Ressources Inc.) and François Labbaye, President BIO Développement
• Emerging trends in France and abroad: what impact on the new products and services developed?
Caroline Roux, Food & Drink Analyst at Mintel Global New Products Database (GNPD), a global market research specialist
• What language elements are recommended to talk about the AB label?
Florent Guhl, Director of the Agence BIO
Round table discussions led by pioneering actors
• Moving market: how to position yourself?
With the teams of Pierre-Antoine Morel, Organic Upstream Manager, Bledina, Gustoneo and the Dauphinoise Group
• Bulk, Vegan, Zero Pesticide Residue, Ecodesign…
With Sébastien Lévy, Director of Supply and Purchasing at Naturalia France, Célia Renneson, Director of the Bulk Network and Jean-Philippe Lefrançois, Managing Director of Alpina Savoie
• RSE, Fair Trade, Digital
Testimonies of Christophe Audouin, Managing Director Les Prés Rient Bio and Biopartner, organic fair trade association and label
Thematic workshops to build skills and practical tools
• How do you secure your supplies?
Vincent Laury, Consultant at SVP Concept
• Food outlook: the organic sector by 2025 and cosmetics outlook: the organic sector by 2025
by the Auvergne-Rhône-Alpes Bio Cluster teams
• How media relations and influencers bring added value to organic products?
ComRP agency
• CSR, how do you turn good intentions into action?
With the French Federation of Enterprises and Entrepreneurs (FEEF) and Synabio
Networging and Innovations
• Qualified BtoB meetings: companies, distributors, suppliers, experts, financiers…
• A convivial evening to strengthen networks
• The Tasting and Testing Tour: discover innovations, meet their creators, participate in the B.i.O.N'Days 2020 Innovation Award (among four categories)
FP
© 2020- 2021 CosmeticOBS