March 27, 2019
| 
ANSM
DPS Phenoxyethanol: a hostage taking of the industry by the ANSM?
pro
Add to my portfolio
pro subscription only feature
see our subscription plans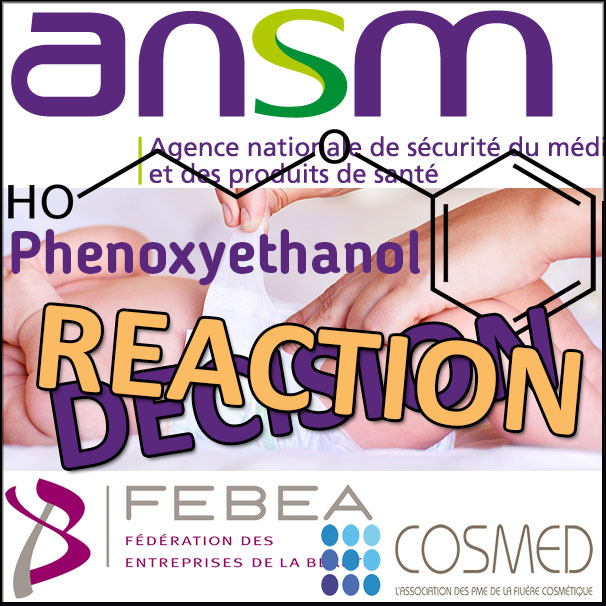 On March 20, 2019, the ANSM issued a DPS (Décision de Police Sanitaire - Health Police Decision) to require manufacturers of leave-on cosmetic products containing Phenoxyethanol to indicate on the label that they cannot be used on the buttocks of children under three years of age. This decision, which was given nine months to implement, caused concern and even indignation in the cosmetics industry, which considered it scientifically questionable, not compliant with the Cosmetics Regulation, inconsistent and unnecessary, in addition to being impossible to implement… The case will be brought before the European Commission and the French Council of State. Explanations.
Reading time : ~ 10 minutes
ANSM's doubts about the safety of phenoxyethanol are not new.
Already in 2012, after a Risk Assessment of the use of phenoxyethanol in cosmetic products, the Agency recommended that this preservative should not be used in cosmetic products for baby buttocks, and that its maximum level should be set at 0.4% for other products for children under three years of age.
Scientific bases discussed by the industry
Submitted to the European Commission, this assessment was submitted to the SCCS, which maintained that phenoxyethanol was safe at its current maximum concentration of 1% for all age groups.
"The ANSM evaluation was based on an oral toxicology study in rats," explains Anne Dux, Director of Scientific and Regulatory Affairs at the FEBEA. "The SCCS considered that this study was not relevant to assess the safety of phenoxyethanol in cosmetic use".
The European scientific experts therefore took into account the studies carried out on rabbits, the species most sensitive to the possible deleterious effect of phenoxyethanol (haemolysis), and took into consideration the dermal route (which represents the actual exposure via a cosmetic product).
They also considered, based on a "worst-case" scenario, that the minimum safety margin could be reduced from 100 to 25.
The ANSM challenged this conclusion with ...