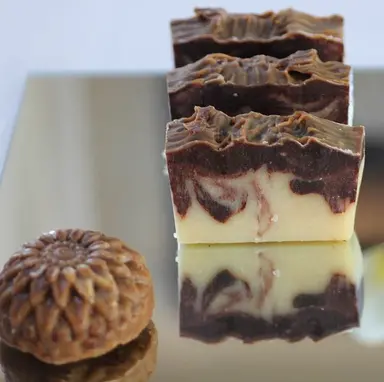 It is not rare to find beauty products in the form of food. A few manufacturers have adopted this credo: offering all sorts of cosmetics that almost perfectly mimic what you can usually find in your fridge. Soap in the form of cakes, cupcakes, or chocolate – often – seduce children and adults by their gourmet appearance. And yet, they represent a risk for health: they look like foodstuffs, so they may be ingested.
Although it is pleasant to fill the bathroom with off-beat, sweet skincare products, consumers should keep in mind that they represent a threat for health, especially that of little ones. They can easily be mistaken for food, so they may cause poisoning or suffocation if they are ingested.
What about regulations?
Given the actual hazard to which the consumer is exposed, a European Directive (87/357/EEC) was adopted by the Member States.
It is set out that this text applies to defined products which, since they do not look like what they actually are, jeopardize consumer safety or health, as well as to 'those which, although not foodstuffs, possess a form, odour, colour, appearance, packaging, labelling, volume, or size, such that it is likely that consumers, especially children, will confuse them with foodstuffs and in consequence place them in their mouths, or suck or ingest them, which might be dangerous and cause, for example, suffocation, poisoning, or the perforation or obstruction of the digestive tract.'
In addition, Article 2 of this Directive sets out that 'Member States shall take all the measures necessary to prohibit the marketing, import and either manufacture or export of the products referred to in this Directive.'
The Cosmetics Regulation is also very clear about this issue. It lays down that 'The presentation of a cosmetic product in particular its form, odour, colour, appearance, packaging, labelling, volume or size should not endanger health and safety of consumers due to confusion with foodstuffs, in accordance with Council Directive 87/357/EEC of 25 June 1987 on the approximations of the laws of the Member States concerning products which, appearing to be other than they are, endanger the health or safety of consumers.'
Cosmetic products that look like sweets are regularly nabbed through RAPEX (a rapid alert system for exchanging information on non-food dangerous products launched on the European level). Supervisory authorities often prohibit the selling of these products when they carry out inspections, but many of them still slip through the net. Well then, it is up to consumers to remain vigilant!
JS
© 2018 - 2022 CosmeticOBS