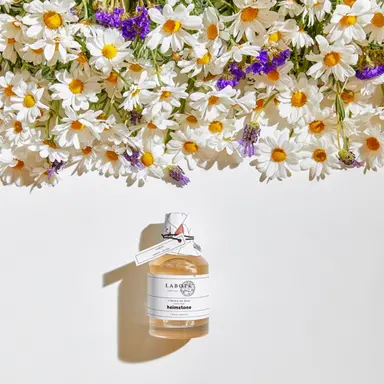 For the past two years, the cosmetics brand Laboté has been offering personalized, up-to-the-minute facial skincare products. Lucille Battail, founder of the brand, has just released her first body product: a nourishing oil enriched with a bouquet of essential oils.
Laboté's laboratory is located at number 11, rue Madame, in the 6th arrondissement of Paris.
Here, consumers are received by pharmacists, make a thorough skin diagnosis and leave with a treatment (day cream, night cream, serum, lotion or eye contour) done under their eyes in just a few minutes.
Lucile Battail, a pharmacist by training and a young entrepreneur, says she is delighted with "the welcome received by consumers. We started the adventure in 2017 and in some time we tripled our activity. The return rate is also very good, the customers are loyal to us."
It was by chance through a meeting with Alix Petit, creator of the Heimstone ready-to-wear brand, that Lucille Battail began to really mature the project to create a body product. "We are both experienced consumers of body oils and dissatisfied with the overwhelming supply on the market. So we decided to combine our talents, she for the packaging, I for the formulation in order to offer a product that suits us and all women."
"Another ordinary body oil," will say the most sceptical.
Well, no, Lucille Battail is full of surprises.
First of all, in terms of formulation, the young woman made sure that the product was as nutritious as possible.
"The oil is composed of 40% marula oil and vegetable squalane. Concentration is also important to ensure skin comfort," she explains. "But the originality of the oil is based on its concept. With Alix, we are passionate about essential oils and we are convinced of their pyscho-olfactive properties. We have identified three typical personalities to associate to each one a combination of essential oils to help the well-being. Clients, thanks to a moodboard, define their profile. They are then sent back to the most suitable Skin Oil."
Thus, Skin Oils are available in three versions for ambitious and determined, for hypersensitive and creative, for idealistic and introverted people
Woman filled with sweetness or with a more assertive profile, each consumer can find herself in the Skin Oil.
Laboté strongly recommends applying the product to the wrists, joining hands in a cathedral to cover the nose and inhaling deeply to benefit from all the properties of essential oils.
In addition to having moisturized skin, "emotions are rebalanced".
Who said cosmetics didn't do the soul any good?
JS
© 2019- 2022 CosmeticOBS