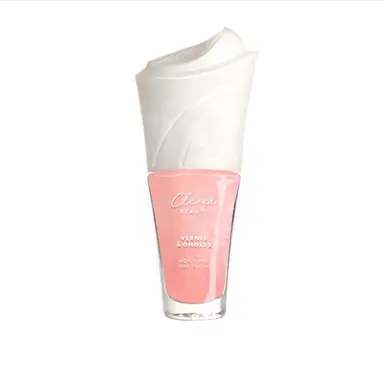 The varnish is at the top of the list of cosmetic products that we rarely manage to finish. There are several reasons for this phenomenon: too large capacities, a lack of time or rigour to apply it… or too short brushes that do not reach the bottom of the bottle. It is on this last point that Maëva Bentitallah, founder of Clever Beauty, worked to imagine a more clever packaging.
"It all started when I watched my mother transfer her varnishes from one bottle to another," says Maëva Bentitallah. "At first I thought it was very strange. She explained to me that most of the brushes were too short and that she could not use the end of her varnish. I decided to develop a solution so that she could take full advantage of her products. Thus avoiding these dangerous and unpleasant manipulations."
Formulation technician Maëva Bentitallah therefore chose the path of "clever cosmetics" as she likes to say, in November 2017.
"Creating a brand that allows you to finish your varnish was a real challenge. 68% of women never finish their bottles, which represents 211 tons of products thrown back into the wild each year in France. This is the equivalent of eight sea containers. It's an environmental problem."
A clever cap
To design a packaging worthy of the name, Maëva Bentitallah groped for almost eight months.
"Imagining packaging was complicated, because it's not my training. I pushed the doors of a FabLab in Aix en Provence which provides 3D printers," she says. "I learned to use 3D software. After 54 hours of watching tutorials on YouTube and more than 86 impressions, I finally managed to get a satisfactory result. This is a patented pushbutton system. With a simple click on the top of the cap, the brush will descend to the bottom of the bottle. We save 20% on varnish compared to traditional packs. The whole thing was made in France, in a short circuit."
To complete the process, the varnish cap is made of recycled and hollow plastic in order to use as little material as possible.
The brand offers 12 shades and a solvent whose pusher delivers the right amount of product. Clever Beauty is definitely part of an anti-waste and eco-responsible dynamic, more than in the spirit of the times!
JS
© 2019 - 2023 CosmeticOBS