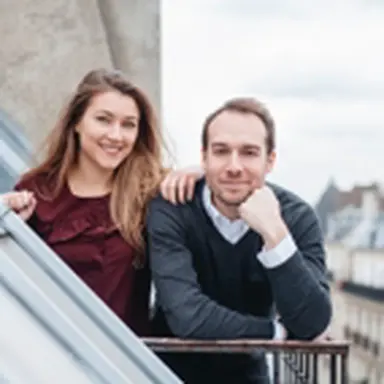 A manicure carried out by a professional on a Sunday night at home: what could me more pleasing? We owe this marvel to the Popmyday application, an interface through which you can book appointments with specialists, wherever and whenever you want. Who is behind this cosmeto-digital revolution? We met Morgane L'Hostis and Charles Berenguer.
Nothing could predict those two would go into the beauty business.
Morgane L'Hostis was 20 when she integrated the HEC business school. She had no real idea of what she wanted to do. She decided to go work in the Silicon Valley for her gap year. After two experiences with BNP Paribas and Airbnb, she realized the start-up microcosm was exactly what she was made for.
She came back to France for her second Master's year: she chose to study the entrepreneurial world.
Charles Berenguer considers himself a geek. Fond of innovation and new technologies, he completed a Master's degree in computer science, before also spending some time in the Silicon Valley. Same conclusion: he discovered a new world where everyone set up their own company. He did not need much time to also be seized with a frenzied urge to become an entrepreneur. He came back to France with the firm intention to start a business too.
He only lacked business expertise, so he decided to join the HEC entrepreneur Master's programme. In addition to learning about notions he did not have, he saw in this university experience a golden opportunity to meet an associate.
No doubt the gods of entrepreneurship heard his devout prayers: Morgane L'Hostis was in the same class.
They met and got closer during a practical case imposed by the school. Compelled to work as a team, they got to know each other and gradually realized they were on the same wavelength in terms of professional dynamics.
Charles Berenguer decided to talk to Morgane L'Hostis about a project on which he used to work (another mission fulfilled during his studies). He was convinced the beauty world was a booming sector, but that it was still waiting for a disruptive revolution.
'At that time, beauty tutorials were on a roll, so what I had in mind was to have makeup lessons given by experts live on Skype,' he reveals.
They started to work on the project together. The first results were not that convincing. But as the two of them were sensitive to the blooming uberization of all business sectors, they decided to turn to a home aesthetic treatment service.
Morgane L'Hostis tells how she realized 'how incompatible beauty salon opening hours were with active women's or mothers' timetables. Only one woman out of four goes to a beauty salon, which has nothing to do with their budgets, but with time.'
With a heavy heart, the duo decided to concentrate their efforts on their beauty uber project and forget all about the idea of Skype lessons.
They quickly found a name for their concept: Popmyday. To them, this identity rhymes with fun, pleasure, a sort of breath of fresh air in the sometimes too formal beauty world.
They did not waste time and tested their idea at their school's graduation ceremony, without even having a digital platform ready. They recruited a hairdresser in the Yellow Pages and offered their HEC friends their services.
The Pop My Graduation event was really successful and confirmed their idea was a good one: they should develop Popmyday as soon as possible.
As regards the technical aspect, Charles Berenguer was the one that gave shape to the application. But it proved much harder to cast beauticians. Morgane L'Hostis recalls how she 'contacted so many people by phone, without any platform to present, and asked them to provide a service for free. Many of them refused.'
So, they adopted a different method and started posting ads. This time, they went from being salesmen to recruiters: the situation changed.
They quickly recruited more and more people and managed to create a team tested beforehand by Morgane herself.
The application was eventually finalized in September 2015. At first, nothing happened, but thanks to the press support, the first customers started to come. 'The media took interest in us due to the innovative dimension of our concept,' Charles Berenguer analyzes.
The success of Pop My Day helped them get substantial financing in 2016 – an opportunity for the duo to work twice as hard.
Customer experience
In practice, the application makes it possible for users to book a treatment, a manicure, or a massage wherever they want, whenever they want to.
They can rank their favourite practitioners or those they no longer want to see.
Morgane L'Hostis and Charles Berenguer banked the success of their start-up on their ability to meet their customers' needs. The customer service is available every day, from 7am to 11pm, ready to answer the least tiny question. 'We never let a customer down. If their manicure chips after four days, we send them another beautician for free. If an appointment is cancelled at the last minute, we are willing to pay for the service they wanted in a beauty salon close to their homes. It has not occurred much, but our credo is to help every user from the very beginning till the end,' the co-founder explains.
Popartists
To guarantee service quality, the Popmyday creators developed a strict recruitment process. With their best beauticians and hairdressers, they set up specifications to comply with to be recruited. However, training sessions are offered to promising profiles lacking a bit of technique.
All Popartists are freelancers and free to accept a mission or not. They are not accountable to them. 'We must absolutely preserve our workers' trust. They are independent, and that is also why they are so happy: they managed to get rid of the traditional work framework. We take care of our people. We do not plan to act as tyrants,' Charles Berenguer says ironically.
Pop My Work
The Popmyday activity got diversified a while ago. The start-up now offers wellness events for companies.
Major players like Vente Privée and Guerlain were seduced by the services provided. 'From express manicure to yoga sessions or massage workshops, we can offer a diversified catalogue and deploy qualified professionals,' Morgane L'Hostis explains.
The company is regularly contacted to help brands generate more traffic in their stores, by offering thematic animations. Charles Berenguer explains that 'with the boom of e-commerce, customers tend to neglect stores, so we need to rethink the whole store experience concept. We have helped brands boost their traffic thanks to our operations with a positive impact on the turnover.'
When can we expect a Popmyday salon with an eponymous cosmetics brand? Morgane L'Hostis smiles, revealing it is a project they have in the long run.
Right now, for them, the idea is to seduce an increasing number of customers and invite themselves in their flats!
© CosmeticOBS-L'Observatoire des Cosmétiques
© 2018- 2022 CosmeticOBS