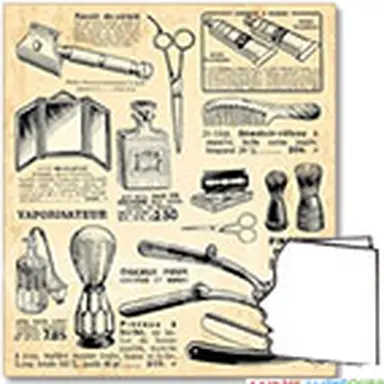 After very simple and very common products to prepare for shaving, the industry has focused on formulating more specific products to accompany shaving procedures. These products are particularly oriented towards what is called dry shaving, and more specifically in the case of electric shaving. These products come in many forms: lotions, creams or emulsions, powders, sticks, etc.
The pre-shave
The first function of shaving preparations is to prepare the beard and skin for the shaving operation. It is therefore a question of softening the hair and lubricating the skin just as with soap, but with different substances.
The most common version is the liquid form called pre-shave lotions. Two formulation principles are necessary: - on an aqueous basis, with alkaline detergents to"soften" the hair, - but more generally on an oily basis, a mixture of lubricating gars bodies, even powders.
More specifically, pre-shave lotions for electric shaving must develop an additional action that is to act on skin hydration, so as to promote shaving. This function is usually obtained by using relatively high percentage alcohol. The preparations are supplemented with a series of lubricating substances to allow the razor to slide easily on the skin.
A very simple formula is given here as an example (Saul A.BELL - Cosmetics Science and Technology - 1957 - 442): - Isopropyl Myristate : 20 - Ethyl alcohol SDA : 80 - Perfume Oil : qs
Examples of formulations incorporating this principle of alcoholic solution of lubricating fatty substances are widely available.
Another form of pre-shave type products is represented by talc-based products. This material of natural origin based on complex aluminosilicates is classically recognized for its lubricating properties. Scented discreetly, these products were for a very long time a reference as preparation for shaving. It still exists in some ranges.
Another form is based on the idea of presenting something identical in the form of a stick. The operation consists in compacting a base with a high concentration of talc in the form of a stick and to present the whole in a case. Another form is the"stick cream" obtained by gelling a solution of polyols and presented in sticks. These products are not to be confused with the beard soap presented in the form of stick. Inspired by old products, a recent product, largely based on current formulation concepts, is presented in the following example.
An original device combining an electric razor and an additive lotion to facilitate shaving will be retained. The Philips CoolSkin Nivea range stands out from other electric shavers by offering a moisturizing system for a refreshing and gentle shave. It is equipped with a Nivea refill that acts as a shaving gel diffuser, incorporating Natural Microtec technology. The cream which is spread under the passage of the razor protects the skin of the face against irritations.
Shaving fluid (or non-foaming shaving gel) appeared around 2006 and is a recent generation of shaving products. Formulated mainly with partially water-soluble polyols and plant essential oils, it combines various advantages of the shaving products developed up to now (skin hydration or easier blade rinsing) and seeks to make the use of an aftershave superfluous. Transparent like oil, the fluid would allow a more precise shave. The microscopic and slippery film, formed by the mixture of water and fluid on the skin, lubricates the blade, reducing the risk of cuts and irritation. During shaving, the fluid film can be regenerated by simply massaging the skin with damp hands.
Formula AQUA/WATER, GLYCERIN, ALCOHOL DENAT., PPG-1-PEG-9 LAURYL GLYCOL ETHER, HYDROXYETHYL ACRYLATE/SODIUM ACRYLOYLDIMETHYL TAURATE COPOLYMER, PERFUME/FRAGRANCE, PEG-12 DIMETHICONE, CI 19140/YELLOW 5, CI 42090/BLUE 1, PHENOXYETHANOL, LIMONENE, MENTHOL.
The aftershave.
Shaving can have many side effects, such as cuts, scrapes, irritations, or sores. burns . Contrary to popular belief, hair does not grow back any thicker after shaving. These various questions have given rise to so-called"after shave" products. The ones that appeared the fastest were haemostatic products to control or even eliminate bleeding quickly in the event of a cut. Presented for a long time in the form of sticks, they were then completed by a product in the form of lotion. The most popular will definitely be after shave lotion. There are many varieties of aftershave with or without alcohol and balms. These products have gradually been supplemented by more confidential products.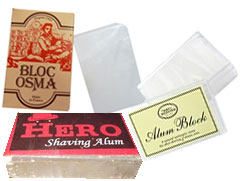 The cuts and the alum stone
Cuts due to shaving cause bleeding that can last a few minutes. The application of a small piece of toilet paper, cigarette paper or paper towel, is enough to contain the bleeding. But it is preferable to use a haemostatic product that stops the bleeding very quickly. Styptic stick or styptic pencil" is a natural mineral stone preparation of the chemical formula KAl(S04)2 12(H2O), known as alum. It can be artificially synthesized, but it is recommended to use a natural alum stone. It usually comes in the form of a piece, called alum stone. Or a stick that is applied directly on wet skin, the famous alum stick.
Other forms existed like powder, or, closer to us, roll on systems. The idea always remains the same, to have a product with a strong astringent effect to stop the blood flow.
Moreover, alum is antibacterial which usefully completes the whole.
Classic products also include talc powders, called Talc Powder. It is not a matter of preparing the skin for shaving, but rather of combating shaving irritation and delivering a discreet coverage effect to matify the face and give it more of a finish.
According to René Cerbelaud, these creams are intended to calm razor burn, prevent itching, efflorescence of the epidermis and erythema in people with a hard beard, thin skin or who are exposed to the open air and"air shock" (see Formulaire de Parfumerie Tome II René Cerbelaud - 1951 - page 210). We find the idea of the use of astringent substances such as witch hazel water.
- Wheat starch: 100 - Witch hazel distilled water: 100 - Glycerin neutral : 1100 - Zinc carbonate: 50 - Eau de Cologne fine : 50 - Crystallized menthol : 2
This type of product became more confidential, but was reborn in certain ranges under the same idea of astringent cream.
An aftershave lotion (or after shave is a type of lotion used by men to preserve their skin after shaving. The use of such lotions intended for after-shave would go back to Ancient Rome.
Among the first aftershave lotions, it was common to find mouthwashes such as mouthwashes. Indeed, one of the problems (stopping microbleeds) is the same. Thus it is reported that Aqua Velva was sold as a mouthwash for men in the 1920s and that from 1935 it was used as an aftershave lotion. But we do not know if the formula was identical to the one we know now (see box below). Another famous mouthwash was also used as an after shave lotion: Listerine .
Aqua Velva was introduced in 1929 as a mouthwash/hair tonic/aftershave, and a couple of years later it was marketed strictly as an aftershave. The original formula was a brownish/amber colored liquid and from what I can tell, it smells almost exactly like the Ice Blue we have today, give or take a couple of off notes. Williams got the contract to supply the US government with Aqua Velva during WWII where it found its way into most soldiers Dopp kits. Because it was the only form of alcohol readily available to most of the boys in the trenches, it was pretty popular as a spirit. To discourage this behavior, Uncle Sam pressured Williams into mixing the formula into something a little less desirable as a drink, so Williams added a bittering agent and changed the color to something similar to the Blue we have now. Rumors that the new batch was poisonous were spread in order to discourage drinking by our armed forces. In the mid 50's Williams tired of manufacturing two different blends of AV- one for civilians and one for soldiers- so it was decided that they would trim their production to the "blue" AV. Instead of explaining this to the consumers of the day, (cue Don Draper) it was decided that a new ad campaign triumphing the Ice Blue as a new product would make more sense. So, in'55 or'56 the Ice Blue was in and the Brown was out. Soon AV was available in all types of different flavors, including Sport and Musk which are still manufactured today.
It's stayed pretty remarkably true to its roots for the most part. In the late eighties, amid slagging sales, Williams decided to stop making the original formula Ice Blue and to try marketing their Euro blend (which was cheaper to make) and it damn near put them into bankruptcy. The Original came back with a warm welcome.
Not much to add, except for that embarrassing lapse in judgment earlier this year where they were considering putting Aqua Velva in plastic bottles, until we here at B&B flooded their offices with complaints and hate mail. I think that's a moment in AV history that Williams/Combe would rather forget, though.
http://badgerandblade.com/vb/showthread.php/103937-Aqua-Velva-History
After shave lotions became popular in the form that we now know around the 1950s.
They are a very large market now. Several hundred thousand units are sold annually.
These are typically hydroalcoholic solutions that may contain an antiseptic agent, which helps prevent infections due to small bills, although the effect of alcohol is usually sufficient. The alcohol content varies between 40 and 60% Vol. and may also contain a healing agent to help repair microlesions caused by shaving. One of the substances classically used is allantoin whose epitheliogenic (healing) virtues are well known. Other substances may also be used for this purpose. It is also often customary to use astringent salts such as aluminium salts. Potassium alum can be used, but more generally, complex aluminum salts will be used. Specific plant astringent extracts such as witch hazel extracts are also often used. The level of fragrance is significant, 1 to 3%, without reaching the usual dosage of eau de toilette or other alcoholic perfumes. It is also classic to use so-called"cooling agents" in these preparations. Menthol is the most classic, but substances derived from menthyl such as menthyl lactate are possible. From more sophisticated substances targeting neurosensory receptors to capture the cold effect have also been developed. Identified as FEMA for Flavor and Extract Manufacturers Association of the United States they are often p-menthane carboxamide derivatives. These substances generally have a more pronounced persistence effect. That's what we're classically looking for. After-shave lotions containing alcohol can cause a fleeting sensation of irritation. For this reason, the market offers aftershave ranges with or without alcohol. However, these specialties are a tiny part of aftershave lotions. Among the famous products from the 60s to the 90s, let us quote Mennen, Old Spice, Brut de Fabergé, Gilette, Yardley…
Products of this type remain very present on the market. It would be long and tedious to list them. They are always formulated on the same principles as their glorious ancestors.
Formula of one of the leading products AQUA/WATER, ALCOHOL DENAT. (53%vol), PROPYLENE GLYCOL, PEG40 HYDROGENATED CASTOR OIL, PEG60 HYDROGENATED CASOR OIL, ALLANTOIN, LINALOL, GERANIOL, COUMARIN, LIMONENE, HYDROLYZED GLYCOAMINOGLYCANE, CITRAL, CITRONELLOL, DIETHYLAMINO HYDROXYBENZOYL, HEXYL BENZOATE, MENTHOL, ETHYLHEXYL METHOXYCINNAMATE, BENZYL BENZOATE, PERFUME/FRAGANCE, BHT, CI15985, CI42090, CI47005,
Formula 2015 ALCOHOL DENAT., AQUA (WATER), HAMAMELIS VIRGINIANA (WITCH HAZEL) WATER, PERFUME (FRAGRANCE), GLYCERIN, ALCOHOL, LIMONENE, LINALOOL, HEXYL CINNAMAL, MENTHOL, GERANIOL, HYDROXYCITRONELLAL, CITRONELLOL, CITRAL, FARNESOL, EVERNIA PRUNASTRI (OAKMOSS) EXTRACT
After shave balm or after shave emulsion
Regularly presented in the form of a light emulsion, not or little alcoholized, or in the form of gels, these products are of more recent generations (1990). They allow to propose at the same time a calming and softening effect after shaving, a more cosmetic promise like a moisturizing effect for example.
From the point of view of formulation, they are either gels based on acrylic polymers (e.g. Carbopol®) slightly oily, or so-called"light" emulsions, with no, little or very light alcohol content. Moisturizing agents such as glycerin or humectants such as glycols are often present. Substances with healing properties generally complete the formulation.
Formulas 2015 - Large distribution AQUA, ALCOHOL, GLYCERINE, DISTARCH PHOSPHATE, ETHYLHEXYL COCOATE, PERFUME, ALOE BARBADENSIS LEAF JUICE, PANTHENOL, TOCOPHERYL ACETATE, DIMETHICONE, TRICETEARETH-4 PHOSPHATE, SODIUM CARBOMER, LIMONENE, LINALOOL - Selective Retailing AQUA, GLYCERINE,ISONONYL ISONONANOATE, CETEARYL ALCOHOL, ISOSTEARYL NEOPENTANOATE, OCTYLDODECYL MYRISTATE, HYDROGENATED POLYISOBUTENE, DIMETHICONE, PENTYLENE GLYCOL, JOJOBA ESTERS, HDI/TRIMETHYLOL HEXYLLACTONE CROSSPOLYMER, CETEARYL GLUCOSIDE, GLYCERYL SEARATE, PEG100 STEARATE, ZINGIBER OFFICINALE ROOT EXTRACT, CAMELLIA JAPONICA FLOWER EXTRACT, BUTYROSPERMIUM PARKII (SHEA) BUTTER, CAMELLIA KISSI SEED OIL, OLUS(VEGETABLE OIL), BUTYLENE GLYCOL, PERFUME, CHLORPHENESIN, CAPRYLYL GLYCOL, XANTHAN GUM, SODIUM ACRYLATES/C10-30 ALKYL ACRYLATE CROSSPOLYMER, PHENOXYETHANOL, SODIUM CARBOMER, CAMELINA SATIVA SEED OIL, PROPYLLE GLYCOL, SODIUM HYALURONATE, TETRASODIUM EDTA, SILICA, PEG12, TOCOPHEROL, CITRAC ACID
Some say that Cleopatra herself shaved her face to stay young and beautiful. Others say that sex symbols Marilyn Monroe and Elizabeth Taylor were also involved. Actually, shaving, dermaplaning" is practiced This consists of"exfoliating" the skin. By shaving your face, you remove small dead skin. According to Dr. Michael Prager, a plastic surgeon, the benefits are real. " From the point of view of anti-aging, shaving has an effect. It is a form of microdermabrasion, so it stimulates collagen production, which reduces wrinkles. Even if it traumatizes the skin, collagen stimulation participates in cell renewal. ". Another convinced medical authority is dermatologist Neal Schultz, who officiates in London. " The majority of men shave their faces - and by the same token exfoliate three-quarters of their faces regularly for years. That is why their skin is more beautiful at thirty and forty than that of women. ."
Contribution made by Jean Claude Le Joliff A biologist by training, Jean Claude Le Joliff was an R&D man for many years. Successively in charge of R&D, then of Research and Innovation in a large French cosmetics and luxury group, and after an experience in creating a research centre (CERIES), he turned to innovation management. He has also been an Associate Professor at the University of Versailles Saint Quentin (UVSQ) and remains a lecturer in several specialized courses: ISIPCA, IPIL, ITECH, UBS, UCO, SFC etc. He is the founder of inn2c, an R&D and Innovation consulting company. Consultant for several international companies, he has actively participated in projects such as Filorga, Aïny, Fareva, and many others. He created the Cosmétothèque®, the industry's first conservatory of crafts and know-how.
Cosmétothèque® - All rights reserved
© 2018 - 2023 CosmeticOBS