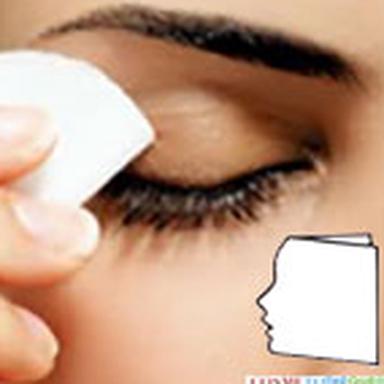 The cleansing of the eye contour area is often approached through specific products, taking into account both the particularity of this area characterized by increased sensitivity, and that of the products, particularly those resistant to water.
There are general products that often come in the form of"cleansing milks" or lotions.
Emulsions or"Eye Cleansing Milks"
These are fine emulsions, more or less liquid, formulated around the notion of conventional make-up removers in which the mode of action is essentially the dissolution or dilution of make-up. This dissolution is obtained by the use of fluid hydrocarbons (petroleum jelly or paraffin oil, or fluid isoparraffins) in limited proportions to avoid the formation of a greasy veil during use. These oils are optionally supplemented, or even substituted, by fatty acid esters with good solvent properties: isopropilic esters or alkyl benzoates. These formulas are often added with a surfactant or mild detergent to complete the solvent action by wetting. Finally, the pH is adjusted to the neutrality to respect that of the tear fluid.
Examples of formulations
The formula examples are taken from the database Cosmetikwatch
- AQUA - ISOPROPYL PALMITATE - PARAFFINUM LIQUIDUM - GLYCERIN - BUTYROSPERMUM PARKII BUTTER - METHYLPROPANEDIOL - CETYL ALCOHOL - VITIS VINIFERA SEED OIL -PANTHENOL - GLYCERYL GLUCOSIDE - SODIUM PALMITATE - GLYCERYL STEARATE - SODIUM STEARATE - SODIUM CARBOMER -SODIUM MYRISTATE - SODIUM ARACHIDATE -SODIUM OLEATE- ETHYLHEXYLGLYCERIN -PHENOXYETHANOL.
- AQUA/WATER - GLYCERIN - ISOPROPYL PALMITATE - PARAFFINUM LIQUIDUM/MINERAL OIL - ACRYLATES/C10-30 ALKYL ACRYLATE CROSSPOLYMER - CAPRYLOYL SALICYLIC ACID - CARBOMER - CI 14700/RED 4 - DISODIUM COCOAMPHODIACETATE - DISODIUM EDTA - LINALOOL -MAGNESIUM LAURETH SULFATE - MAGNESIUM LAURETH-8- SULFATE MAGNESIUM - OLETH SULFATE -MORINGA PTERYGOSPERMA SEED EXTRACT -MYRTRIMONIUM BROMIDE - PHENOXYETHANOL -PRUNUS YEDOENSIS LEAF EXTRACT - SODIUM HYDROXIDE -SODIUM LAURETH SULFATE -SODIUM LAURETH-8 SULFATE - SODIUM OLETH SULFATE - PERFUM/FRAGRANCE
- AQUA - PARAFFINUM LIQUIDUM - BUTYLENE GLYCOL - ISOHEXADECANE - ISOPROPYL PALMITATE - GLYCERYL STEARATE - CETEARETH-20 - CETEARETH-12 - CETEARYL ALCOHOL - CETYL PALMITATE - MALTODEXTRIN - CENTAUREA CYANUS FLOWER EXTRACT - GOSSYPIUM HERBACEUM (COTTON) SEED EXTRACT - VITIS VINIFERA (GRAPE) LEAF EXTRACT - POTASSIUM SORBATE - SODIUM BENZOATE - POLYAMINOPROPYL BIGUANIDE - PANTHENOL - PROPYLENE GLYCOL - SORBIC ACID - PARFUM - DEHYDROACETIC ACID - CHLORPHENESIN - TETRASODIUM EDTA - CITRIC ACID
Lotions
Eye contour make-up remover lotions, including non-waterproof mascaras, are formulated on the basis of aqueous surfactant solutions generally chosen from the so-called"mild" detergent class, whose pH is adjusted to that of the neutral lacrimal liquid, and whose isotonicity to tears is reached by the use of sodium chloride. Classically, there are two types of formulation, classic lotions and micellar lotions (term describing diluted aqueous solutions of surfactants in which the latter spontaneously form micelles).
- AQUA - GLYCERIN - POLYGLYCERYL-10 LAURATE - SODIUM COCOYL GLUTAMATE - HAZEL SEED OIL - POLYGLYCERYL-6 ESTERS - ALOE BARBADENSIS LEAF EXTRACT - SODIUM CHLORIDE - HYDROLYZED ALGIN - ZINC SULFATE - PLANKTON EXTRACT - PHENETHYL ALCOHOL - PHYTIC ACID - BENZYL ALCOHOL - SODIUM BENZOATE - CITRIC ACID - PARFUM
AQUA (WATER) - PEG-6 CAPRYLIC/CAPRIC GLYCERIDES - ETHYLHEXYLGLYCERIN - BUTYLENE GLYCOL - GLYCERIN - CHLORHEXIDINE DIGLUCONATE - SODIUM CHLORIDE - DISODIUM EDTA - PERFUME (FRAGRANCE) - BRASSICA NAPUS EXTRACT - LINALOOL - GERANIOL -CITRONELLOL
Waterproof make-up remover
The use of highly hydrophobic mascara, called waterproof, has led for many years to the marketing of special make-up removers associated with these formulas. Initially, they are oily solutions, mainly based on petroleum jelly or paraffin oils, supplemented by fatty acid esters that are not oily enough to reduce the greasy sensation when used. The use of low molecular weight isoparrafins (isodecane) or volatile silicones may also be noted.
- ISODODECANE - ISONONYL ISONONANOATE - HYDROGENATED STYRENE/ISOPRENE COPOLYMER - CARTHAMUS TINCTORIUS (SAFFLOWER) SEED OIL - ALOE BARBADENSIS LEAF EXTRACT - PENTAERYTHRITYL TETRA-DI-T-BUTYL HYDROXYHYDROCINNAMATE
- MINERAL OIL (PARAFFINUM LIQUIDUM) - PEG-8 GLYCERYL - ISOSTEARATE CETYL ETHYLHEXANOATE - ISODECANE - WATER (AQUA) - ISOSTEARIC ACID - GLYCERIN - SD ALCOHOL 40-B (ALCOHOL DENAT.) - FRAGRANCE (PARFUM) - VITIS VINIFERA (GRAPE) SEED OIL - BHT - TOCOPHEROL
Two-phase make-up removers
In recent years, the industry has developed a new type of product in this segment, characterised by the coexistence of two phases. These products are called two-phase make-up removers. The organic phase consists of a mixture of oils as described above, while the aqueous phase consists either of water, physiological serum (isotonic with tear fluid) or floral waters (often blue or pink).
The emphasis is on ease of mixing, but also on the fact that the emulsion must be quick and, conversely, perfectly reversible and very clean. The quality of the interface is one of the difficulties linked to the formulation of these products which are much more complicated to conceive than the simple water/oil mixture, which is the paradox of these formulations.
- AQUA/WATER - ISODODECANE - ISOPROPYL PALMITATE - UNDECANE - ARGININE - CI 60725/VIOLET 2 - CITRIC ACID - DIPOTASSIUM PHOSPHATE - DISODIUM EDTA - HEXYLENE GLYCOL - OCTYLDODECANOL - OCTYLDODECYL XYLOSIDE - POLYAMINOPROPYL BIGUANIDE -POTASSIUM PHOSPHATE - SODIUM CHLORIDE - TRIDECANE
- AQUA/WATER - DIMETHICONE - ISODODECANE - METHYLPROPANEDIOL - HEXYL LAURATE - C12-15 ALKYL BENZOATE - BENZYL ALCOHOL - SALICYLIC ACID - PHENETHYL ALCOHOL- POTASSIUM HYDROXIDE - CAPRYLYL/CAPRYL GLUCOSIDE - POTASSIUM SORBATE - CI 61565
Pads and wipes
A fairly popular class of make-up remover, these products are made by impregnating textile supports, woven or not (cotton for example but not exclusively), either with oily formulations comparable to waterproof make-up remover, or with micellar lotions, or in some cases with very fluid emulsions with a composition comparable to traditional make-up remover.
Other types of formulation also exist, but only represent more anecdotal cases, the principles implemented (dissolution and wetting) remaining the same.
Contribution made by Jean Claude Le Joliff A biologist by training, Jean Claude Le Joliff has been a man of R&D for many years. Successively in charge of R&D, then of Research and Innovation in a large French cosmetics and luxury group, and after an experience of setting up a research centre (CERIES), he turned to innovation management. He has also been an Associate Professor at the University of Versailles Saint Quentin (UVSQ) and remains in charge of several specialized courses: ISIPCA, IPIL, ITECH, UBS, UCO, SFC, etc. Consultant for several international companies, he has actively participated in projects such as Filorga, Aïny, Fareva, and many others. He created the Cosmétothèque®, the industry's first conservatory of crafts and know-how.
Cosmétothèque® - All rights reserved
© 2015- 2021 CosmeticOBS