Aug. 27, 2018
| 
SCCS
Phenylene Bis-Diphenyltriazine, QRA2: Final Opinions of SCCS
pro
Add to my portfolio
pro subscription only feature
see our subscription plans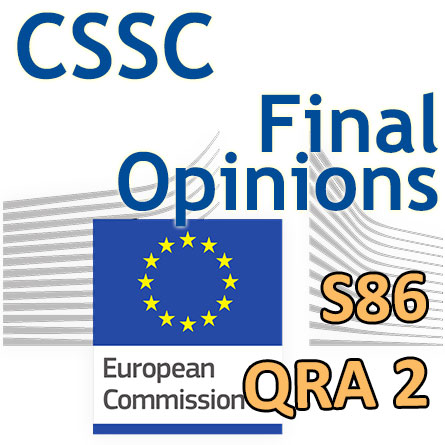 The SCCS has just published its final Opinions on the safety of UV-filter Phenylene Bis-Diphenyltriazine (S86) on one hand, and on the model for dermal sensitisation by a fragrance ingredient quantitative risk assessment (QRA 2) on the other hand. They have been adopted by written procedure on 30 July 2018.
Reading time : ~ 8 minutes
Phenylene Bis-Diphenyltriazine
Background
Following submission I on Phenylene Bis-Diphenyltriazine to assess its safety for use in cosmetic products, the SCCS concluded in its Opinion in July 2015 (SCCS/1556/15) that:
'The SCCS considers Phenylene bis-diphenyltriazine, S86, not safe for use as a UV-filter in sunscreen products in a concentration up to 10.0% taking into account the scientific data provided.' In March 2017, in light of the opinion SCCS/1556/15, the cosmetics company Pierre Fabre transmitted a new safety dossier (submission II) on Phenylene Bis-Diphenyltriazine that addresses the major issues raised by the SCCS notably i) additional physico‐chemical characterization studies, ii) additional toxicity studies in line with the required guidelines (studies were performed according GLP) and iii) finally the file was rewritten focusing on the active ingredient to be more in line with normal practice.
For full background information, see the articles
• Three requests for SCCS opinions of 1st July 2013
• Deoxyarbutin, UV filter S86: 2 Opinions of the SCCS of 8 September 2015
• Phenylene Bis-Diphenyltriazine (S86): 2nd Request for Opinion to SCCS of 12 September 2017.
• Phenylene Bis-Diphenyltriazine, Zinc Pyrithione, o-Phenylphenol salts: 1 Opinion, 2 Addendum of the SCCS of 6 March 2018
Opinion
This Opinion has been subject to a commenting period of a minimum eight weeks after its initial publication (from 26 February 2018 until 30 April 2018). Comments received during this time were ...