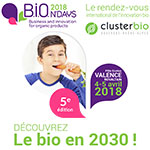 What consumers will represent Generations Z and Alpha tomorrow? How important will organic products be for people aged 18-24 in 2030? To answer these questions, Cluster Bio and Cluster Nova Child conducted a survey all across France. The results will be presented at the 5th annual B.I.O. N'Days. This global event intended for anticipating, innovating, and exchanging on tomorrow's organic products will be held in Valence, France, next April 4-5, 2018. What is on the agenda?
Reading time : ~ 9 minutes
These two days will be focused on the following theme: 'The face of organic 18 to 24-year-olds in 2030'. Conferences, round tables, and thematic workshops will follow one another to review this theme.
The results of the survey entitled 'À la découverte de la génération bio' ('Discovering Generation Organic') will be presented for the first time.
This study was conducted by the Cluster Bio in association with Cluster Nova Child: 78 children aged between 7 and 14 surveyed in focus groups in Paris, Cholet, Lille and Lyon, 557 parent-child pairs surveyed online, 165 comments and 45 family interviews gathered at 2 sales outlets…
Today we are seeing a new wave of very young consumers – Generation Z and Generation Alpha – who are increasingly environmentally aware, and growing up in a world where organic is everywhere: in the media, in the surge of organic shops opening up and the expanding choice on the shelves and in school canteens… By 2030, these hyper-connected youngsters are set to become consumers who are better informed, and embracing new global values. The aim of this research was to analyse the memory trace left on today's children, and so gain a better understanding of tomorrow's consumers. What will their consumer habits be? What will farming look like by then?
Furthermore, young entrepreneurs will give ...