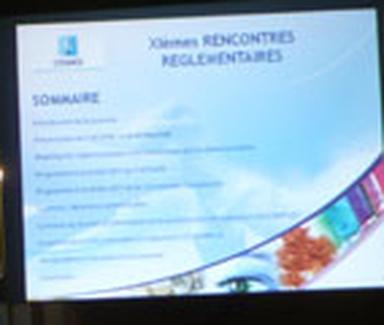 COSMED, the French Association of small-and medium-sized cosmetics manufacturers, held its 11th Conference in Marseille on March 24. Many people attended and got different views on the changes due to the new Regulation, which will be mandatory in 2013. It was also a time for informal exchanges between cosmetics professionals. CosmeticOBS-L'Observatoire des Cosmétiques was there and reports.
From Afssaps
While in 2010, 4 inspectors performed 52 controls, in 2011, 28 are planned.
Pay attention to the kits
During the 2010 campaign, Afssaps inspections, in cooperation with inspectors from the DGCCRF (the French Agency in command of consumers and fraud) targeted "kits" that consumers may use to "manufacture" their own products at home. A good idea! No batch number and traceability troubles, safety concerns, substandard microbiology quality of 50% of the products, the "do-it-yourself" is not that good and amusing! The final report is not yet available, but Cosmetics Observatory will tell you more then!
Target of the soon-to-come campaign: men's cosmetics
Toxic molecules in our cosmetics
The report about random inspections targets two products in which NDELA (or n-Nitrosodiethanolamine) was found. NDELA is a substance from the nitrosamines family, classified as CMR due to its possible carcinogenic effect; it may contaminate cosmetics. Up to 50µg/kg is allowed by regulation. In a to-be-rinsed-off product, imported from Korea, 170 µg/kg was detected, and 150µg/kg in another product. On Afssaps 's request, both have been taken out of the market.
What is new with the Regulation?
The Regulation 1223/2009 , which will replace the current Directive on cosmetics, is still under development. Though it has been published, many points are still undecided and several Working Groups are responsible.
On their agendas, among other items
• The guidelines mentioned in Article 10, supposed to help small- and medium-sized manufacturers meet the safety report's requirements (go the our paper on the same topic ).
• The common criteria mentioned in Article 20 to better justify claims, including those about health.
Soon to come
• 11 Jan 2014 at the latest: the Catalog of nanomaterials used in products
• 11 Jan 2015 at the latest: a Revision of the Regulation about endocrine disruptors
And many additional items that Cosmetics Observatory will address!
Every COSMED Conference is held twice, once in Paris and once outside of Paris. The "run-off" of the Marseille Conference will be held in Paris, on June 16, 2011.
© 2011- 2020 CosmeticOBS