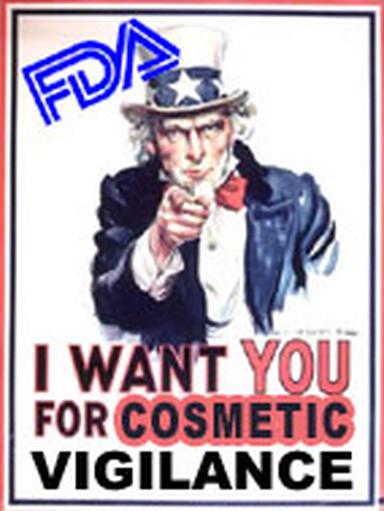 A problem after using a cosmetic product? A rash, an allergy-like reaction, an irritation? In France, from 2004 on, the Cosmetovigilance network has been set up to list all the adverse reactions due to cosmetics. A similar network is planned to be enforced for Europe as a whole. And now, the USA comes on the same track!
April 4, 2011
The Cosmetovigilance network is now well established in France. Afssaps designed it to look for and record all adverse effects of cosmetics, to identify and concentrate all pieces of information dealing with them and try to prevent their occurrence.
The new European Regulation , which shall be fully enforced in 2013, in lieu of the current Directive on cosmetic products, will introduce it in all the European countries and its efficiency will be enhanced by all the countries sharing information. Its Article 23 states that all serious adverse effects shall be notified to the national authorities, which shall report them to the other competent national authorities.
Even if users may report, the French Cosmetovigilance network relies mainly upon health professionals (M.Ds, dentists, pharmacists, nurses), and cosmetics manufacturers.
FDA wants you!
In the USA, the system will rely mainly upon users.
The FDA (Food and Drug Administration), which is also the watchdog for cosmetics, issued a " Call for report " specifically directed at consumers to encourage them to report any problem they have faced.
" You break out in a head-to-toe rash after applying a sunless tanning lotion. Your son's skin is red and blotchy after he gets his face painted at the school carnival. Your daughter's scalp is burned after using a hair relaxer. If you've had a negative reaction to a beauty, personal hygiene, or makeup product, the Food and Drug Administration (FDA) wants to hear from you", as per the FDA 's press release .
Linda Katz, M.D., director of the agency's Office of Cosmetics and Colors, adds, "From morning until night—styling our hair for work to showering before bed—Americans depend upon personal care products. Most are safe, but some cause problems, and that's when FDA gets involved. Even though these products are widely used, most don't require FDA approval before they're sold in stores, salons, and at makeup counters. So, consumers are one of FDA's most important resources when it comes to identifying problems."
A mirror image
Almost in every detail, the system detailed in the U.S. is very close to our Cosmetovigilance , both in the way information is reported as well as in the general idea. For instance, the FDA says, "When a consumer report is received, FDA enters the information into a database of negative reactions. Experts then look for reports related to the same product or similar ones.FDA scientists will use the information to determine if the product has a history of problems and represents a public health concern that needs to be addressed.
"Cosmetics are usually safe, but when they aren't, consumer reporting is essential so FDA can take action when appropriate," Katz says. Those actions could—depending upon the product and the problem-range from issuing a consumer safety advisory to taking legal action".
French Afssaps would have called that "recommendations" or "sanitary police responses".
Some few days ago, CosmeticObs-L'Observatoire des Cosmétiques made a report on the 2 nd annual contest U'cosmetics held in Guingamp, which shows why France is a noted authority in innovation and designing of cosmetics. After seeing how the FD took a leaf out of its Cosmetovigilance system, it seems it also sets the tone in watching and policing the market.
© 2011- 2020 CosmeticOBS