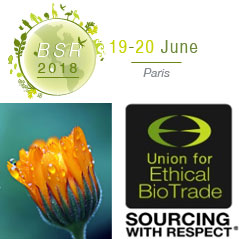 How we grow, collect and use nature has profound implications for our living planet. For ten years, UEBT has been working with companies to commit to sourcing with respect for people and biodiversity. This 19-20 June in Paris, companies from the beauty, food, beverage and pharmaceutical sectors will be coming together for the UEBT Beauty of Sourcing with Respect Conference to discuss consumer demand for natural and ethical sourced ingredients, and new rules for companies on how they research and develop substances from nature, including how businesses share benefits with countries, local communities and indigenous peoples.
Reading time : ~ 4 minutes
UEBT Press Release
"Biodiversity is a key area of work for us. It is not only a matter of sourcing; biodiversity is also a source of innovation. Nature inspires L'Oréal in developing new applications for our consumers," said Laurent Gilbert, Sustainable Innovation Director at L'Oréal one of the sponsors of the conference.
The conference will also launch the 10th edition of the UEBT Biodiversity Barometer, a special piece of research that spans a decade and has included interviews with 50,000 consumers asking what they know and understand about our planet's biodiversity, and what they expect from brands.
Anne Bahr Thompson, author of the 2017 book Do Good: Embracing Brand Citizenship to Fuel Both Purpose and Planet, and a top thought leader who has worked with brands from Pepsi to Microsoft to UNICEF will provide the keynote address, challenging companies to embrace a vision of brand citizenship that deeply respects people, plants and animals.
The conference will also bring policymakers from China, India and South Africa for an important exchange with business leaders on the shape and evolution of new and robust rules that regulate how companies tap into the wealth of ingredients found in nature, including how a business must research ...