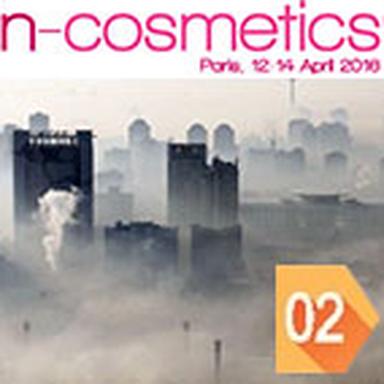 The cosmetics industry is currently in search of new actives to fight against the damage done by environmental pollution on the skin. The Paris edition of the In-Cosmetics show was an opportunity for ingredient suppliers to showcase several types of them. Alongside shields, mainly based on physical protection, prevention and repair solutions to skin damage are also being studied in depth.
This article completes our previous one, Anti-pollution ingredients (1/2) , where we introduced the 'shield' ingredients that physically protect the skin by preventing fine particles from adhering to it.
Free radicals and oxidation, inflammation, melanin stimulation, dark spots, redness, degradation of collagen fibres… the skin suffers from pollution, and so does the hair, on which it is conveyed by an alteration of the keratin, volume, and colour – and it can also go with the appearance of dandruff or more important hair loss.
At the Paris In-Cosmetics show, all of these issues seemed to have their own solutions. Here are a few of the most interesting or representative of the trend.
Keracyn™ by Provital Group (for the hair)
It is an extract from artichoke derived from the leaves and titrated into hydroxycinnamic acids, polyphenols with antioxidant properties.
The various tests performed by Provital Group demonstrated the protective and repairing effect of Keracyn™ when dealing with free radicals: it protects from their formation up to 62%, and neutralizes 90% of those generated after UV radiation. It also preserves the protein and lipid capital of the hair, enhances the cohesion of cuticles, and makes the hair shiny, providing global protection against all oxidative damages.
At doses from 0.5 to 5%, it can be used in daily hair care and hair styling product applications, but also sun ranges for the hair.
INCI names: Aqua, Propanediol, Glycerin, Cynara scolymus leaf extract, Sodium benzoate, Gluconolactone, Calcium gluconate.
Pronalen Bio-Protect by Provital Group (for the skin)
Here, the actives are:
• A ginseng extract, whose ginsenosides increase the synthesis of antioxidant enzymes and trap free radicals for a protective effect
• Inositol hexaphosphate, derived from wheat and barley seeds, whose phytic acid acts as a chelating agent and lipoperoxidation inhibitor to inhibit the formation of hydroxyl radicals and complex to heavy metals
• Apple and peach pectins to trap heavy metals
Both a protective and preventive shield, Pronalen Bio-Protect prevents the lipoperoxidation induced by heavy metals, exhibits a cytoprotective effect, boosts the cellular energy despite the exposure to polluting gases, evens the complexion, and restores the skin's radiance. It also has repairing effects, as it visibly reduces the surface of pigment spots by 27.4% as well as their intensity, and reduces the yellow part of the skin and redness, or sebum production (by 12.48%). The whole involves an optimized dosage of 3% and a very "natural" INCI: Aqua, Propanediol, Pyrus malus juice, Prunus persica juice, Triticum vulgare seed extract, Hordeum vulgare seed extract, Panax ginseng root extract, Caprylyl glycol, Ethylhexylglycerin, Tetrasodium glutamate diacetate.
It is a yeast extract, but which regulates two major biological pathways of pollutant stress response: the synthesis of mitokines (prohibitines) is normalized and the aryl-hydrocarbon receptor is deactivated.
Results according to Silab : combatting the harmful effects of pollution, Mitokinyl®:
• Re-establishes an effective barrier function (it restores epidermal differentiation and reduces trans-epidermal water loss)
• Improves skin complexion (it reduces synthesis of melanin and optimizes radiance and chromaticity)
Protecting Caucasian as well as Asian skins against urban stresses, Mitokinyl® is recommended in all antipollution facial and body skincare products, in concentrations from 1 to 3%.
RedSnow® and BioDTox™ by BioSpectrum
Since the anti-pollution trend comes from Asia, it was not a surprise to find players specialized in this segment in this region of the world, like Korean brand BioSpectrum , with two complementary actives on the same theme.
• RedSnow® is an extract from the Camellia japonica flower ('Winter's Rose' or 'Dongbeak', in Korea). It was presented as having antioxidant and anti-inflammatory effects and promoting the synthesis of collagen. The clinical results show a hydration increase of 8% in four weeks, an anti-wrinkle action, and protection against polluting agents. It should be used between 1 and 10% depending on the types of formulations. INCI: Water, Propanediol, Camellia japonica flower extract.
• BioDTox™ is a complex of three plant extracts: citrus fruit bioflavonoids for their content in antioxidant vitamin P, broccoli for its richness in sulforaphanes – activators of enzymatic detoxification – and aloe vera, for its anti-free radical polyphenols. It protects from the effects of pollution, cleanses and detoxifies the skin, prevents the signs of aging… Here are the INCI names provided by the manufacturer: Propanediol, Aloe barbadensis leaf extract, Bioflavonoids, Brassica oleracea italica extract.
Invicity® by Algues & Mer
Designed to prevent what Algues & Mer calls Polluaging®, Invicity® is concentrated in fucoidans with a high molecular weight extracted from the Ascophyllum nodosum alga. It provides two actions:
• It protects against pollution by reinforcing the skin barrier and reducing the activity of AhRs, the pollution receptors in the skin that trigger the inflammatory response, melanogenesis, and oxidative stress
• It repairs the damage done by pollution by reducing spots and redness and enhancing the skin's morphology
This one is intended to go farther than the usual strategies adopted to fight against pollution, which involve shields made of occlusive polymers or antioxidants, by targeting the processes of collagen degradation, melanin modification, and inflammation directly related to pollution, whether it come from industrial discharge, exhaust gases, or cigarette smoke, to boost the cellular defence mechanisms.
Blumilight™ biofunctional by Ashland
Another type of pollution is targeted here: the blue light emitted by computer, smartphone, or TV screens is also a source of free radicals. As a complex of coconut peptides and polyphenols, Blimilight protects the skin's receptors sensitive to blue light and fights against free radicals for a more tonic, less wrinkled epidermis.
And these are just a few of the examples showcased throughout the show's alleys. Still, there is a question remaining: does this purely Asian trend have a future in the Western world? According to Jean Krutmannlors, dermatologist and environmental medicine specialist, 'In Europe, our cities are no cleaner or less polluted than in Asia, pollution is just different. It is not as visible as in China, where it comes from coal and the steel industry. We are exposed to fine particles, which are no doubt even more dangerous than coarse ones.' So, let's bet it is a yes.
© CosmeticOBS-L'Observatoire des Cosmétiques
© 2016- 2021 CosmeticOBS
---
Associated elements(1)