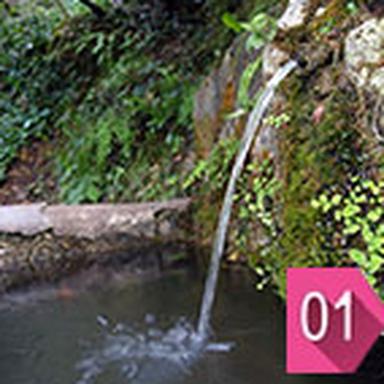 The notion of thermal baths and thermal water-based treatments is very old: it dates back to Ancient Greece. As a guarantee of skin beauty, thermal water is flourishing in today's cosmetics. Here is a special focus on this ingredient between skincare and beauty product.
Thermal water is an integral cosmetic ingredient, given its INCI name (Aqua, the official term to which manufacturers often add the origin of the spring), and the evidence of its benefits in the field of beauty. It is also a natural, ancestral component.
What is thermal water?
Thermal waters originate from a re-emergent spring at the surface or drilled in depth. They are devoid of any bacteria, due to the place where they can be found. So, they can be considered pure.
Thermal waters have a different composition from that of the waters intended to be consumed. They are rich in dissolved minerals and salts or trace elements. 'It is when they fall and run through a whole series of biological layers that waters naturally get richer,' explains Jean-Claude Le Joliff, founder of La Cosmétothèque. Calcium, magnesium, zinc, and others are all elements that can enrich these waters. And yet, the substances found in thermal waters are not an issue for the skin, contrary to scale or limestone.
Are they all the same?
Although thermal waters are all composed of trace elements, they are not all the same. Their springs are different from a geographic and geological standpoint. As a result, their composition depends on the resources found where the rain falls and the richness of the soil from which they gush forth. That is why the classification of thermal waters is determined according to their total minerality, which can range from a few dozens of milligrams to several dozens of grams.
Heat and treatments
Thermal waters have another characteristic: their high temperature. From the Latin word 'thermæ', the word thermal baths refers to the public baths in the Ancient Rome. These springs used to serve as treatment waters, as they were believed to have curative virtues. Is that just a quaint creed? Not at all, the tradition endured over the centuries. Many thermal waters are recognized today by the French Academy of Medicine for their applications and benefits for the skin. Jean-Claude Le Joliff actually explains that 'a whole file is required to promote a spring to the Academy of Medicine, including tangible evidence and test results'.
Thermal springs in France
As the third richest European country in terms of thermal spas, France counts 108 of them, where all sorts of ailments and diseases are treated. From dermatology to child development disorders or neurological diseases, these springs offer a large range of what thermal waters can cure. Most of the time, thermal spa treatments are provided in the form of a cure that lasts a few days, and are sometimes prescribed by doctors. It should be known that the same spring can only claim a maximum of three applications to the Academy of Medicine.

Drinkable or not?
Most thermal waters are not drinkable, due to their temperature and minerality. Still, some of them can very well be consumed, like Avène thermal spring water.
From cures to cosmetics
Are thermal waters useful in beauty products?
It is a known fact that water is one of the most present ingredients in cosmetic products, in terms of quantity. Formulators used demineralized water in their products for a long time, and they still do. However, for a few years, the cosmetics industry has taken interest in the use of thermal water in cosmetics, for their renowned properties. Jean-Claude Le Joliff emphasizes the fact that 'if it was legitimate for certain thermal waters to be used for the formulation of beauty products, others did not necessarily have any interest in skincare. That is why there is this additional work in the scientific literature to find evidence of the benefits of particular thermal waters and the need to formulate products with them,' he adds.
Avène, a brand of the Pierre Fabre group, showed the properties of spring water of the same name in the years 2000, following the discovery of a yet unknown microflora in Avène water, called Aquaphilus Dolomiae. Soon, 'pharmacological studies (there were many of them, and they were published in international referenced journals), demonstrated that Avène thermal spring water had soothing, anti-irritant, anti-inflammatory, and antipruritic properties, both related to its mineral composition and the presence of this microflora,' explains Didier Guerrero, dermatologist and consultant of the Avène Dermatological Laboratories.
Another brand, same fight: the mayor of the city of Jonzac encouraged Eau de Jonzac, which is part of the Léa Nature group, to promote the water of their thermal baths and integrate it to cosmetics. Then, the brand endeavoured to demonstrate its benefits, and Valérie Cauche, Cosmetics Manager, explains that following the tests performed, several were found in the Eau de Jonzac. 'We have already started focusing on skin regeneration, since that is what had been observed by our medical staff at the thermal baths. We measured the thickness of the stratum corneum and the epidermis as a whole in the presence of Jonzac thermal water. It resulted in a considerable improvement of these layers, which means the thermal water is active on the skin barrier,' Valérie Cauche underlines. The soothing, anti-inflammatory, and hypoallergenic aspects were also highlighted.
Extraction conditions
To integrate thermal water to a cosmetic product, it should be extracted from its spring. The cosmetics industry usually takes it on a punctual basis, depending on its production needs, not continuously.
Extraction methods vary according to the spring. Either it emerges, or it is a submarine spring. At Eau de Jonzac, 'water is taken from the ground water, 1,800 metres deep, directly from the aquifer,' specifies Valérie Cauche. The extraction is carried out by drilling. On the contrary, Avène is a gushing spring water, so 'the thermal water is extracted with two collecting pipes, in accordance with most rigorous safety standards to preserve all its qualities. These collecting pipes are directly connected to the thermal installations and production unit of Avène aerosols and dermocosmetics ranges,' Didier Guerrero reports.
When it is extracted, thermal water can be contaminated by bacteria. 'However, ultrafiltration makes it possible to decontaminate it, without changing its composition,' Jean-Claude Le Joliff explains.
Formulation difficulties
Although its advantages for the skin have been demonstrated by scientists, thermal water is hard to formulate. To Jean-Claude Le Joliff, it is due to the fact that 'some waters are richer in trace elements than others. For a long time, formulation systems were very sensitive to this issue. It is trickier to formulate with thermal water than demineralized water, which is why the latter can be found in most cosmetics. Thermal water is filled with metallic elements which can generate incompatibilities with the other ingredients in the composition.'
Didier Guerrero confirms this statement, specifying that 'we are dealing with water whose composition is not as simple as that of the distilled water commonly used in cosmetics. It is not just water, it is a real active. As a result, formulating skincare products based on thermal water requires particular know-how in galenics: our formulators have been experts since the brand was founded.'
From mere sprays to most sophisticated beauty products, the 'thermal water' wave is increasingly flowing in the cosmetics industry. Ideal both for sensitive skins and those that do not suffer from any disorder, the risk is very limited as regards the use of thermal water. At least, you are sure you are using pure water.
© CosmeticOBS-L'Observatoire des Cosmétiques
© 2017- 2021 CosmeticOBS
---
Associated elements(1)