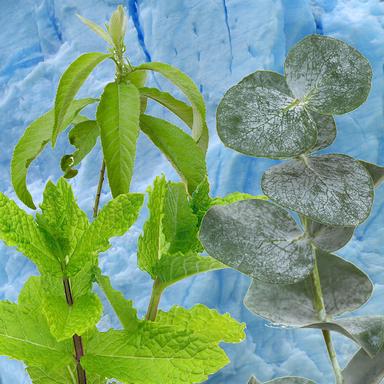 They are present in many cosmetics, especially those claiming to be refreshing, invigorating, purifying or relaxing. Isolated or contained in essential oils, these terpenic aromatic compounds are not insignificant, however, and can be responsible for adverse reactions, sometimes serious, especially in young children. And their use must be accompanied by some precautions.
They are part of the large family of terpenoids, organic compounds with powerful aromatic properties. Of natural origin (many of them come from plants), they are traditionally part of the phytotherapeutic medicinal arsenal and have their usefulness in cosmetics, but also some defects.
Camphor
From the camphor tree, an Asian tree of the laurel family, camphor is renowned for its many virtues: stimulating, tonic, analgesic, it also has the ability to stimulate venous circulation and cleanse the respiratory tract.
It is used in cosmetics as such (INCI: Camphor), or through the essential oil of camphor (INCI: Cinnamomum camphora bark oil). It is particularly present in leg products that it helps to lighten, but also in purifying or toning treatments, purifying scalp shampoos or oils and balms dedicated to relaxing massages.
The international nomenclature of cosmetic ingredients also assigns it the function of plasticizer, which means that it can also be found, for example, in nail polishes.
Menthol
It comes mainly from the essential oil of peppermint (INCI: Mentha piperita oil) to which many virtues are attributed: decongesting, draining, anti-infectious, antibacterial, antiviral, antifungal, stimulating, tonic, analgesic, anesthetic, antispasmodic, hormonal regulator, it is used in cosmetics for its refreshing, toning, astringent, purifying and, of course, fragrant properties.
It is found, just like camphor, in leg or massage products, in purifying skin care products for combination to oily skin, but also in many invigorating and refreshing shower gels that are particularly appreciated in hot weather.
Eucalyptol
According to recent research, it is indeed to eucalyptol that the essential oil of eucalyptus (INCI: Eucalyptus globulus leaf oil), this tree native to Australia, owes its medicinal properties: expectorant, pulmonary antiseptic, antibacterial and antiviral, it treats bronchitis as well as respiratory tract inflammation, sore throat or sinusitis.
In cosmetics, eucalyptol and eucalyptus essential oil are mainly known for their tonic and perfuming properties, but they are found in many references claiming a touch of care that is at the limit of the regulatory indications permitted for hygiene and beauty products.
Balms or massage oils for the thorax sometimes see them in their compositions, in addition to purifying skin or scalp care, slimming or refreshing cleansers for the face or body, or traditional black soaps inspired by hammam rituals.
Terpenoids, causes of convulsion
But if these active ingredients seem to have many advantages, their job security is called into question because of their terpenoid content. These natural organic compounds are therefore likely to cause adverse reactions that can be serious, especially in young children and infants.
The Afssaps (now ANSM) sounded the alarm in August 2008, after having learned of several cases of seizures in children aged between 2.5 and 4 years, following the use of massage products containing camphor, eucalyptol or menthol.
This led the Agency to recommend to professionals not to introduce camphor, eucalyptol and menthol into cosmetics intended for children under 36 months of age. And even if limit concentrations, to take into account indirect inputs that may come from, for example, perfuming compositions (150 ppm* for camphor, 1000 ppm for eucalyptol, 4500 ppm for menthol), remain tolerable.
For cosmetic products intended for children aged 3 to 6 years, the Agency recommends maximum concentrations: 0.15%** for camphor, 1.12% for eucalyptol, 4.5% for menthol and 4.5% for the sum of these substances.
Maximum concentrations calculated to ensure the safety of the youngest cosmetics consumers.
*ppm : part per million / **1 % = 10000 ppm
Recommendation, but no mandatory restriction
It should be noted, however, that these are only recommendations of the French agency, which are not binding, and in particular not for foreign companies.
To date, and even if the French dossier has been forwarded to Europe, Community regulations do not provide any restrictions for these compounds, either in terms of the quantity present in cosmetics or in terms of the product categories in which they can be used.
Some countries abroad have also expressed concern about possible adverse effects associated with the use of terpenoids. Canada has set a permitted concentration limit for camphor of 3%. However, this measure was taken for reasons other than convulsive effects, namely the risks of neurological disorders associated with the use of these compounds, already widely described in the medical literature and confirmed by animal experiments, including at relatively low doses.
Menthol and Camphor also have neurotoxic and abortifacient potentials.
In conclusion, it is therefore better, as a precautionary measure, to avoid them in all products intended for young children and pregnant women.
LW
© 2013- 2021 CosmeticOBS