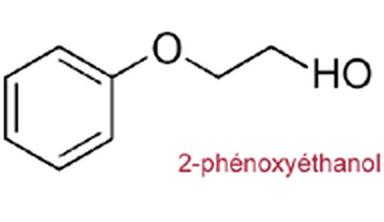 It is known due its record about its safety, and also because it is very often mentioned as "Phenoxyethanol-free"… This wording is then a selling point … but knows why? A look at this ingredient, criticized, but still widely used.
Phenoxyehanol is an antibacterial preservative from the large glycol ethers family, comprising somewhat 80 substances, with different characteristics and toxicological properties.
The cosmetic industry uses two "branches":
• Ethylene Glycol derivatives (so-called Type E ethers)
• Propylene Glycol derivatives (so-called Type P ethers)
In hygiene and care products, only four are used, all from the E series.
Non volatile and without any fragrance, glycol ethers are mainly used as solvents, especially in hair coloring products.
Phenoxyethanol, on the other hand, is used mainly as a preservative in any kind of cosmetics.
Many of the glycol ethers are toxic, and their effects, especially on people professionally exposed to them, may be dramatic. Exposure to these substances has been linked to sterility, abnormality of the length or the frequency of period, troubles to become pregnant, miscarriages, toxicity for the fetus, congenital malformations …
Further, their harmfulness is enhanced as they are very easily absorbed by skin, especially when they are liquid (as often in cosmetics).
Complaints and trials brought the debate about glycol ethers toxicity into the open, and the Safety Authorities could only jump on the bandwagon.
In March 2005, a message issued by the French Minister of Health said that "it is impotant to know that glycol ethers have very different characteristics, but above all very different toxicological properties, and that only some of them show a toxic effect on reproduction of rodents, and may be at risk for humans".
In fact, Type E glycol ethers induce toxic molecules in the human body, while the Type P ones are quickly excreted by lungs. In 2000, The Commission for the Safety of Consumers had already ruled on the European level a complete deletion of the Type E series, which should be replaced by the P series or equivalent substances with no known risks.
Banning and limitation
Indeed, along the years, Type E glycol ethers have been blacklisted: four were banned in 1999, three more in 2003 and 2004.
The four ones still in use in cosmetics have been cleared by the Health Authorities, arguing that their toxicity had not been demonstrated, even when additional studies are in progress to assess it.
Phenoxyethanol is the only one which a maximum concentration was given to, 1% in the finished product. The same regulation was thought for the three other ones.
On Februray 4, 2009, after new statements by the Commission for the Safety of Consumers, under its name of SCCP (Scientific Committee of Consumers Products) -- its new name is SCCS --, a European Directive gives, for two of them, new requirements for a safe-for-health use:
• Butoxydiglycol (DEGBE) is allowed as a solvent for oxydizing hair coloring at 9% maximum in the finished product, and it is forbidden in sprays and pressurized spray cans.
• Butoxyethanol (EGBE) is allowed as a solvent for oxydizing hair coloring at 4% maximum in the finished product, and as a solvent in non oxidizing hair coloring at 2% maximum in the finished product. It is banned from sprays and pressurized spray cans. These new requirements are mandatory as per November 5, 2009.
Nothing changed for Phenoxyethanol (EGPhE), the E series most widely used in cosmetics; its potential toxicity is still under scrutiny…and debated.
Phenoxyethanol has an allergenic potential. While concentrations up to 10% do not lead to irritation, several examples of skin sensitization (eczema and hives) have nevertheless been reported, almost all related to a regular use of cosmetics containing it.
As per the toxicological sheet published by the French INRS (National Institute of Research and Safety), in 2008, phenoxyethanol, easily absorbed by skin, and metabolized in phenoxyacetic acid (excreted mainly by urine), may induce neurotoxic effects, and neurological effects may be seen, especially after exposure to high concentrations in industry.
The French ANSM, in a 2012 evaluation of its safety, concluded that there is a sufficient safety margin for adults, but insufficient for children under 3. Therefore, the Agency recommends new restrictions for using this preservative in the cosmetic products designed for them.
Following this evaluation, a new assessment of the safety of this preservative was perfomed by Europe. On March 16, 2016, the experts concluded that Phenoxyethanol is safe at the maximum concentration currently in force, and for all consumers, regardless of their age. If there are no further assessments, regulations should not change.
Phenoxyethanol is one of the ingredients for which the European regulation has set a maximum concentration: 1% in the finished product.
It is forbidden in cosmetics designed under the Code of Ethics for ecological and natural ("bio", in French) cosmetics (Ecocert, Cosmébio, Nature & Progrès, Cosmos, NaTrue, BDIH…).
© CosmeticOBS-L'Observatoire des Cosmétiques
© 2016- 2021 CosmeticOBS