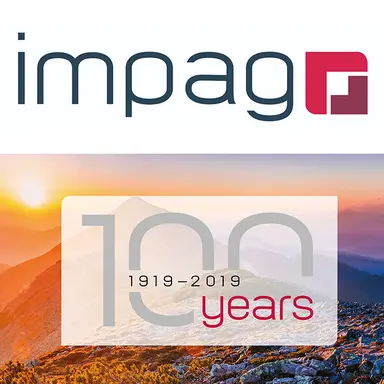 In 2019, IMPAG celebrates its 100th anniversary, and can look back on an eventful and successful history, in which the company has steadily grown and continually rediscovered itself. Employees, customers and partners will be enjoying all kinds of anniversary-related festivities all throughout this special anniversary year.
IMPAG Press release: IMPAG turns 100 – here's to another century of success
By the time World War I ended, chemical raw materials had become very difficult and expensive to procure. A number of textile companies decided to address the problem by establishing IMPAG as an import company in 1919.
Now, 100 years later, this little importer has grown into a specialist distributor and service provider that is well known for tapping into new markets and for differentiating and redeveloping products already in circulation. Over the years, IMPAG has developed into an international raw materials supplier with national companies in Germany, France, Poland and Austria, where focus is on the segments of Personal Care, Nutrition & Health, Pharmaceuticals and Chemicals.
IMPAG puts its trust in reliable supply partners and offers in return partnerships that are characterized by fairness and openness.
Remo Bernardi (CEO IMPAG Group) sees further reasons for IMPAG's success in the management culture, which affords much leeway and flexibility: "Our culture lives from the entrepreneurship of our employees, their implementation of ideas and visions, their exemplary respect for the corporate values and, at the same time, their clear assertion of their expectations," Remo Bernardi says.
Building a strong foundation for itself with its own companies in Europe has given IMPAG strength and agility. The teams all maintain close communication, make use of synergies and benefit mutually from the existing know-how.
Throughout the entire year, IMPAG will be celebrating the past 100 years with all kinds of activities and events that will be looking back, but even more importantly looking forward into a dynamic and digital future in which IMPAG wishes to fortify its position as it continues to evolve.
2019 is also an important year for IMPAG France. Created in 2009 to support the IMPAG group in its international development strategy, IMPAG France is also celebrating its 10th anniversary this year.
This first important step shows its success in becoming a trusted partner on the French market over the years. Thanks to partnerships with suppliers of top-quality innovative ingredients, IMPAG France provides solutions in raw materials and technical advice.
We would like to thank all those who have trusted us since the beginning of our adventure, and who are still loyal to us today.
IB
© 2019- 2022 CosmeticOBS