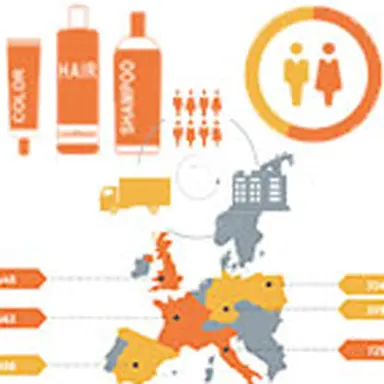 In a report published in June 2016 by Cosmetics Europe, the cosmetic industry highlights it significant social and economic contribution to national and regional economies across the EU, starting from raw materials inputs, through manufacturing, distribution, to retail and beauty services… The cosmetic products are also an important part of people's everyday life.
2 million
The European cosmetic industry supports at least 2 million jobs across the EU, up and down the value chain. 179,000 people are employed directly, and 1.55 million are employed indirectly. Every 10 workers employed by the industry will support two jobs in the value chain.
56%
The industry states it is constantly taking steps to increase diversity and equality in the workplace. 56% of its employees are female.
26,000
The European cosmetic industry is a science-driven an innovative industry. It employs 26,000 scientists, and the expenditure on R&D amounts to 1.27 billion euros.
4605
Big companies but also SMEs are key drivers of economic growth in the industry. The number of SMEs is growing to reach 4605. Italy have the largest number of SMEs (725), followed by France (663), UK (445), Germany (395), Spain (386), and Poland (354).
77 billion
Europe remains the global flagship producer of cosmetic products. The European industry is valued at 77 billion euros (62 billion for the US, 23 billion for Brazil, 20 billion for Japan…).
53%
France and Germany are the Europe's main exporters of cosmetic products from Europe. The two countries represent 53% of total global exports. The total exports to extra-EU countries are valued at 17.2 billion euros.
88%
88% people says it would be hard to livre without cosmetics, 33% women it would be hard to livre without foundation or concealer, 25% men it would be hard to live without aftershave.
60% people think cosmetics have a positive impact on well-being, image, self-confidence, and mood.
Source
• Socio-economic contribution of the European cosmetics industry, Cosmetics Europe – Risks & Policy Analysts, June 2016
© CosmeticOBS-L'Observatoire des Cosmétiques
© 2016- 2022 CosmeticOBS
---
Associated elements(1)