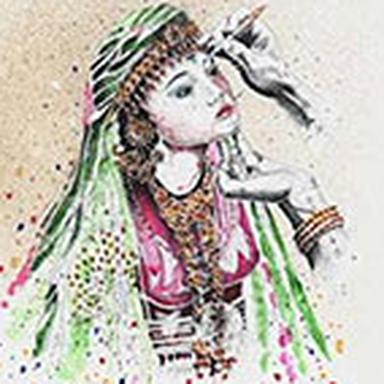 The first traces of the use of mascara date back to ancient Egypt, around 3000 BC. Egyptian women used a"kohl" made of a mixture of animal fat, antimony and soot. So mascara was originally antimony powder.
Antimony is a black rock with bluish reflections that was crushed and ground into a powder from which an eyewash, kohl, was extracted. Kohl is sometimes replaced by a blush based on saffron, antimony, burnt cork.
Another ancestral way of making mascara was to mix beef fat (tallow) with beeswax, wood ash (alkali) and smoke black obtained by consuming the flame of an oil lamp from which soot is collected on a mirror. The product was commonly called"black to the eyes".
The French discovered mascara during the conquest of Algeria in the mid-19th century, because the tribes of the highlands used it as a beauty product but also to protect themselves from various trachoma and eye diseases.
The product that people recognize today as mascara did not develop until the 19th century. century: a chemist named Eugène Rimmel developed a cosmetic around 1880, the Rimmel from a petroleum distillate, petroleum jelly. The name of the cosmetic rimmel has become synonymous with substance itself and is still translated as'mascara' in Italian ( mascara means"mask" in this language, compare to farce Italian), French, Spanish, Dutch, Turkish, Romanian, etc. It went down in history under different names, but among others under the name of Rimmel, the brand that marketed this famous product : " You've got the Rimmel running away, it's the lovers' thaw, pretty kid." (Leo Ferré). It will be one of the very first products of this family.
In 1913, chemist T. L. Williams and her sister, Maybel, launch a mascara made of coal dust mixed with petroleum jelly. Williams sells his product by mail order and creates a company he calls Maybelline a combination of her sister's name and"Vaseline". In 1917, the same gave birth to the mascara cake the first modern cosmetic product for daily use. A black smoke formula structured with a coconut oil soap, and a tragacanth gum for eyelash adhesion. Mascara was available as bread.
Technically, this product can easily be summarized as follows: a bar of soap, enriched with waxes to sheath the lashes, with a pigment to confer color. It eventually included the presence of a film-forming agent to fix the make-up. This product is anhydrous, and must be activated with water to form a paste more or less consistent that one applies on the lash using a brush.
Its manufacturing method consists of dispersing the pigment(s) in the molten waxes. The soap is formed in situ or by the use of preformed soap. The pigment dispersion is possibly improved by grinding. The molten mass is then cast into metal moulds, containing the distinctive elements of the product: shape, incrustations, or possibly undergoing final forming by pressing.
To this day, it is still a reference product, often present in the cases of professional make-up artists, given its versatility. Indeed, it makes it possible to generate all types of make-up, charcoaly, light or natural, lengthening or thickening, and this whatever the implantation of the lashes. However, it has the disadvantage of not being very resistant, especially to damp conditions: tears, rain, etc.
This product, although it still exists, will be replaced by the so-called automatic mascara which will see the light gradually, but initially in the United States. The current version of the"automatic" mascara comprising a tube and an integrated applicator was introduced in 1939 by Helena Rubinstein. This invention takes the name of Matic Mascara and then became, in 1964, Long Lash the automatic, rechargeable and waterproof mascara.
Other famous brands (Maybelline with Ultra Lash in 1960 and Great Lash in 1970) will do the same to definitively popularize this type of product. To date, the main operators are active in all circuits. This product, which has undergone a major massification effect, is the basis of many make-up ranges. It is the second make-up product in terms of penetration rate. Initially developed in Europe, it eventually gained its letters of nobility even in Asia, where its progression was relatively less important given the ciliary implantation of Asians (short and straighter lashes).
It is the subject of intense research, particularly in terms of packaging and applicators, but the formulation field is not left out. The other chapters of this dossier propose to complete this technological review for both the formulas and the pack.
Contribution made by Jean Claude Le Joliff A biologist by training, Jean Claude Le Joliff was a man of R&D for many years. Successively in charge of R&D, then of Research and Innovation in a large French group of cosmetics and luxury goods, and after an experience of setting up a research centre (CERIES), he turned to innovation management. He has also been an Associate Professor at the University of Versailles Saint Quentin (UVSQ) and remains in charge of courses in the framework of several specialized courses: ISIPCA, IPIL, ITECH, UBS, UCO, SFC, etc. He is the founder of inn2c, an R&D and innovation consulting company. Consultant for several international companies, he has actively participated in projects such as Filorga, Aïny, Fareva, and many others. He created the Cosmétothèque®, the industry's first conservatory of crafts and know-how.
Cosmétothèque® - All rights reserved
© 2014- 2021 CosmeticOBS