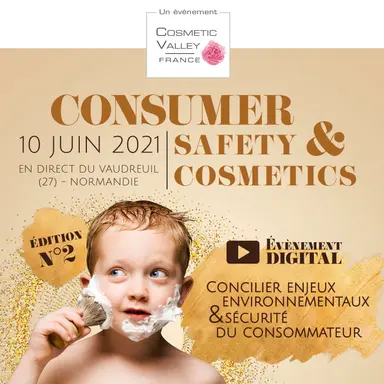 Committing to a cosmetic that is increasingly neutral for the environment without compromising on consumer safety… How to reconcile these two closely related topics: environmental issues and consumer safety? This issue, which arises for each of the players in the industry's value chain and at each stage of product design, will be at the heart of the "Consumer Safety & Cosmetics" conference, organised by Cosmetic Valley on 10 June 2021.
Use of natural extracts, upcycling, reduction of ingredients, reusable, refillable, recyclable packaging… all challenges that require significant research work. Adapting these requirements to new consumption patterns: development of bulk, solid cosmetics, Do It Yourself… accelerated by environmental issues is a major challenge.
All these topics will be discussed during this digital event: a day of conferences, hosted by Johann Koullepis.
9:00 - Opening of the congress
• Bernard LEROY, President of the Communauté d'Agglomération Seine-Eure
• Marc-Antoine JAMET, President of Cosmetic Valley
9:15 - Introductory lectures
The cosmetics industry in the light of major environmental challenges
• Quentin TIZON, Circular Economy Officer, ADEME
Eco-design & consumer safety: links and mutual benefits
• Yves GERAND, Mission Director, Head of the Green Chemistry activity, EVEA
9:45 - Environmental safety & cosmetic formulation challenges
Introduction: What are the challenges and how can they be met?
• Adeline GREVILLOT, Sustainable sourcing manager, L'Oréal
Minimalism and eco-responsibility: exchanges on a concrete example
• Julien KAIBECK, Founder, Slow Cosmétique label
• Muriel CRESTEY, Creator of the Réalia brand
Algae and cosmetics: development of functional and biosourced ingredients
• Céline PICARD, University Professor - Organic and Macromolecular Chemistry Research Unit, Carnot I2C - Vice-President Research and Development, University of Le Havre Normandy
• Maud BENOIT, PhD, Services Manager Extraction/analyses/application, ALGAIA
Athermal plasma: a solution for natural formulation while guaranteeing microbiological safety
• Esther LE TOQUIN, R&D Project Manager, GIP Technology Platform of Évreux N2S, Health Security Centre, Cosmetomics@normandie
Microplastics in cosmetics? Solutions for the environment
• Delphine BERTIN, Head of Ecotoxicology, SEPPIC
11:45 - Safety & durability of packaging
Introduction: Consumers' environmental perception of packaging - Presentation of the SHOPPER 2020 study
• Catherine BARUCQ, Head of Research and Forecasting, Customer and Marketing Department, CITEO
Risk assessment and management of materials in contact with cosmetic products
• Olivier VITRAC, Researcher INRAE, PhD, Paris-Saclay Food and Bioproduct Engineering research unit, AgroParisTech - INRA
Recycled plastic: regulatory issues and industrial challenges
• Martin FOE, Senior Manager, OE – Regulatory Affairs B+H and F+B, Aptar Group
Responsible approaches by the glass industry
• Pierre DEHE, Group CSR Director, Groupe Pochet
14:40 - Security & new consumption patterns
Introduction: How to maintain optimal security in line with new consumer habits and expectations?
• Sandra Jones, Director of CPG Content - EMEA - Beauty and Personal Care & Household, Mintel
Bulk, refill and deposit: how is distribution adapting?
• Célia RENNESSON, Director of Réseau Vrac
Bulk cosmetics: are we serious?
• Arnaud LANCELOT, Cofounder Cozie
Concentrated cosmetics: new uses for the consumer
• Sébastien SACLIER, Director of Research & Development, Johnson & Johnson Sante Beauté France
Formulating solid and natural: a challenge from formulation to industrialisation
• Sylvie CHOPIN, Director of Innovation and Development, Laboratoires Gilbert
16:40 - Foresight Conference
What perceptions of risk do consumers of cosmetic products have? Understanding them better to prepare the future of our industry
• Sophie PASINI, Senior Lecturer in Management Sciences/Marketing, Laboratoire CERAG, Head of L3 training, University Grenoble Alpes
• Marie-Laure GAVARD PERRET, University Professor of Management Sciences/Marketing, Laboratoire CERAG, Co-director of the Grenoble IAE MI2S Chair "Innovative marketing at the service of society", University Grenoble Alpes
FP
© 2021- 2022 CosmeticOBS