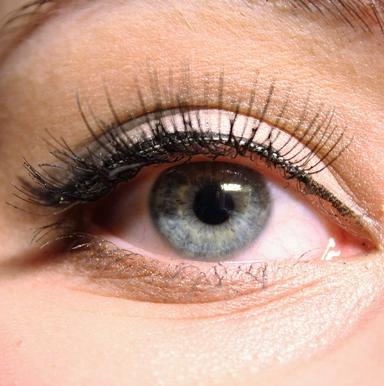 Long eyelashes with a doll's eye look have always seduced consumers. Rather than conscientiously applying mascara every day, more "permanent" solutions exist such as eyelash enhancement. The promise? Curled eyelashes, without having to put makeup on them. CosmeticOBS tested this service (Misenlift) at Misencil.
Unlike extensions, it is not a matter of adding eyelashes to maximize volume, but rather of curling them "naturally".
The unfolding
Once at Misencil, the practitioner performs an eyelash examination. "This is an important step. Every customer is different. You have to look at the density, length and curvature of the lashes in order to adapt the performance," says Alexia Ausseré, Misencil technician.
The only imperative for the client is to close her eyes. After cleaning the lashes with a shampoo, the professional separates the top and bottom lashes so that she can concentrate only on the upper part. Depending on the client's expectations, she then applies a small silicone cushion of the desired curvature to the eyelid and places the eyelashes on it.
"A permanent lotion, then a second fixing lotion and finally a last nourishing one are applied. The application time of each one is determined by a precise charter defined by Misencil", explains Alexia Ausseré. The duration of the performance can vary between 45 minutes and one hour (the break time of each solution is about 15 minutes each).
The practice of Misenlift is totally painless. The products used do not sting, nothing gets into the eye. The eyelash enhancement costs 75 €, 90 € if you opt for an additional dye.
While the price is not within everyone's reach, Alexia Ausseré points out that "the curvature of the eyelashes lasts from six to eight weeks. It all depends on the care taken by the client afterwards. To maximize results, it is preferable to avoid excessively greasy make-up removers and mascara, which can affect the effectiveness of the products used.
Be careful not to wet your eyes for 48 hours or risk damaging the Misenlift! After this period, the restriction is lifted!
What about security?
Curling your lashes with a chemical treatment can be a real time saver, but is it safe?
On this subject, Julien Benguigui, General Manager France of the brand, wants to be clear, "the safety of customers and practitioners is our priority at Misencil. Today, we are the only eye care company to offer a sodium bromate-free eyelash enhancement. This product, used as an eyelash fixative, will soon be banned in Canada due to its carcinogenic potential. Our company was born in this country, it was obvious for us to be in compliance with its regulations, even if it is different in Europe. We are therefore proud to offer our customers a service without controversial ingredients and without unpleasant odours".
As far as the training of technicians is concerned, Misencil also leaves nothing to chance.
"They are all trained in our protocols in our training centre. They learn the theory and practice of the different services we offer. Many independent beauticians, certified Misencil, come to learn with us. Of course, assistance is provided in case of questions. We have also developed an e-learning training system on the Internet so that they can review actions and revise at any time. We make it a point of honour that the professionals we train are supported by our teams. They are our strength. Today, we have no less than 5000 dealers throughout France and we receive about a hundred new beauticians per month," explains Julien Benguigui.
Sodium bromate was discarded and replaced by another fixing agent on which the brand retains complete discretion…
But this new ingredient does not compromise effectiveness: lashes are really curved, curved without having to be made up, they keep their natural texture and do not seem to be frozen. The mascara effect, the packages less!
JS
© 2019- 2020 CosmeticOBS