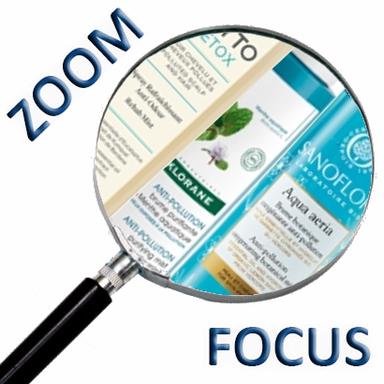 Asphyxiated hair? It is not only the skin that must be protected from pollution! The hair too! Tarnished and weakened by pollutants, they regrease faster, lose their volume and become more difficult to comb. These express mist without rinsing, rich in active ingredients, represent the new beauty treatment that is on the verge of summer. The trend is just beginning to emerge but it seems to have a promising future!
Like the skin, hair is attacked by pollution. Indeed, pollutants combine with UV, heat and humidity to cause damage and imbalance of the scalp.
"The hair becomes dry or too greasy, the scalp sensitive. When the polluting particles also form a deposit, the hair is dirty, dull and unruly," explains Sanoflore, who created Aqua Aeria, an anti-pollution oxygenating botanical mist (100 ml, €27), for both skin and hair. This mist prevents the adhesion of pollution particles to the hair, without leaving residues. Nourished and protected, they become more radiant, a result due to the nourishing action and anti-adhesion properties of the totum of lemon savory (hydrosol and essential oil), used for the first time in cosmetics. Sanoflore researchers have demonstrated its depolluting action (significant decrease in the adhesion of polluting particles on the hair shaft - in vivo study conducted on 24 women aged 20 to 45 years). The formula forms a film on which the microparticles slide. Hair is also softer and easier to style. The fresh and invigorating fragrance contributes to the feeling of purity.
Hair Detox…
This is what Phyto recommends with Phyto Detox, Anti-Odour Refreshing Spray (125 ml, €19.90), for polluted scalp and hair.
Very practical when the hair is impregnated with a smoke smell (presence of an anti-odour agent), this treatment refreshes and purifies it, while protecting it from the harmful effects of pollution. It prevents and neutralizes bad smells and restores volume to the roots. Its secret: a cocktail of purifying eucalyptus essential oil, antioxidant kumquat extract and detoxifying burdock extraction. Misted on the roots and lengths, this mist leaves an immediate sensation of clean, airy hair, subtly perfumed.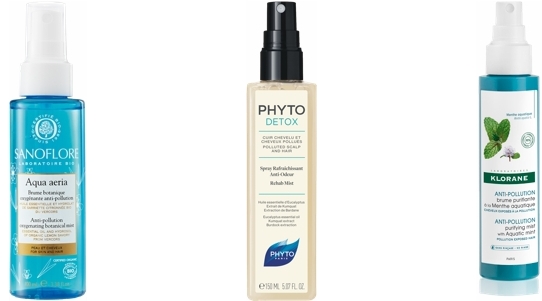 Same for Klorane who launches in her range of eco-responsible anti-pollution hair care products a Purifying Mist with organic water mint (100 ml, €13), always for hair exposed to pollution.
This plant extract is developed by a thermomechanical process, based on green chemistry. An innovative and patented extraction method, without water or solvents, which preserves the active molecules of the plant in order to restore them to their original state while reducing the carbon footprint by 72%. Made in France in a short circuit (48 km between the field and the factory), with a biodegradable formula and an ultra-fresh crumpled mint fragrance, this treatment, 95% composed of ingredients of natural origin, neutralizes unpleasant odours (tobacco, pollution, frying, etc.), while detoxifying and protecting the hair fiber from pollution. It cleanses hair for up to 6 hours and sprays on dry hair, without weighing it down. Its little something extra? Rebellious hair is tamed, for use throughout the day, between two appointments, after a sports session, a sprint after the bus, a happy hour in a smoky bar…
Ariane Le Febvre
© 2019- 2021 CosmeticOBS