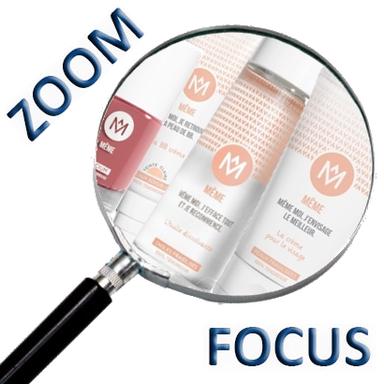 Whether it is a question of offering specific ranges, offering care to women with cancer, or even organizing operations in partnership with solidarity associations, generosity is becoming more and more a marketing argument. An extra kindness towards the most fragile and/or deprived who can only do good!
The disease is a part of our lives and a growing number of dermo-cosmetic brands are integrating it into their ranges.
Whether they develop specific products for people affected by cancer, such as the Même brand, or provide hospital care, there are more and more initiatives…
Care for self-esteem…
A major charitable beauty movement in the world's leading dermo-cosmetic brands this spring: La Roche-Posay, Avène and Bioderma are committed to managing the skin's effects of anti-cancer treatments and offer "beauty moments" (care or make-up) to patients.
Since 2013 La Roche-Posay has been developing initiatives to support women, alongside dermatologists and oncologists: 80 corrective make-up workshops led by socio-aestheticians are already present throughout France in hospitals, to learn how to redraw an eyebrow, add colours to her cheeks, lips…
It is not a question of masking the disease but of preserving appearance, of reconciling with one's altered face and body.
This pioneering initiative was born at the La Roche-Posay spa in 1994 with its dermo-cosmetic products adapted to injured skin (including the Toleriane make-up range, which reconciles women who thought they were forbidden to use make-up with make-up).
The brand also offers free "discovery" kits in hospital oncology departments, accompanied by the guide it has produced with a dermatologist, a socio-aesthetician and an oncologist: "Tips for taking care of your skin and living better with your cancer".
You can also benefit from video tutorials, information on skin care during and after treatments, until sophrology or Pilates initiation sessions (to prevent muscle loss, common under chemotherapy) are online on your site.
Softness bubble…
For its part, Avène has been offering post-cancer care in its spa since 2016, and has demonstrated its effectiveness.
Available since May 1st, the Avène Thermal Spring Water Spray is available in a limited edition (300 ml, €7) and a beautiful gesture: with each spray purchased, one euro is donated to "Tout le monde contre le cancer" which set up the Échappée rose, the first mobile wellness institute in the hospital for all people touched by cancer.
Personalized beauty advice, massages, hand and face care… everything is done to offer them relaxation, soothing and letting go…
On each stage, the two socio-aestheticians invite patients and their caravans to enter the caravan for about thirty minutes of care, followed by a moment of conviviality and exchange around a gourmet space.
A box with Avène Thermal Spring Water products is given to each patient and accompanying person.
Since the establishment of this partnership in 2017, 52 days have already been spent in 32 hospitals across France. In 2019, thanks to the gains made from the limited edition of the Spray Eau Thermale d'Avène, the brand and the association hope to offer even more dates to meet these people affected by cancer and offer them a "sweet bubble".
A space for skin care and study within the Institut Curie…
Finally, Bioderma has just announced its association with the Institut Curie, by opening for the first time within the establishment, its Skin Care and Study Space, to help patients on a daily basis in the research and treatment of skin side effects related to cancer treatments.
Experts will provide them with all the advice (and products!) to take care of their skin and limit side effects.
The objective? To take charge of the patient as a whole, to give him all the means to follow his treatment in the best conditions and to advance research in care, by helping to develop a scientific understanding of the impact of treatments on the skin.
All this is achieved by conducting clinical studies on the different types of therapies and their cutaneous side effects.
The analysis of cutaneous toxicities (extreme cutaneous dryness, hand-foot syndrome, folliculitis, cutaneous rash, nail problems, alopecia…) is also part of the program. "Until now, we had a visual clinical evaluation: with the Skin Care and Study Space, we will objectify these results with skin measuring devices capable of evaluating its condition before and during treatment. Colorimetry, thickness of the corneal layer, measurement of inflammation, hydration rate… will make it possible to quantify the side effects, find the specificities of the different skins, redefine the physiopathologies and the mechanisms of appearance of these side effects. On a patient with dry skin at first, we will adapt the strategy, because the treatment will not help. We will define standard profiles of patients at risk of skin toxicity in order to provide precise and personalised management for each patient," says Hédi Chabanol, Head of the Bioderma Skin Care and Study Area at the Institut Curie.
The equipment acquired will then make it possible to collect biological data in addition to clinical data and to have an overall view of the skin effects of the treatments and patients' feelings.
For 4 years, Bioderma has been working to prevent skin side effects by providing hygiene and care products and information brochures to educate patients. The Dermatological Laboratory also supports the national operation"A Daffodil for Curie" which finances innovative research in oncology, but also KDog, the Institut Curie's medical innovation research program dedicated to breast cancer screening using the dog's sense of smell.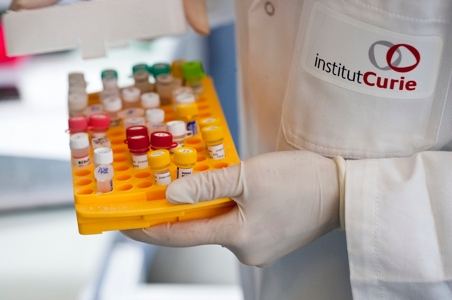 Feeling pretty is a right
The free "belle & bien" workshops (make-up or treatments), lasting two hours (8 to 12 participants maximum), are open to all women undergoing cancer treatment, everywhere in France. 3000 workshops have been organized throughout France since 2001, bringing together more than 175 volunteers (patient ambassadors).
24,000 women have already benefited from it. Belle & bien promotes the systematization of beauty prescriptions against cancer.
"We are convinced that beauty care makes it easier to accept the effects of medical treatments. For those who are struggling with the disease and whose self-image is affected, taking care of yourself is therapy," says Guillaume Adam, Executive Director of belle & bien.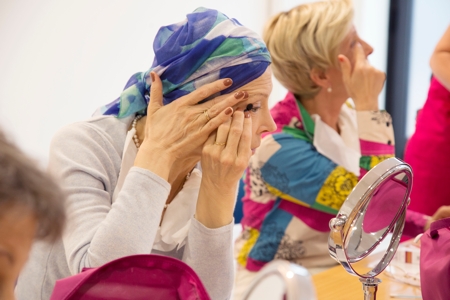 Même is the first brand of dermo-cosmetic products entirely intended for people affected by cancer, which has been marketing thirteen products since 2017 to prevent and combat the side effects of anti-cancer treatments on the skin (the latest innovations: "10 free" nail polishes enriched with silicon, 10 ml, €8.90).
A "100% tenderness" company founded in 2015 by Juliette Couturier and Judith Levy, who are themselves closely involved in the disease.
Developed with women subcontractors and with the help of a committee of medical experts, the efficacy and tolerance of Même products were validated during a clinical study in the Centre de Lutte Contre le Cancer. Subject to a very strict formulation charter excluding any potentially toxic ingredients, Même products meet the specific needs of the most fragile skin. They are available on the brand's eshop and in more than 2000 pharmacies.
The brand does not deny itself a positive humour, intended to boost the morale of the troops! Thus the Mist for irritated scalp, the wearing of wigs that can cause irritation (100 ml, €24.90) is subtitled "even I keep my head up!".
Or The Dissolving Oil (100 ml, €15.90) is accompanied by this message "even I delete everything and start over"!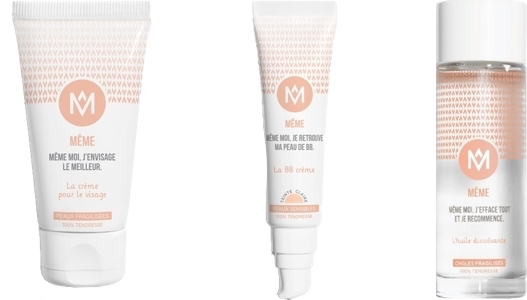 Menstrual precariousness
What can I do when every month at menstruation time we can't afford to buy sanitary pads?
This is a question that tens of thousands of women in France are asking themselves in a precarious situation (more than 2.6 million French women live below the poverty line).
Even if this subject is a little far from beauty, we can only welcome Vania's beautiful initiative, which offers, from May 1st to June 30th, for each pack of Vania towels purchased (ultra or maxi), one towel from Secours Populaire Français.
This donation will represent nearly 2.5 million towels, the equivalent of 142,000 packs of towels for a value of approximately €315,000.
According to Sébastien Thollot, Secretary General of the Secours Populaire Français "this is the first time such a donation has been made to us, which should enable us to provide an answer over several months." (#Leconfortpourt).
Ariane Le Febvre
© 2019- 2020 CosmeticOBS