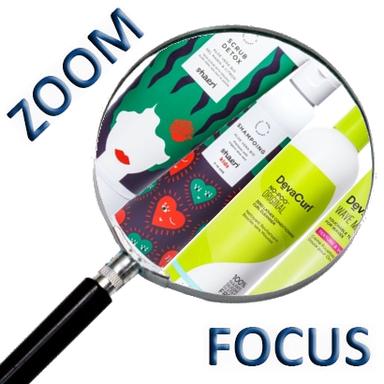 The ranges for curly, curly or frizzy hair (also called "textured") are not in crisis! It must be recognized that this hair is among the most fragile and demanding. Another noteworthy fact: after years of straightening and straightening, the trend is to cultivate your difference, so love your curls, be proud of them and show them off to their best advantage. Inclusive beauty has gone through this process. With expert brands entirely dedicated to this type of hair.
Curly hair asserts itself
End of the anti-frizz? No, there will always be demand but this is clearly not the trend and we bet it will be less and less! Moreover the word "anti-frizz" disappears in favor of "Curl".
Today, we seek to magnify and treat this unique and inimitable material with respect. The new ranges could take up this magnificent phrase of Jean Cocteau's "What we reproach you for cultivates it because it's you." Sites (the Curl Shop, Curl Essentielle…) or complete brands are now dedicated to curls (Shaeri, Deva Curl).
There are even food supplements designed to specifically fortify them (In Haircare, brand launched by Ma Coiffeuse Afro, 60 capsules, €29.90)!
Learn to love your curls
Although many women dream of it, curly hair is particularly in need of care. It is for them that cleansing cream or co-wash (whose non-foaming texture, similar to a conditioner, gently cleanses even the thickest, tightest curls) were invented.
They are dry or very dry, even rough, because due to their spiral shape, the sebum does not manage to reach the lengths and ends (remember that sebum coats the fiber, forming a natural nutritive barrier around the hair). The cuticles remain open and lack nutrients.
To form each curl, the keratin scales have to lift, which weakens the hair. Porous and difficult to tame, curly hair also needs to be shaped or the curls "lather" and frizz.
It is therefore important to maintain them with specific care not only to nourish them, but also to structure them and form beautiful curls.
Expert brands
Shaeri and DevaCurl are two brands exclusively dedicated to curls. Shaeri pays homage to Mediterranean beauty and has the merit of offering simple routines, based on organic Aloe Vera (Non-foaming Washing and Detangling Care, 200 ml, €26), or organic prickly pear oil which, according to the brand, contains six times more active ingredients than argan oil (Daily Care, 100 ml, €20; Intense Mask Care, 250 ml, €29). Latest product released: Pure Scrub Hair and Body (100 ml, €22).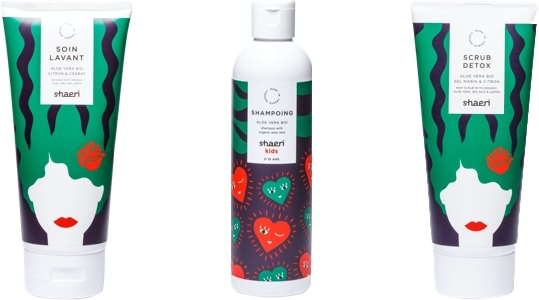 The wide range of Deva Curl products arrives in France at Sephora and Bleu Libellule. It includes cleansers, detanglers, care and styling products for textured hair, a total of 25 products!
The American brand estimates that more than 55% of European women are concerned. Sophisticated and almost tailor-made, it distinguishes three types of curly hair: wavy hair (which has very loose to supple S shapes, often straighter at the roots and more wavy towards the mid-lengths and ends), curly hair that forms loose to tight curls in corkscrews, and very curly hair whose dense and very tight spirals sometimes curl at an acute angle in a Z-shape. Therefore, there are products for each type of curl.
Thus, on the shampoo side (all non foaming and sulfate free), you can find the Low-Poo Delight for wavy hair, the No-Poo Original for curly hair, and for very curly hair, the No-Poo Decadence (355 ml, €27 each), or the Wash Day Wonder (355 ml, €31), a pre-wash detangler based on pracaxi oil, saffron flower extract and a natural sugar-based technology that eliminates knots to make shampooing easier and leave curls soft and manageable.
The latest addition, No-Poo Blue (No-Poo Curl Cleanser without Foam Copper Anti-Reflective Mousse, 355 ml, €29, starting in December), is for wavy or curly, color-treated or highlighted hair.
Another original product in the cleanser category, Buildup Buster Curl Cleansing Serum with micellar water (236 ml, €31) refreshes all types of heavy curls and helps to remove product build-up, leaving curls bouncy and shiny. Ditto for care and styling.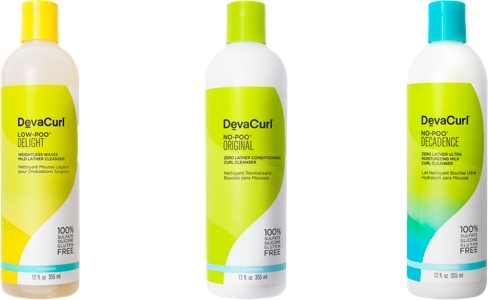 Thus, for wavy hair, the brand offers One-Condition Delight Soin Ondulations Légères (355 ml, €27), a light, moisturizing treatment based on rice protein, lotus flower and a mixture of chia extract and linseed, which can be rinsed out or not.
Wave Maker Whipped Cream Definition (147.9 ml, 29 €) is a light cream based on moringa seed extract and passion flower extract that helps redefine curls by taming frizz. Ultra Defining Curl Styling Gel (355 ml, 27 €) with wheat and soy proteins envelops curls with a non-sticky veil that redefines their shape and offers strong hold without a cardboard effect.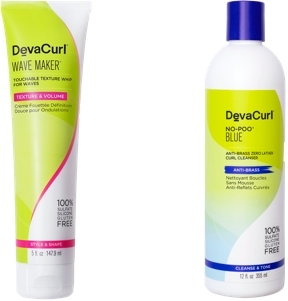 Deva Curl still offers accessories such as a special towel to dry them or a patented hand-shaped diffuser so that the air envelops the curls 360° and reaches the roots directly, helping curls dry faster for better definition (DevaFuser, Universal Diffuser for all types of curls, 53 €).
To be continued
• Second part of this trend with the more generalist ranges for this type of hair, present in all distribution channels.
Ariane Le Febvre
© 2020- 2021 CosmeticOBS