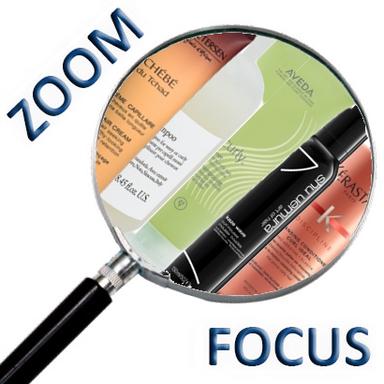 Ethnic hair lines are now invading all distribution channels, from hair salons to supermarkets. More and more specialized (they even distinguish five types of curls), they include washing, care (ubiquitous) and styling.
In salons, the boom in curl styling
After Kérastase and its Discipline line (latest addition, Aura Botanica Curl Cream, 150 ml, €31.50), Redken (Frizz Dismiss line) and L'Oréal Professionnel (Curl Contour), Shu Uemura Art of Hair has just launched two new curl products in its Styling line with refined and refined packaging (Kaze Waze, Curl Thermal Protection Mousse, 150 ml, €40); Uzu Cotton Definition Cream, flexible texture, light finish, 75 ml, €36).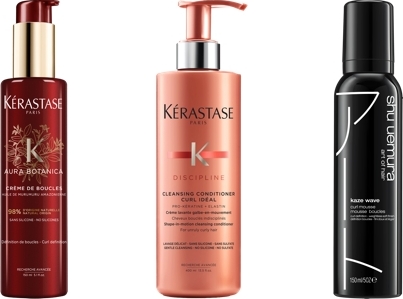 But the last ones are American or Italian. Aveda offers with its Be Curly range 7 products enriched with wheat proteins and organic aloe vera that expand on wet hair and retract on dry hair, accentuating curls and waves : Shampoo or Co-Wash (250 ml, €25 each), Conditioner (200 ml, €28,50), Style-Prep (100 ml, €30), Intense Curl Lacquer (200 ml, €29,50), Curl Intensifier (200 ml, €29,50 ) and Intensive Detangling Mask (150 ml, €31).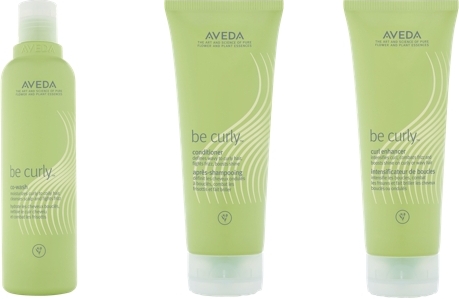 Up to five types of curls!
Bumble and Bumble has just reformulated its Bb range. Curl (silicone-free, with a rich blend of vegetable oils and butters) distinguishes five types of curls, from waves (straight hair at the roots that leaves a few waves on the lengths), to spirals (round curls, well defined and rather loose), through "Boticelli" (curls that form an S with a bouncy appearance), zigzag curls (voluminous hair with very tight and fine curls) and corkscrew curls (curls that form small tight spirals).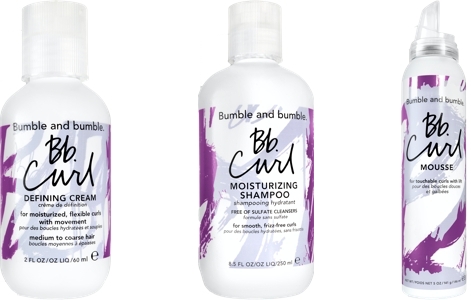 The New York firm has created seven products to deeply moisturize, reduce frizz and add shine, such as Sulfate-free Moisturizing Shampoo (250 ml, €30) and 3-in-1 Conditioner (200 ml, €33), that you can rinse or not or use as a co-wash to clean your hair with the greatest softness and the Butter Mask (200 ml, €37) that you can leave on for 3 minutes or leave on for 20 minutes before shampooing for the most thirsty curls. On the styling side, there are some very specific proposals such as the Definition Cream s (250 ml, €35) which is suitable for medium to thick curls, the Curl Reactivator (250 ml, 28 €) which hydrates and awakens curls the day after shampooing (and every day after that…), the Anti-Humidity Oil-Gel to relax tight curls (150 ml, €26,90 ) or the Mousse (146 ml, €31) for curly and hydrated curls.
For its part, Davines, with its Love/Curl range based on Noto almond extract, stamped Slow Food, which provides an intense moisturizing effect all along the hair, plays the card of naturalness and eco-responsibility. The Italian brand imagines two types of shampoos to alternate, one is an elasticizing and disciplining shampoo for wavy or curly hair (Love/Curl Shampoo, 250 ml, €18.40), the other is a conditioning and disciplining washing cream for wavy to very curly hair (Love/Curl Cleansing Cream, 500 ml, €31.10).
Afterwards follow the usual conditioner and mask (Love/Curl Conditioner 250 ml, €19.50; Love/Curl Mask, 250 ml, €30.70). More original, the Love/Curl Primer (150 ml, €25.40) is a moisturizing milk that gives definition to wavy or curly hair, detangles and facilitates styling, offers an anti-humidity effect and thermal protection. Several products can be used to shape hair, such as the no-rinse elasticising serum (Love/Curl Cream, 150 ml, €23.80), the anti-frizz disciplining cream (Love/Curl Controller, 150 ml, €23.80) or the elasticising care that gives vitality to curls between shampoos (Love/Curl Revitalizer, 250 ml, €25.40).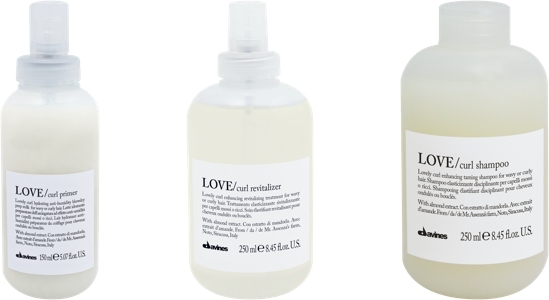 Let's also mention Patrice Mulato's Azali range, which - a good idea - also includes care products for relaxed hair (Shampoo and Ultra-Repair Mask, 200 ml, €18.50 each).
The other distribution channels are getting into it too!
In the Selective segment, Sisley has just launched in its Hair Ritual range a Nourishing Restructuring Balm for lengths and ends (150 g, €95). Combined with the Revitalizing Smoothing Shampoo with Moringa Oil (200 ml, €64,50), it promises "spectacular results for Afro, frizzy and curly hair".
Christophe Robin structures the curls with Curls Care & Style, Curls Fabulous Cream with Linseed Oil (150 ml, €27), or No Frizz Care & Style SOS Anti-Frizz Milk with Shea Butter (250 ml, €29), both made with 99% naturally sourced ingredients.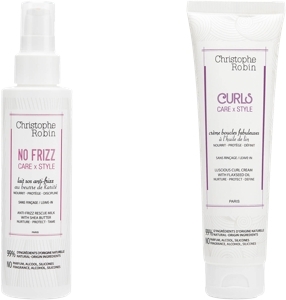 For those who would like to smooth their hair, Virtue has created The Polish Un-Frizz Cream, Smoothing Relaxing Cream (120 ml, €43, at Sephora), a no-rinse treatment based on Alpha-Keratin 60ku (their patented keratin) which transforms the texture of the hair, relaxes the material and straightens the lengths.
More confidential and eco-responsible brands are emerging, such as the Chadian Salwa Petersen, who imagines in her Rituals from Africa, the Chébé du Tchad Leave-In Hair Care Cream (150 ml, €55).
Kreyol Essence is a Haitian brand that has chosen Karapate oil (it differs from castor oil in the way the seeds are treated) certified sustainable development and ethical. Traditionally extracted by hand by communities of women, it retains its properties on the growth of curly, frizzy (Haitian Black Castor Oil 100% pure, 100 ml, €29,90).
In pharmacies, Phyto Spécific designs a complete care program for curly, frizzy, frizzy or straightened hair, which begins with Rich Hydration Shampoo (250 ml, €14.90), Cleansing Care Cream (125 ml, €19.90), or Baobab Oil Bath pre-shampoo (150 ml, €19.90).
The latter can also be used as a leave-in treatment for dry hair. Styling is not to be outdone, with five products (Curl Legend Curl Awakening Spray or Curl Legend Curl Sculpting Cream-Gel, 150 ml, €19.90 each; Hair Moisturizing Cream, 150 ml, €19.90; Nourishing Hair Butter, 100 ml, €14.90; Thermoperfect Smoothing Sublimating Care, 150 ml, €23.90).
On the care side, in addition to the traditional masks, the brand has developed an original (but very legitimate) anti-hair loss treatment for hair loss resulting from the tractions exerted by weaving, braiding and straightening, an excellent initiative! (Phytotraxil Anti-Hair Loss Treatment, 50 ml, €46.90).
Another company that addresses this problem: Les Secrets de Loly (Growth Serum, hair oil certified Cosmos Natural, 250 ml, €26.90).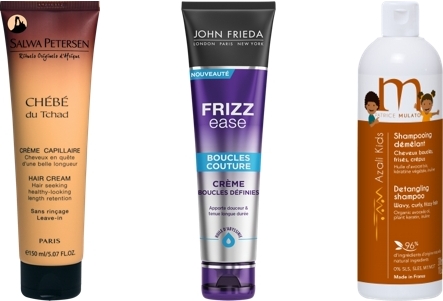 Finally, in supermarkets, you can only really count on John Frieda, a great specialist on the subject, who has just concocted Frizz Ease Boucles Couture, Curl Defining Cream (150 ml, €8.90) with flexible styling polymers and Abyssinian oil, to ensure that curls are moisturized, defined and held for a long time.
Kids' hair will curl to perfection too!
The segment is buoyant. Shaeri Kids is launching a specific shampoo for children with curly hair (Doux Doux Enfants Shampoo, 225 ml, €15), as well as Patrice Mulato (Azali Kids Detangling Shampoo for Curly, Frizzy or Frizzy Hair, 300 ml, €16.50) or Les Secrets de Loly (Bubble Dream Shampoo extra-gentle for children, 250 ml, €15,50). The latter even offers a Boost Curl Hair Jelly, an anti-dehydration shield with a fruity pineapple fragrance that sets curls without cardboard or wet effect (250 ml, €18.50).
A chapter that is not about to close !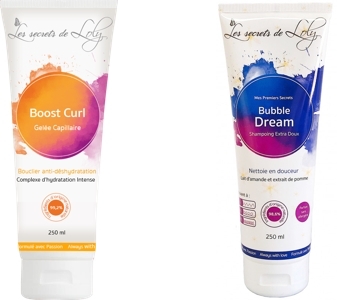 Ariane Lefebvre
© 2020- 2021 CosmeticOBS