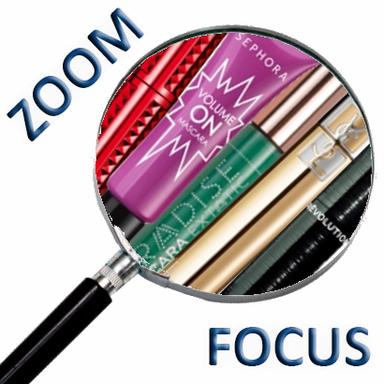 Orange, burgundy, blue-grey or red or bright pink, summer mascaras come in increasingly bold colours. And it will even continue in the fall… enough to dissuade us from wearing only black! Long live color in a heartbeat!
Anything but standard!
Make-up is a game and coloured mascaras seduce the younger generations.
They intensify the colour of the iris, "light up" the eyes and have a particular impact on tanned skin. There is a change in shades.
Traditionally, many mascaras are available in brown and blue.
But today, the colours are changing tone and becoming outright pop, like Dior's bright pink or intense blue (Mascara Diorshow Pump'N' Volume 840 Pink Pump, Mascara Diorshow Pump'N' Volume HD 255 Blue, €34 each). For all those who are not afraid and appreciate non-conformism!
L'Oréal Paris has just released in supermarkets a new collection of Paradise Extatic Masks "Les Couleurs du Paradis" in coppery orange, brown, purple, blue and green (€13.90).
Five new mascaras with ultra-pigmented colours and enriched with a star ingredient and a unique fragrance for even more pleasure in application.
Thus the orange hue is formulated with an apricot leaf extract and perfumed with peach and freesia, brown contains a chestnut extract and a sandalwood and peach scent, violet a blueberry extract and a wild strawberry scent, blue a linen flower extract and a magnolia and freesia scent, green a green tea leaf extract and a watermelon and leaf scent.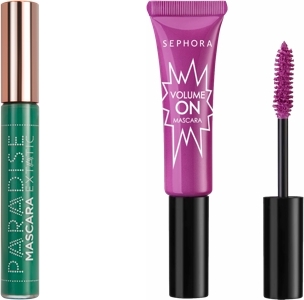 Sephora Collection offers its Volume On Mascara! (€8.99) in cind colours, including turquoise, purple almost fuchsia or mint green, for eyelashes that stand out!
Style to the end of your eyelashes!
For the start of the school year, Chanel is creating a collection of mascaras with refined nuances that invites women to express their own style and apply make-up spontaneously. Chanel's Volume Revolution (€35, from August 14), and its famous 3D printed brush, will now be available in four original and subtle shades: 91 Volcan (deep grey blue), 17 Jungle Green (emerald green), 27 Deep Eros (bright burgundy), 37 Intense Teal (sparkling green blue).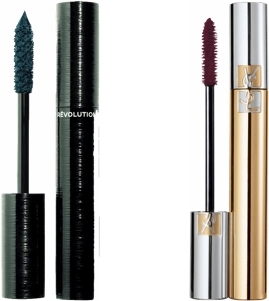 The red trend is confirmed!
After the burgundy mascaras of Yves Saint Laurent (Mascara Volume Effect False Eyelashes, Burgundy shade, €35) and Maybelline New-York (Snapscara 002 Black Cherry shade, €9.50), it is Givenchy's turn to launch her incendiary red mascara in an unusual metallic red bottle (Volume Disturbia Mascara Volume & Courbe 24Heures N°02 Red, €29).
To all those who are afraid of the artificial result of the colour on their eyelashes, we can remind them that they can tame it by superimposing it on a black mascara.
In this case, black is applied as a base and a touch of colour is applied to the tips of the lashes or just to the centre of the lashes.
We can also start, as Peter Philips, Director of Creation and Image of Dior Make-up, advises "by applying black on the top and pink eyelashes, for example, on those at the bottom."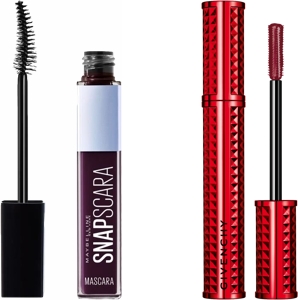 Ariane Le Febvre
© 2019- 2020 CosmeticOBS