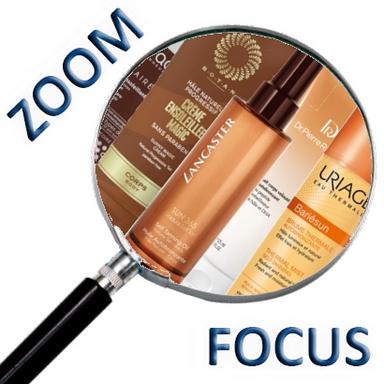 They have a role to play in moving out of its confined mine, and, logically, they're getting back on track with deconfinement. Especially since you don't really want to wear foundation under your mask. The newer ones are no exception to the rule of naturalness and come in a range of textures (from night mask to self-tanning water) in which it is impossible not to find your happiness. If you can't leave, you can always take your skin on holiday!
Progressive self-tanning for face or body
They are the most natural and recommended at the moment, especially on very white skin.
Their lower concentration in DHA helps to raise the tone by limiting the risk of welts.
With them, it will be necessary to repeat the operation every two to three days on average (depending on the desired tan).
The drying effects of DHA are most often counteracted by moisturizing ingredients (hyaluronic acid, vegetable oils, etc.).
The 2020 self-tanner should not add any gestures and can easily replace our daily face cream or body lotion.
The drying time has been reduced (only a few minutes).
Among the simplest to use, Nivea's Firming + Tanning Moisturizing Milk (200 ml, €5.50) which offers in one formula three actions: hydration, firmness (it is enriched with coenzyme Q10) and progressive tanning, B. Magic Progressive Natural Tanning Body Cream. O.T.A.N. (200 ml, €28), or the Lancaster Sun 365 Gradual Self-Tan (Progressive Self-Tanning Body Oil, 150 ml, €32, Progressive Self-Tanning Face Serum, 30 ml, €39).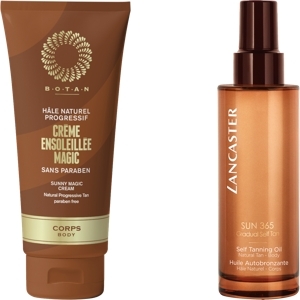 Dr Pierre Ricaud has also just launched two new progressive self-tanners with a tan-enhancing peptide (Smoothing Self-Tanning Smoothing Care for Face, 40 ml, €20; Velvety Self-Tanning Body Milk, 125 ml, €22).
Charlotte Tilbury's clever Overnight Bronze & Glow Mask (50 ml, €48) helps you wake up looking sun-kissed.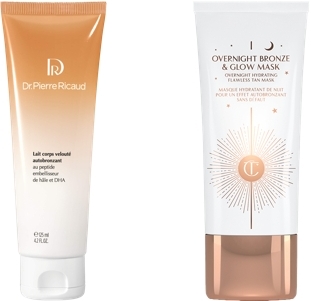 Palm of practicality, the progressive face and body formulas
Even more practical, the formulas that can be applied either on the face or on the body are taking the lion's share this spring, such as the Coconut Bronze Progressive Tanning Lotion The Body Shop (100 ml, €15), enriched with Fairtrade coconut oil, the Face & Body Tanning Gel by B. O.T.A.N (150 ml, €26,99), the Face & Body Self Tanning Moisturizing Milk Ideal Soleil de Vichy (100 ml, €18,90), the Thermal Self Tanning Face & Body Thermal Mist Bariésun from Uriage, 100 ml, €12,45, or the Self Tanning Moisturizing Face & Body Melting Gel Autohelios from La Roche-Posay (100 ml, €16,50).
The texture of the latter has a high spreading power that allows a perfect distribution on the skin, thus ensuring a progressive and controlled colouring.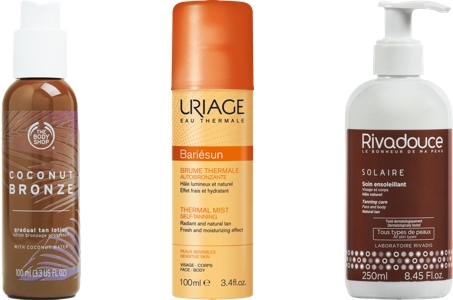 Le Sun Care for Face and Body of Rivadouce (250 ml, €11), a true care, does not contain DHA but erythrulose, allowing to obtain a truly natural golden tan.
Permission to cheat
With these more concentrated self-tanners that promise a more sustained tan, such as Garnier Natural Bronzer Self-Tanning Mousse Ambre Solaire (200 ml, €11.70), a vegan formula with moisturizing coconut water, which ensures a caramel skin "for a week" without transfer to clothes.
Or Sisley's two latest creations, bursting with active ingredients (Super Soin Autobronzant Hydratant Corps, with velvet glove tanning applicator, 150 ml, €94; Super Soin Autobronzant Hydratant Visage, 60 ml, €103).
A good idea, an exfoliating hibiscus flower extract that contributes to an even tan. St.Tropez is expanding its Self Tan Purity range with two new vegan products, 95% natural, enriched with vitamin C & D boosters (Aqua Brume Bronzante Corps, 200 ml, €48; Aqua Sérum Bronzant Visage, 50 ml, €38).
Their originality? The great naturalness of the formulas (green mandarin water and Kakadu plum for vitamin C, hyaluronic acid, avocado oil naturally rich in vitamin D, 100% natural self-tanning active ingredients…) and a delicious fruity fragrance created by Givaudan.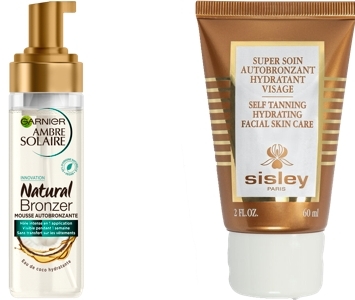 Finally, green addicts will be able to "gild on edge" with Lavera's two new Natrue-certified self-tanners, which also promise long-lasting hydration (Organic Self-Tanning Lotion, 150 ml, €15; Organic Self-Tanning Face Cream, 50 ml, €12).
A little precision that can make the difference: while these two products warm the complexion, they do not do the same for the climate, since Lavera is committed to Climate Partner to offset the impact of its activity in CO2 emissions by financing a sustainable project Protection of Forests, which is dedicated to the cultivation of Brazil nuts in Tambopata, Peru, with the aim of protecting the Amazon region.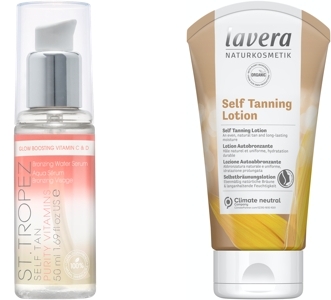 Ariane Le Febvre
© 2020- 2021 CosmeticOBS