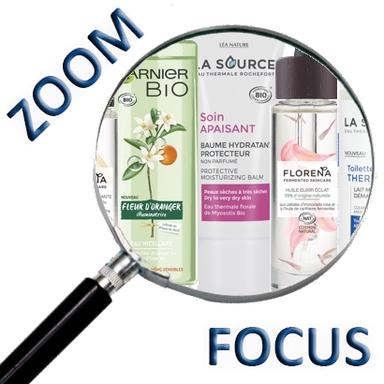 Flowers haven't said their last word! Although they have always had an intimate connection with beauty, until now they have been flowering more in perfumeries than in supermarkets. The good news is that various innovative (and certified organic) flower-based launches are bringing an extra dose of soul and poetry to Skincare in supermarkets at the beginning of the year… all at a very sweet price (less than 20 euros).
Fermented floral cosmetics
When the flowers (camellia, honeysuckle, immortal, jasmine) benefit from a novel fermentation process, the result is Florena, a new brand of "Fermented Skincare" belonging to the Beiersdorf Group. The flowers are combined with vegetable oils (olive, argan, safflower, angelica) which are also fermented.
This natural fermentation process boosts the ingredients, making them more powerful. According to the brand, "our fermented oils contain ten times more fatty acids than unfermented oils." The digestion induced by fermentation frees the active molecules and makes them more easily assimilated by the cells, giving them better bioavailability.
The process begins with the selection of oils and flowers that have been handpicked for their effectiveness in delivering the expected benefit: hydration, firmness or wrinkle reduction. Natural fermentation agents (yeasts, bacteria, fungi…) are then added to these ingredients to initiate the fermentation process. Each of the ingredients ferments in a different way, at its own pace, and for as long as necessary, allowing nature to complete the transformation. Once this process is complete, the mixture is filtered to keep only the fermented components, which are then incorporated into the formulas.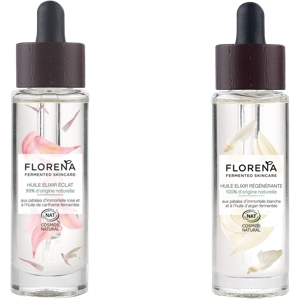 All products (twelve by March) are certified COSMOS NAT, vegan formulas contain a minimum of 99% ingredients of natural origin. The packaging is reduced (smaller and lighter jars of only 7 g, six times less than a traditional jar) to minimize their environmental impact and is made from recycled and recyclable materials.
Four ranges in total (Moisturizing, Anti-Wrinkle, Oils or Toiletries).
The Moisturizing line highlights fermented camellia and fermented olive oil (24H Moisturizing Cream or 24H Nourishing Cream, 50 ml, €12.99 each; 24H Moisturizing Mask, single-dose sachet 8 ml, €3.49 each).
The Anti-Wrinkle range is made with fermented honeysuckle, fermented olive oil and hyaluronic acid (Anti-Wrinkle Day Cream and Anti-Wrinkle Night Cream, 50 ml, €18.99 each; Firming Mask, single-dose sachet 8 ml, €3.49, all three from March). Both oils reveal real immortal petals in fermented argan and safflower oils (Regenerating Elixir Oil or Radiant Elixir Oil, 30 ml, €19.49 each).
As for the Toilet line, it combines fermented jasmine and fermented angelica oil (Cleansing Milk and Toning Lotion, 200 ml, €9.49 each; Cleansing Wipes, 25 wipes, €4.99, all three from March; Dermatological Face Bread, 90 g, €6.99, from January). Small precision: the wipes are made of Lyocell, an environmentally friendly, ecological fabric made of plant fibres from renewable sources.
Patented floral thermal waters in supermarkets and hypermarkets.
With its new brand La Source, the Léa Nature group intends more than ever to make certified organic cosmetics and spa treatments available in supermarkets and hypermarkets (by February).
La Source uses Rochefort thermal spring water (10% minimum in each product) infused with flowers, resulting in four floral thermal waters of nymphea (Moisturizing and Thermal Toiletries), forget-me-nots (Soothing Treatments), iris (Anti-Aging Treatments), or angelica (Purity Treatments). The organic flowers are harvested around La Rochelle. The duration of the floral infusion is specific to each plant. The temperature is gentle to respect the active ingredients (42°C).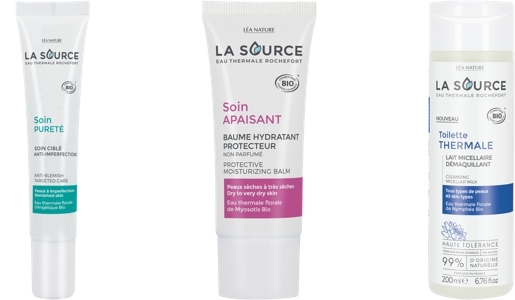 All ranges offer excellent tolerance, which allows them to be used on sensitive skin (high tolerance fragrance without listed allergens). A total of 19 products, from €5.90 to €15.80, the highest price for Anti-Aging Care with organic iris floral thermal spring water (Intensive Full Action Serum, 30 ml, Full Action Eye Contour 15 ml, Full Action Day Cream and Full Action Night Cream, 40 ml each).
The Thermal Toilet range includes four products: Cleansing Micellar Solution (200 ml, €5,90), Cleansing Micellar Milk (200 ml, €6,90), Cleansing Micellar Gel (125 ml, €5,90) and Cleansing Micellar Foam (150 ml, €6,90).
From peony to the flower of Brède Mafane
The peony and its wealth of polyphenols are at the heart of Age Perfect Golden Age Soin Froid Re-Stimulant Nuit from L'Oréal Paris, which has just been released in hypermarkets and supermarkets (50 ml, €16.50), a rosy skincare product that immediately lowers skin temperature by 1.5°C, for all mature skin types looking for a new skincare experience.
Its evolutive texture is also new: rich when taken out of the jar, it refines during application and then regains its density afterwards to seal the active ingredients in the epidermis like a mask. Garnier Bio also celebrates flowers in its new Micellar Water with Organic Orange Blossom from North Africa (400 ml, €6.90) and its Organic Lavandin Anti-Aging Night Care (50 ml, €9.90).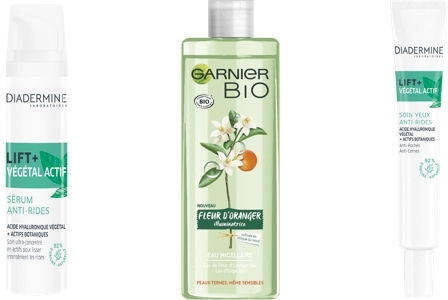 For its part, Diadermine uses an original flower: the Brède Mafane flower that "tightens the collagen fibres together to reduce wrinkles" in its new Clean Beauty Lift+ Active Plant range (Anti-Wrinkle Firming Day, 50 ml, Anti-Wrinkle Firming Night, 50 ml, Anti-Wrinkle Eye Care, 15 ml, Anti-Wrinkle Serum, 30 ml, €12.30 each), while awaiting the launch of its two certified organic Anti-Ageing and Moisturizing ranges in May.
Ariane Le Febvre
© 2020- 2021 CosmeticOBS