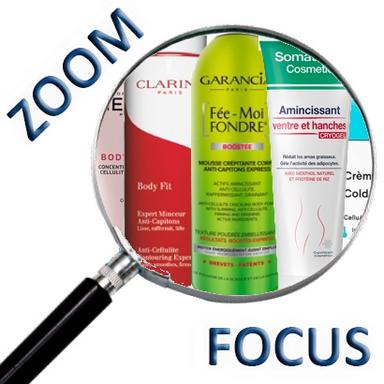 Inspired by cryotherapy, the spring slimming products are blowing cold on our dimples! The trend is for a minty gel that gives you a chill and tones your body. There's nothing like it to give you a boost in the morning!
The kick-off is given by Somatoline Cosmetic which launches its first treatment of cryotherapy (the mark had rather accustomed to us with the hot effects) by reformulating its slimming star belly & hips (Slimming Belly & Hips Cryogel Concentrate, 250 ml, The kick-off is given by Somatoline Cosmetic which launches its first treatment of cryotherapy (Slimming Belly & Hips Cryogel Concentrate, 250 ml, €34,90). And reminds us that fat cells are sensitive to cold. This new cryo gel "reduces fatty deposits, stimulates thermogenesis and freezes the activity of adipocytes." The fresh effect (more than cold) is pleasant and long-lasting, and above all very toning, with the sensation that the body is lighter. Impeccable when in more one has problems of heavy legs!
The formula contains 2% of natural menthol, but also rice proteins (effect "burns fats"), caffeine and extract of lychee lipolytic, as well as various algae which one finds more and more this spring in the care thinners (dermochlorella, red alga).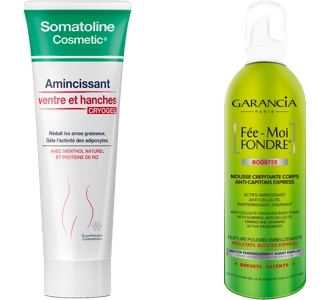 Many brands boost their formulas
Garancia has also just revised its copy with a boosted formula, cleaner and more effective, which announces results twice as fast as with the old formula, in a recyclable aluminum packaging (Fée-Moi Fondre Boostée, Mousse Crépitante Corps Capitons Express, 400 ml, €39,90). Here again, freshness is the key to this "all in one" treatment (it can be used on all the padded areas of the body) with a crackling texture that creates a surprise and encourages regular use.
According to the brand, "the main reasons for abandoning the use of a slimming product are the lack of sensoriality and the difficulty of application. The majority of the proposed products have an unpleasant fragrance, a very often sticky or drying texture, a constraining application, a mono-task and not global action and finally a very discussed effectiveness with inconclusive results." The formula (97% natural origin) contains firming grafted silicon, a draining esculin derivative, succinic acid, a lipolysis booster of 100% natural origin, a marine active ingredient and three botanical extracts (mate and stevia leaves that stimulate lipolysis and limit lipogenesis, as well as beet that drains excess fluids).
Special mention to its texture really very … crunchy that penetrates instantly.
Lierac also reinforces the cryoactive formula of its slimming by associating ginger with caffeine (Body-Slim Concentrate Cryoactif Cellulite Incrustée, 150 ml, €30.50).
According to the brand, "its effectiveness on fat removal is 20 times greater than that of caffeine alone thanks to the ginger which, like a switch, initiates the lipolysis reaction." The active texture of the gel provides an immediate and prolonged sensation of cold that decongests the body.
Cellublue has also created a whole range of creams and minty gels, rich in caffeine, arnica, seaweed…: Cryo Fever (Cold Cellulite Cream, 200 ml, €24.99; Cryo Belly and Hip Slimming Gel, 150 ml, €19.99; Cryo Thighs and Buttocks Slimming Gel, 200 ml, €24.99).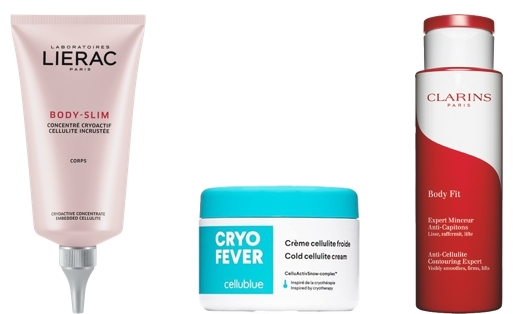 But one of the first skin care products with a fresh effect was undoubtedly that of Clarins launched in 2017 (Body Fit Expert Minceur Anti-Capitons, 200 ml, €54), which is so successful that an XXL format is now offered (400 ml, €76).
The brand has always believed in the benefits of cold, assuring that not only does its organic water mint extract limit hypoxia of adipose tissue, but more importantly activates the synthesis of collagen I, thus contributing to skin firmness.
Ariane Le Febvre
© 2021 CosmeticOBS