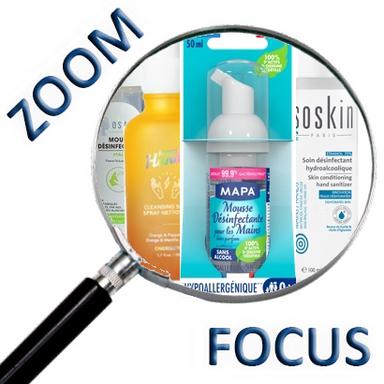 Claiming the same effectiveness against bacteria and viruses, the new alcohol-free disinfectant care products, based on lactic acid, boast a number of advantages! Much gentler on our hands, they are composed of 100% natural ingredients and can be used on children. Quite a difference in terms of comfort! And now they are available in supermarkets…
On the one hand, new dermo-protective hydroalcoholic skin care products, formulated with a high concentration of moisturizing active ingredients, such as Soskin's Hydroalcoholic Disinfectant Care (100 ml, €5 or 500 ml, €10.70, in pharmacies) which contains alcohol (70% ethanol) but also 30% shea butter and rosehip oil.
Like classic hydro-alcoholic gels, it eliminates 99.9% of bacteria and viruses, with one major difference: it strengthens the skin barrier. Dehydrated skin will appreciate it!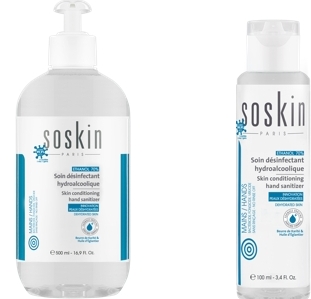 On the other hand, alcohol-free disinfecting foams based on lactic acid with naturally disinfecting properties, just as reassuring and "framed" as the usual hydro-alcoholic gels, but much softer for the hands!
Lactic acid eliminates bacteria and viruses while preserving the epidermis and its famous naturally protective oily film and contributing to the hydration of the skin. Often certified organic, they are ready to use and require neither water nor rinsing, for a use when you are outdoors with no water available.
This is the case of the Disinfecting Foam for the Hands of Hygios - Naturopera group - refillable and whose formula is moreover 100% biodegradable (50 ml, €3.30, refill 250 ml, €10.50).
Elaborated and made in France, it is suitable for the whole family and even for babies from three months old. It is thus particularly adapted to the most sensitive skins. It has obtained a Simplified European Marketing Authorization (AMMS) and has been evaluated by the European Chemical Agency (ECHAe), as well as by the French National Health Safety Agency (ANSES). It also benefits from a complementary certificate of efficacy on Coronavirus delivered by an independent and accredited laboratory (EN 14476+A1 standard). Finally, it was elected "Best Eco 2021 Product" in the body care category.
Its 100% natural formula, without perfume and allergens, contains only six ingredients, including lactic acid (from plant fermentation), non-ionic surfactants of plant origin derived from sugars, sodium lactate and moisturizing glycerin. It eliminates 99.99% of enveloped bacteria and viruses (COVID 19 included) while keeping skin hydrated at all times of the day.
It is very easy to use: simply press the pump to obtain the optimal amount of foam needed (each pressure delivers the right amount to protect against enveloped bacteria and viruses) and rub your hands without rinsing.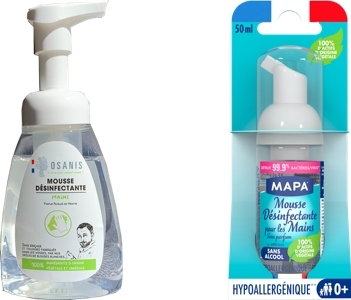 Same topo with the Osanis Hand Disinfecting Foam from Salveco Laboratories (250 ml, €7.49).
For the whole family and even in supermarkets!
You can now find these same disinfecting foams in supermarkets and hypermarkets in the household gloves section, since Mapa offers them (Hand Disinfecting Foam, 100 % recyclable 50 ml bottle, €3.40 or 150 ml, €5.80)! Always alcohol-free and fragrance-free, with 100% plant-based lactic acid, these products, which, let's not forget, destroy 99.9% of bacteria and viruses, are particularly indicated for very young children (with the foam, there is no risk of gel splashing in the eyes).
Their biodegradable and hypoallergenic formula has been tested by pediatricians. Their texture, particularly pleasant, does not stick and leaves hands soft even after several daily uses. The pump has the advantage of delivering the right dose for effective protection.
As an example, the 50 ml format can be used at least 125 times, while 3 ml of foam - or one squeeze - provides optimal hand disinfection. It's economical and you know exactly how much to use!
More fun, Merci Handy's cleaning sprays
They combine the fragrant benefits of a combination of essential oils with hand cleansing (here we are not talking about disinfection, even though they contain 67% pure alcohol from beet, as well as natural glycerin) for those who appreciate more sensorial products.
Merci Handy offers three Cleansing Sprays : Energizing (orange and peppermint), Purifying (sage and tea tree) or Relaxing (lavender and eucalyptus), in recyclable bottles (50 ml, €10).
Their originality? They can be used on hands or objects (to clean your phone or mouse pad), or sprayed into the atmosphere to benefit from their aromatherapy virtues.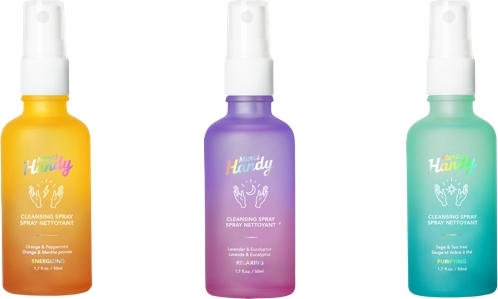 Ariane Le Febvre
© 2021 CosmeticOBS