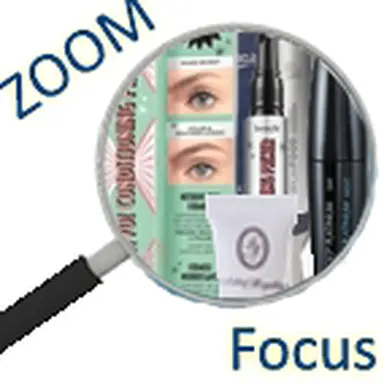 Brows, second and last part… If they are just inexistent, sparse, or too pale, you can use products specially formulated for them, or associations combining lash and brow revitalization. The brow segment is booming so much that after whole makeup collections, you will now find brow care products in store. Welcome to the brow care era!
After highly sophisticated brow exfoliation (L'Atelier Maquillage Delicare Brow Gommage Sourcil, 10 ml, €16.90) to be used between two hair removal sessions ( 'it releases thin emerging hairs from the brows, makes eye shadows last longer, and does not need to be rinsed off,' the brand announces), several brands are launching brow care products specially formulated


for brows this autumn. It is true that if they are sparse or not really thick, the gaze loses a bit of intensity!
Lashes and brows, same fight?
'Definitely', we would be tempted to answer. But actually, not quite… indeed, if you have tried to make overplucked brows regrow, you already know the situation is much more desperate than with lashes… hence the creation of these exclusive care products.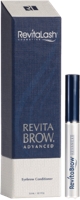 The Revitalash Revitabrow Advanced Eyebrow Conditioner (3 ml, €84.90) nourishes and accelerates brow growth, thanks to a generous quantity of revitalizing peptides and plant-derived ingredients (ginseng root, calendula flower, tea leaves, Swertia Japonica used against hair loss…). The capacity may seem limited and the price pretty high, but you will only need a very small quantity once a day – preferably at night – and the brand claims it lasts four months.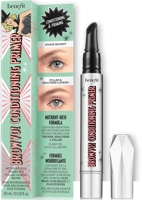 The Benefit Browvo Conditioning Primer (3 ml, €30.50) is a transparent gel rich in nutrients (keratin, soya proteins…) which makes brows thicker with its innovative, ergonomic applicator that evenly distributes the formula. Used alone, it nourishes and protects the brows by providing them with a bit of shine. As a makeup base, it enhances the eye shadow colours and makes it last longer.
But, no doubt the most original product is the Talika Eyebrow Lipocils Platinium (2 x 8.5 ml, €79), a double serum (day, night) which activates brow growth and obeys the law of Chronobiology. This care product with eight patents does not just reinforce and accelerate brow growth, it also acts on pigmentation (action of a botanical extract:


Coleus forskohlii, a natural pigmentation booster). By taking into account brows' natural biological rhythm, the day formula protects, while boosting growth, while the night formula regenerates and densifies brows. With a 95.3% natural composition, the whole brow life cycle is optimized!
Liner tips are emerging

Face care masters like Filorga are also launching creations to stimulate brow growth. Optim-Eyes Lashes & Brows (2 x 6.5 ml, €49.90) is a double lash & brow serum contained in a double-tipped bottle. On the one hand, a stimulating serum helps brows remain anchored and slows down their fall with a highly accurate liner tip (like Revitalash) to deliver the actives as close as possible to the skin. On the other hand, there is a firming, nourishing, thickening care formula to be applied with a 'mascara' brush. This colourless base optimizes both makeup application and longwear. The brand claims you will get results in 14 days, but it is true you will need to apply both products in the morning and at night!
Here is another lash-brow duo, only this time it is fitted with a spiral brush: the new Mavala Double-Cils Eye Lite formula (10 ml, €14.30) is concentrated in proteins, vitamins, and glycolic acid (the latter optimizes the regenerating actives penetration in the hair follicles). It is to be applied at night to 'sheathe' and strengthen lashes and brows. What makes it original? A 'thixotropic' solution whose viscosity transforms when you apply the product (the gel texture in the small bottle becomes fluid when you shake the brush, so you can easily apply and perfectly spread the product on the lash or brow surface).
The same principle applies to the Écrinal Lash & Brow Strengthening Gel (9 ml, €13), a transparent serum based on a new, even more strengthening formula (ANP®2+, a patented complex that boosts the cell metabolism to protect the hair shaft, provitamin B5…).
As for Sephora, they are the exclusive distributors of the Lashfood brand, which has developed a Brow Care Kit (€99), a comprehensive care and makeup kit containing, other than the star revitalizing product (Phyto-Medic Eyebrow Enhancer, 5 ml), several accessories like a brow brush, four reusable guides to perfectly draw difficult areas (like the arch base), a transparent gel to do and fix the brows, a brow pencil…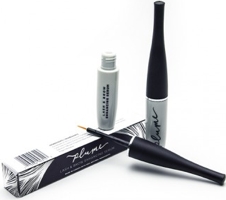 You will also find very convincing, efficient organic and even vegan lash & brow products in store: Plume Lash & Brow Enhancing Serum, 5 ml, €109, available from Bazar Bio. Other than castor oil, vitamin E, and watercress, the formula contains forskolin, this Ayurvedic medicine flagship ingredient extracted from the Indian coleus root (INCI: Coleus forskohlii). Again, the liner tip only delivers a drop of formula on the lashes and brows.
Eye contour skincare for lashes and brows?

When will brands develop eye contour treatments that can act on brow beauty? Many women actually apply their eye contour on the whole upper lip, going up under the arch.
Products that can be applied on lashes already exist, like Biotherm's Blue Therapy Eye Opening Serum (15 ml, €48). Thanks to its high-tech applicator, a pearl fitted with a mascara brush, it is designed to be applied on the lashes, so why not also on the brows?
© CosmeticOBS-L'Observatoire des Cosmétiques
© 2017- 2022 CosmeticOBS