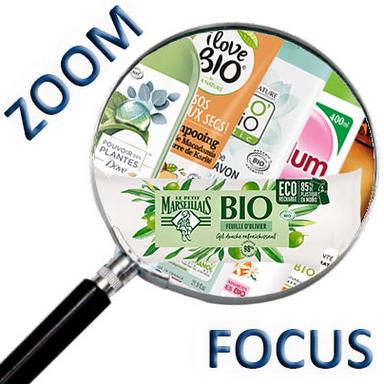 The bio is foaming in supermarkets! Shampoos and shower gels convert to certified naturalness. Facing the fear of a less effective or pleasant organic hygiene, the sensoriality was particularly worked, especially the textures and the perfumes often elaborated by great perfumers of Grasse.
After the groups Léa Nature (with the brands So'Bio étic, Floresssence and the small last I Love Bio) and L'Oréal (La Provençale Bio, Cadum, Ushuaïa, Dop, Garnier Bio), big actors of hygiene (Dove, Le Petit Marseillais) launch their ranges certified organic or natural in supermarkets and hypermarkets at the beginning of the school year.
Among the first, the La Provençale Bio Showers were created in 2018 (latest references: The Invigorating or Relaxing Shower, 500 ml, €5.39 or The Extra-Pure Relaxing Soap Lavender Scent, 100 g, €3.85).
Then will follow those of Ushuaïa in July 2019 (Certified organic and highly biodegradable Shower Gels, 250 ml, €3.35) and Cadum (Certified organic Shower Gels Natural Caresse, 400 ml, €3.79, new scents: Fig or Orange Blossom).
As for Dop, he proposed his fruity shampoos certified organic from June 2019 (latest innovation: Very Gentle Shampoo certified organic Coconut, 400 ml, €3.50, in September).
The Lea Nature group, for its part, imagined shampoos and shower gels certified organic since 2008 with So'Bio étic, then Floresssence. I Love Bio, the group's funnier and younger brand, will follow in 2019.
Among the latest new products (all sulfate-free, palm oil- and derivatives-free, with 100% vegetable-based and recyclable tubes except for the capsules, but the group is working on it! ): the Nutrition Shower Cream with organic argan oil, the Soap-free Shower Gel with organic lotus flower or the High Tolerance Shower Cream with organic oat milk from So'Bio étic (650 ml, €6.95), the Tropic Mood Shower Gel with passion fruit and Tudo Bem Green Coconut from I Love Bio by Léa Nature (200 ml, €2.99).
The latter has also just imagined her first shampoos (SOS Dry Hair Shampoo with macadamia oil and shea butter, For all hair Shampoo with coconut oil and green tea, Sublim ma couleur (Sublim my dye) Shampoo with safflower oil and pomegranate for colored hair, Anti-Pell Shampoo with tea tree and lime essential oils, 250 ml, €4.70) and conditioners (SOS Dry Hair Macadamia Oil & Shea Butter Conditioner, Sublim ma couleur Safflower & Pomegranate Oil Conditioner, colored hair, 200 ml, €5.70).
Last but not least, the brand has been a member of the worldwide collective "1% for the planet" from the very beginning, to which it donates 1% of its turnover.
Another example is Lovea's Monoi and Shea Shampoo for Dry and Damaged Hair, which is Cosmos certified (200 ml, €3.25).
Shower oils for Dove
With its Dove Plant Power line, the Unilever Group is banking on shower oils so as not to disappoint consumers who sometimes consider certified organic shower gels too liquid. The priority: to offer natural products with PETA certification that are as pleasant in terms of experience as conventional ones.
"40% of French women do not consume organic or natural hygiene and beauty products for fear that they are not effective," says the brand. Its Cosmos Natural (not organic) certified shower oils are formulated without sulfates, with surfactants from corn and 50% glycerin from rapeseed and coconut oil (only 2% synthetic ingredients). They leave the skin soft and nourished, even after showering. The slightly gelled oil texture foams well and the natural fragrances (three for the moment: Refreshing Eucalyptus, Energizing Ginger or Revitalizing Tea Tree) are very well cared for (Certified Natural Shower Oils, 250 ml, between €3.75 and €3.95). The brand also creates 24H Deodorants packaged in patented compressed eco-sprays, with a more ecological nitrogen-based propellant gas.
Rechargeable shower gels
It is the bet of the brand leader in GMS Le Petit Marseillais Bio which creates four new shower gels without sulphates nor coloring agents and four écorecharges (a tendency to increase in GMS) which smell good Provence (Refillable Energizing Shower Gel Wild Blueberry), Refillable Comforting Shower Gel Wood Chestnut, Refillable Energizing Shower Gel Wild Blueberry, Refillable Refreshing Shower Gel Olive Leaf, 250 ml, €3.40; refillable 250 ml, €2.90).
With its 1st range certified organic, the little foam preferred by the French thinks as much about our skin as our planet! Naturalness and sensoriality combine for an experience 100% pleasure in the shower. The 100% recyclable bottles have been specifically developed to easily accommodate their eco-disposal, which allows to use 85% less plastic than a conventional bottle. The formulas are 99% biodegradable and composed of 98% ingredients of natural origin (the organic and ethical ingredients are grown locally in a local community in the south of France: PAM Ardèche).
Ariane Le Febvre
© 2020- 2021 CosmeticOBS