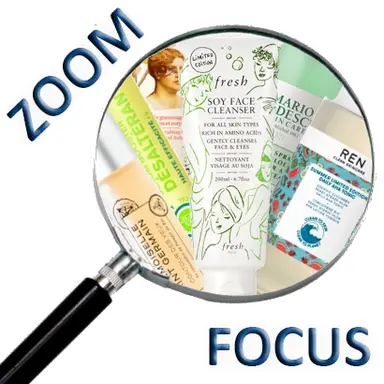 Mostly composed of water (more than 95%), it gives a real boost of freshness to the skin and provides perfect hydration when the mercury rises. Its herbaceous and watery scent alone quenches our thirst! From makeup remover to lotions, masks and makeup, we'll all be using cucumber this summer!
Refreshing makeup removers and lotions with cucumber
If makeup removers are few and far between (Soy Face Cleanser by Fresh, with soy, cucumber extract and rose water, 200 ml, €45), this is not the case for lotions, probably the category that uses the thirst-quenching properties of cucumber the most.
Let's first mention the hydrolats based on cucumber water that soothes eyes and irritated skin (Lueur du Sud food-grade organic cucumber hydrolat, preservative-free, 200 ml, €8.30; Waam Cucumber Floral Water, 200 ml, €9.99).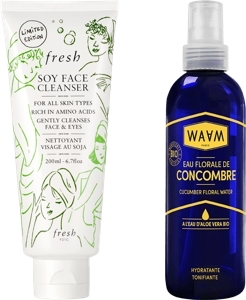 On the side of lotions that honor cucumber (but not only), Ren Clean Skncare's Ready Steady Glow Daily AHA Organic Cucumber-Infused Toner (250 ml, €33, the bottle and cap are now 100% recycled) that evokes the quintessence of England. An exquisite sensation of freshness, suitable for the most sensitive skin. This summer edition contains all the specialist ingredients for radiance such as AHAs and BHAs (willow bark and lactic acid) with the added bonus of the antioxidant benefits of organic cucumber. Its calming properties soothe and refresh the skin while ensuring its daily radiance.
Eyden's Cucumber Fougue Purifying Toner (200 ml, €30.60) refines the skin's texture. Flower Power Eau de soin by Oolution (spray 125 ml, €29) is a floral water that completes the cleansing or makeup removal of the skin and allows a better assimilation of the care to follow. It contains no less than 25 organic plants, including cucumber.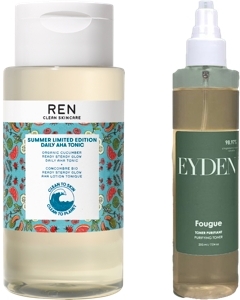 Mario Badescu's Aloe Vera, Cucumber and Green Tea Face Spray (118 ml, €9 or 236 ml, €14, at Sephora) is a refreshing mist that restores radiance.
Finally, Ilia Beauty's Cucumber Water Stick is a stick toner that moisturizes and invigorates the complexion (Cucumber Freshness Moisturizing Stick, 26 g, €44).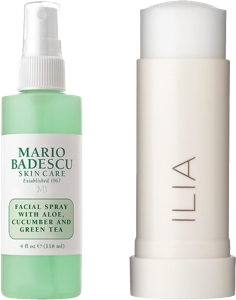 Stay fresh with hydrating and soothing masks
This is the second category of skincare where cucumber is hyper present. Perfect as an after-sun mask, Apivita's Cucumber Express Moisturizing Face Mask (2 X 8 ml, €4.95) contains 97% naturally derived ingredients (in addition to cucumber, aloe vera and hyaluronic acid) to moisturize and soothe the skin.
Biocyte offers the Cucumber Mask® Purifying Mask with Cucumber (€6.90 each), a mask made of bio cellulose designed to rebalance and purify oily skin.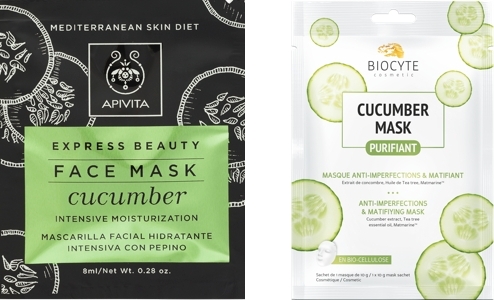 Based on kiwi fruit and fresh organic cucumber, Freedge Beauty created the Quenching Rinse-Off Mask (15 ml, €12.90). Thanks to a patented cold extraction technology, it offers a very high concentration of essential nutrients. Delivery is guaranteed within 48 hours to preserve all the benefits of a minute pressing.
Even Carrefour Soft Mini's (pocket-sized skincare products) has created a hydrating cucumber mask for less than €2 (Hydrating Face Cucumber Masque Visage Concombre, unit mask €1.75, in over 5,600 stores).
Finally, Les Thermes Marins de Saint-Malo launches the Hydra-Gold Golden Algae & Sea Water Mask (75 ml, €29), a wave of hydration and freshness for dry and dehydrated skin. Enriched with golden seaweed (very moisturizing), cucumber and allantoin, its gel-like texture wraps the skin in a veil of softness.
Thirst-quenching care
Freedge Beauty has created a line of thirst-quenching cucumber products that we'll love this summer! Made from organic, local and seasonal fruits and vegetables, the Thirst Quenching Moisturizing Jelly (15 ml, €12.90) and the Thirst Quenching Booster Serum (10 ml, €12.90) combine kiwi and freshly squeezed organic cucumber.
But cucumber is also appreciated in eye care products because, yes, cucumber slices on the eyes are not a myth! We find its soothing and softening virtues in the Soin Contour des Yeux Ressourçant au concombre blanc de Bonneuil by Mademoiselle de Saint Germain, packaged in a roll-on with metal ball (9.5 ml, €25).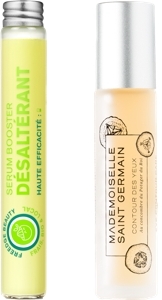 Finally, it can even be present in body care products where its fragrance is wonderful, associated with tuberose (Lait pour les Mains & Corps Le Jardin Retrouvé, 100 ml €23).
And even cucumber makeup!
We owe it to Be+Radiance and its innovative foundation made with refreshing organic cucumber water, with a light yet covering texture (it camouflages everything that needs to be camouflaged), ideal when it's hot. Fragrance-free and silicone-free to avoid any feeling of heaviness and suffocation of the skin, it resists humidity and heat while being hydrating, a feat! (Matifying foundation with cucumber water, 30 ml, €26, 17 shades, at Sources and Monoprix).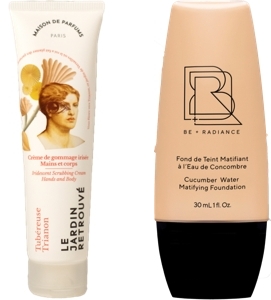 Ariane Le Febvre
© 2021- 2022 CosmeticOBS