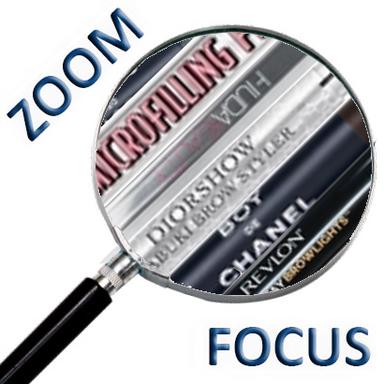 We know how much this category of makeup has grown in recent times, probably because it focuses the expectations of the moment. A perfectly drawn eyebrow changes everything in a face without the artifice being visible. Particularly creative this spring with the microblading inspired eyebrow pencils or the kabuki applicators, it also represents a good way to assert one's look staged with the mask…
Eyebrow pencils with kabuki applicators
So cute and silky, the kabuki brush (small brushes with very dense and soft bristles) that come with the eyebrow pencils make it easy to blend eyebrow makeup (removing less correction than the usual brushes) for a natural and even result.
The first to use them, Revlon imagined an eyebrow pencil with a 2-in-1 lead (a matte tone-on-tone shade and an illuminating shade) that lasts up to 16 hours (Colorstay Brow Lights Pencil, €8.90, two shades).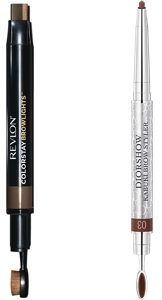 Dior launches its brow pencil with a kabuki brush, inspired by backstage gestures. Its triangular lead ensures an exemplary accuracy of line (Diorshow Kabuki Brow Styler, Crayon Sourcils Crème Structure & Définition Tenue 12H, Waterproof, €28.50, six shades).
Microblading effects
All women are looking for naturalness and micro-pigmentation or micro-blending (it is also called "semi-permanent makeup" and the principle is the same as for a tattoo) which imitates hair is very successful but it is a painful and expensive practice.
Benefit (N°1 brand for eyebrow make-up in the world, with more than 100 eyebrow references and 5000 eyebrow bars) innovates with Brow Microfilling Pen, an eyebrow pen for fine and natural lines, 24-hour micro-pigmentation effect (€27.50, four shades). This felt-tip pen with three nylon fiber tips creates the illusion of "hair by hair" by allowing an ultra-natural line by points. Waterproof, the non-transfer formula is as tenacious as ink!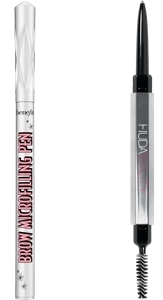 For its part, Huda Beauty has just launched Bomb Brows Microshade Brow Pencil, also inspired by microblading (€17, eight shades). This retractable pencil with a tip as fine as a needle (accompanied by a spiral brush for blending) allows you to mimic the fine lines of semi-permanent makeup. "Whether you have a shaky hand, decimated '90s eyebrows or just unruly ones, you'll be able to get a flawless line with this new tool," promises Huda Kattan! We can also mention Brow Flick micro-precision eyebrow pencil by Glossier (€18).
A super ecological eyebrow makeup
Zero micro-plastic is the bet (kept) of La Bouche Rouge and its new range for eyebrows. Colorless, the Eyebrow Serum (€39) allows to discipline and fix the eyebrows. It is packaged in a glass bottle, while its brush is made of castor oil fibers. Each part is recyclable and the formula contains 93% natural ingredients (including pistachio oil, which stimulates keratin production to accelerate eyebrow growth). The pencil is made of cedar wood with an infinitely recyclable metal cap. Its formula contains 98% natural ingredients, including castor oil, squalane and Vitamin E (Eyebrow Pencil, €28, four shades).
As for the Brow Brush (€28), made of beech wood and vegan hair, it was developed in Osaka.
Men are not forgotten!
Chanel was among the first to offer them a double-ended pencil, with a retractable lead on one side to fill in and draw and a brush on the other to "style" the eyebrows (Boy de Chanel Le Stylo Sourcils, €40, four shades).

Glossier offers Boy Brow Hair Styling Wax (€15, five shades).
Virtual applications
Nowadays, you can try virtually all kinds of eyebrow looks for free on the web! This was already the case with Benefit. Anastasia Beverly Hills imagines Brow App, the very first mobile application in augmented reality that allows you to test all the shades and shapes of eyebrows on your face, or to learn the famous Golden Ratio Method® of Anastasia. To download the free app, visit the App Store or Android.
Ariane Le Febvre
© 2021 CosmeticOBS