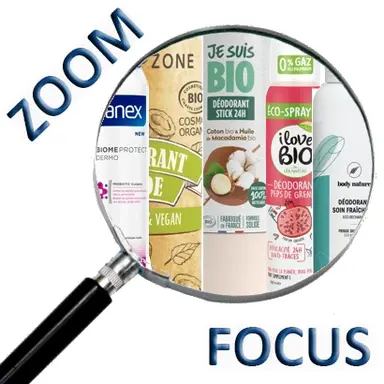 Its formulation is now scrutinized by women and it is undoubtedly the category that has reacted fastest to new injunctions (safe formulas, eco-designed packs). This summer we find in the leading group, solid or refillable deodorants, eco-sprays and formulas with probiotics. There is no shortage of innovations, both in terms of content and container, to spend the summer cool!
It's solid!
Solid formats come in sticks in cardboard boxes, or in jars (glass or aluminum).
For the former, this summer we distinguish those of Aroma-Zone (Organic Solid Deodorant with Palmarosa essential oil, €4.50 ; Kit Deodorant Solid "Zero Waste" with coconut and palmarosa, 75 g, €9.50), Les Petits Prodiges, including one without perfume, without bicarbonate, without essential oils, dedicated to sensitive skin, which is suitable for pregnant women (Deodorant 100% natural sensitive skin or Deodorant 100% Natural Cotton Flower, 75 g, €12.90 each), or Comme Avant (Deodorant Natural Solid Cocoa Butter, 50 g, €9.90).
Even Carrefour has just launched one in the form of a dome in its Soft Green range, which is certified organic (Fresh Mint Solid Deodorant, 30 g, €2.80).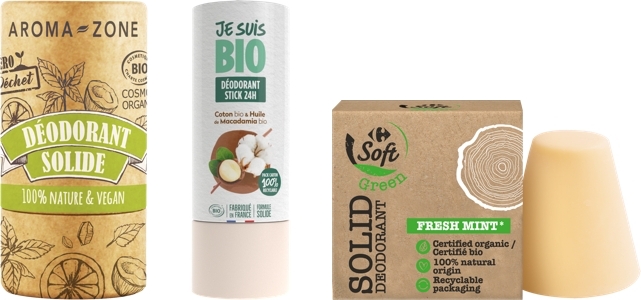 Gaiia also relies on the solid format, but in small aluminum boxes: Baume Déodorant Une Absolue Douceur (without perfume or bicarbonate, with organic corn starch and non-nano zinc oxide) and Baume Déodorant Une Absolue Fraîcheur, with bicarbonate and essential oils of fresh mint, peppermint, lime and Tea Tree (50 g, €12 each).
Just like Lavera (Natural & Strong Deodorant Cream, 50 ml, €8.80), Nuxe Bio with organic cornstarch powder (Deodorant Baume Peaux Sensibles 24H Amande & Poudre Végétale or Fraîcheur 24H, 50 g jars, €14.90 each) or Cosmo Naturel with organic Clay & Aloe Vera (Déodorant Solide Anti-Odeurs Bio, 36 g, €5.20).

Cosmo Naturel also offers the small recyclable glass jar version (Deodorant Cream Care 40 g, €5.60), with a formula enriched with shea butter and tapioca powder. Simply apply a small amount of cream with your finger and massage until fully absorbed.
Biotanie also chooses the aluminum jar for its deodorant with organic hemp oil and zinc oxide without nanoparticles (Le déo qui fait débat, 20 ml, €12).
Let's finish with the most artisanal of all, that of Bôstick (Deodorant Rechargeable 45 g, €15.90, refill 50 g, €7.50) distributed since June exclusively at Naturalia. This certified organic deodorant concentrates all the current trends: a minimalist formula (eight ingredients including baking soda and diatomaceous earth, a natural absorbent made of fine fossilized seaweed powder, waxes and vegetable oils), a refill and a lifetime guarantee packaging with its infinitely recyclable beechwood applicator. It is available in three fragrances developed by perfumers in Grasse: Lait d'Amandier, Sève de Bambou and Fleur de Grenadier.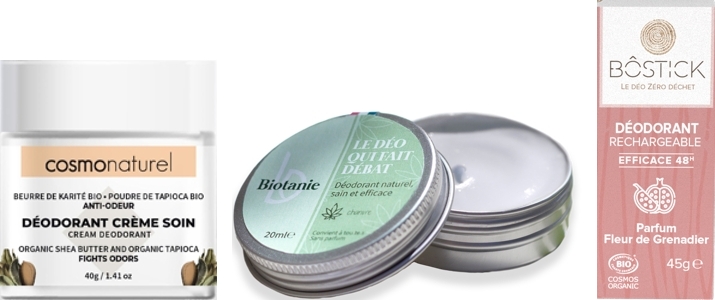 Refills
Acorelle was one of the first to offer eco-refills (Box containing a 100 ml refill + special care deodorant for sensitive skin, roll-on 50 ml, €13.75).
On the formula side (because the packaging, however ecological it may be, must not overshadow the formula!), alum crystals and active ferments to rebalance the bacterial flora and reduce bad odors. Coslys, for its part, offers a refillable version with or without alum stone, (Deodorant Soin Rechargeable Fraîcheur Vitaminée or Fraîcheur Délicate, without alum stone, roll-on 50 ml, €7.90, refill 50 ml, €6.59; Deodorant Soin Senteur Fraîche or Fleurie Rechargeable with alum stone, roll-on 50 ml, €8.32, refill 50 ml, €5.92).
Je Suis Bio imagines 18 certified organic and alcohol-free deodorants, in cardboard stick and refillable ball format (Deodorant Roll-on 24h, 50 ml, 4.90 €; Refill 100 ml, €8; Deodorant Stick Solide 24h, 50 g, €7.90, available in organic stores and parapharmacies in June). The formulas contain Triethyl citrate, zinc ricinoleate, bioferments and oat powder for the roll-on, absorbent diatomaceous earth and sodium bicarbonate for the sticks.
The latter, without water or preservatives, are enriched with organic coconut oil and shea butter for a soft texture, easy to apply. They contain 100% ingredients of natural origin and 70% ingredients from organic farming.
All packaging is 100% recyclable.
Body Nature also offers a refillable roll-on with a complex of superfruits (pomegranate, papaya, blackcurrant, raspberry, kiwi) to provide a feeling of freshness (Deodorant Soin Fraîcheur, 50 ml, €8.85, refill bottle 125 ml, €13.95).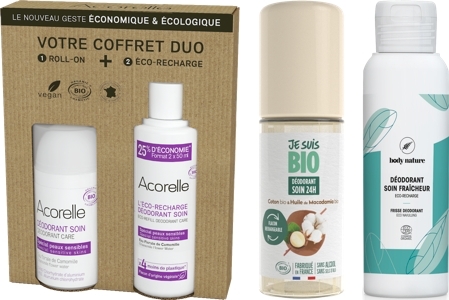 Safe compositions with probiotics
After solids and refills, back to content with probiotic formulas, the other big trend of the season. They were already available at Alvadiem (Deodorant Soin Régulateur, 70 ml, €12.30; Deodorant Soin Régulateur Aisselles Sensibles, 40 ml, €8.90; Mon 1er Déo Soin for children from 8 years old, 40 ml, €8.90; Deodorant Pieds Régulateur, 100 ml, €9.90).
They are becoming more and more popular, including in supermarkets, as shown by the latest launch of Sanex BiomeProtect, which nourishes good bacteria while targeting bad ones, thanks to its triple-biotic complex that consists of prebiotic (Butyloctanol, a fatty alcohol extracted from purslane root, which targets odor-causing bacteria), postbiotic ferment (an ingredient identical to skin ingredients such as lactic acid and pyruvic acid, which works to strengthen the skin barrier and hydration) and probiotic (Inulin, polysaccharides extracted from agave root).
This new technology could not escape the healthy skin expert since 1984! Alcohol-free, minimalist formulas with the least amount of allergens possible have won us over (Dermo Deodorant 48H Anti-irritation or Moisturizing, in 50 ml roll-on or 200 ml spray format, €3.95).
Small precision: all the deodorant sprays of Sanex evolve in 2021 with 54% less plastic thanks to the elimination of the caps.
Prebiotics are found in Même, a brand dedicated to people undergoing cancer treatment, associated with zinc ricinoleate, passionflower extract and mineral powder (Deodorant Cream, Même moi je ne baisser les bras, 50 ml round tip tube, €10), or Eau Thermale Jonzac whose new certified organic deodorants promote good skin flora and absorb sweat before it is decomposed by enzymes (Deodorant Fraîcheur 24H, 50 ml roll-on bottle, €6 ; Deodorant Soin 24H for sensitive and irritated skin, 50 ml roll-on bottle, €6.60; Deodorant Fraîcheur Intense 24H Men, 50 ml roll-on bottle, €7.90).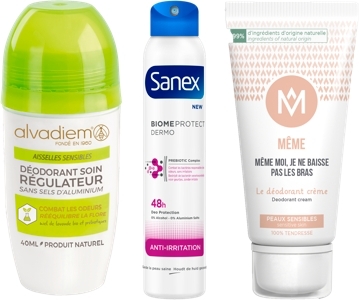 The new eco-sprays
The spray format is definitely not popular with the flood of solid deodorants (which is a shame because many people prefer sprays that give a greater sensation of freshness), but we should mention the refillable eco-sprays, without propellant, such as the one from Body Nature (Petit Grain Deodorant, spray 75 ml, €11.40, eco-refill 250 ml, €26.90).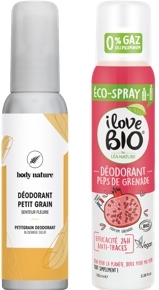 As for the eco-sprays initiated by the Unilever group in supermarkets last year (at Dove Pouvoir des Plantes, Love Beauty and Planet, Monsavon…), here are, still in supermarkets, those of Ushuaïa (Deodorant Brume 24H certified Organic, 125 ml, €4, three fragrances: Vanilla from Madagascar, Hibiscus from Burkina Fasso or Aloe from Mexico) and I Love Bio, without petrochemical gas or nitrogen (Deodorant Douceur de Coton or Peps de Grenade, 100 ml, €4.50).
Lavera's is the only one we know of that is made of glass, and with a cap made of 98% recycled materials (Natural & Strong Deodorant Spray, 75 ml, €9.70).
Interesting and hybrid formulas!
Like Nivea's new generation of MagnesiumDry Care deodorants, which offer antiperspirant action without aluminum salts! It protects against odors but also against perspiration thanks to a patented formula composed of magnesium salts and fatty acids, naturally present in the skin, whose mode of action on the flow of perspiration is similar to that of aluminum salts. Its assets: it is very effective and does not block the natural process of perspiration but reduces the number of bacteria responsible for the odors. Alcohol-free, it comes in two women's fragrances (sweet and floral or fresh and light with green and citrus notes) and one men's fragrance (with notes of mint, bergamot and rosemary), with a roll-on format for use to the last drop (MagnesiumDry Care or MagnesiumDry Fresh, Anti-odour 48H, 50 ml roll-on, €3.95 each).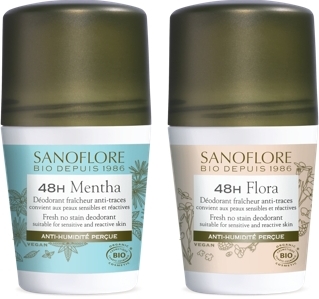 Another interesting formula is Sanoflore's new certified organic deodorants, with organic Catnip essential oil from the Vercors region with antibacterial properties. The Sanoflore laboratories brought the proof of its activity on the principal bacterium (Corynebasterium xerosis) responsible for the development of the unpleasant odors of perspiration, of which it inhibits the development.
Associated with a derivative of coconut oil (Glyceryl caprylate) and an absorbent polysaccharide from corn, it provides flawless anti-odour and anti-humidity control (48h Mentha or Flora Deodorant Freshness Anti-trace, 50 ml roll-on, €7.70 each).
Shower deodorants
This is the product that is slowly but surely developing. Without replacing the deodorant, it completes it for a very pleasant sensation of cleanness and can be welcome in the morning on vacations, before leaving for the beach. After those of Alvadiem (Gel Nettoyant Déodorant Pieds, Corps, Aisselles, 200 ml, €10.90) and SVR (Spirial Déo Douche, Gel Lavant Déodorant Fraîcheur Intense, 200 ml, €9.90), formulated without sulfate and with pre or probiotics, here are those of Etiaxil Soin, also based on a probiotic complex and Zincidone, 100% natural origin (Soin, Déo-Douche 24H Fraîcheur Sève de Bambou or Citrus perfume, Gel Lavant Déodorant anti-odors, 200 ml, €9.50 each).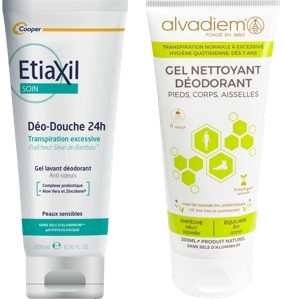 Ariane Le Febvre
© 2021- 2022 CosmeticOBS