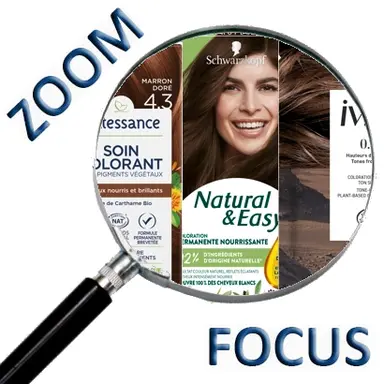 In salons or in supermarkets, natural hair colors are becoming more and more popular. More subtle and less restrictive to achieve, they are attracting a growing number of women. Alternative: permanent coloring, more than 90% natural. My heart is set on both…
Certified organic in salons…
With Ivive (seven tone-on-tone shades, starting at €60), René Furterer has perfected plant-based hair color in hair salons.
100% natural, certified organic, vegan and part of a committed, social and responsible approach (ethical supply chain of Fair For Life plants), it blurs white hair with transparency for a natural result with soft and luminous highlights.
The ambition here is to offer professionals all the advantages of a plant-based hair color, with the ease of application of a chemical hair color.
The innovation lies in an exclusive, patented process for extracting the active plant coloring agents, with a reduced application time (30 to 45 minutes) and a guaranteed result (no unexpected or undesirable color variations).
Going from crushed plant powder to the concentrated extract from the plant changes everything. After several years of work on this extraction process, the brand has succeeded in isolating the molecules that produce the intensity of the color pigments from the heart of the dye plants and in bringing them to a high concentration.
Thus, only the active part of the plant is used, no unnecessary substances (cellulose, fibers or heavy metals). And each time in a controlled way for standardized extracts. The content of active plant ingredients is standardized regardless of the batch of plants, to guarantee the color result.
No more 400g of plant cataplasms. Approximately 35 g of concentrated extracts mixed with water are transformed into 150 g of gel with a melting texture, delicately perfumed, which does not run.
The application method is simple, the seven shades are ready to use, the color result is perfect and reproducible. The shades were co-created with the colorist Romain Colors. A new feat, Ivive allows you to obtain not only warm shades, but, more difficult in vegetable coloring, cool and ashy colors. "Colorists are sometimes reluctant to face the problems of vegetable hair coloring such as the smell, the pasty and difficult to apply textures of products, the often long application time and sometimes, for darker shades, with two passes of product," says Romain Colors. Nothing like that with this new generation, high-tolerance vegetable hair color, which respects even the most sensitive scalp. This also makes it compatible with chemical hair coloring, no more unfortunate interactions possible.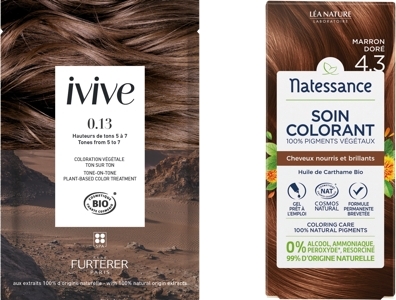 … or in organic stores and pharmacies
Natessance has just launched its Colorants Care 100% plant pigments certified Cosmos Natural (150 ml eco-designed tube, disposable gloves, €16.90 to €17.50, five shades: blond, Venetian blond, copper, golden brown, dark brown).
Enriched with organic safflower oil, they leave hair nourished and shiny. The ready-to-use gel formula allows you to enjoy the best of vegetable coloring, without the dosages or mixtures. The application strand by strand is practical, precise and easy, thanks to the tube cannula. The coloring does not stain and in case of overflow, a little make-up remover is enough to erase the traces. And if the tube isn't finished on the first application, no waste!
The formula is reusable up to one month after opening. Like all vegetable dyes, these are deposited around the hair, without opening the scales, and therefore without attacking the hair. They allow to "darken" and to bring highlights to the hair.
The natural shades are preserved and the "bar" effect at the regrowth is less marked. The brand of the Léa Nature group warns, however, that if there is "more than 30% white hair, the color result will naturally be lighter and more transparent". But, "an attachment molecule from the henna, non-coloring, fixes the color permanently without running the risk of unsightly highlights or even orange!" The brand also provides two hair care products, enriched with patented plant keratin, which preserve the radiance of the color over time (Certified Organic Safflower & Plant Keratin Color Shampoo, 500 ml, € 11.50; Certified Organic Safflower & Plant Keratin Color Conditioner, 200 ml, €10.50).
Supermarkets fight back with natural hair colors that are over 90% natural
With Natural & Easy (€9.90, ten shades from very light blonde to black), Schwarzkopf has created a permanent hair color with a high naturalness rate (91 to 93% depending on the color, the highest naturalness rate of the brand's hair colors), which covers 100% of white hair and the possibility of bleaching hair (which vegetable hair color cannot do), all with a short application time (about 30 minutes).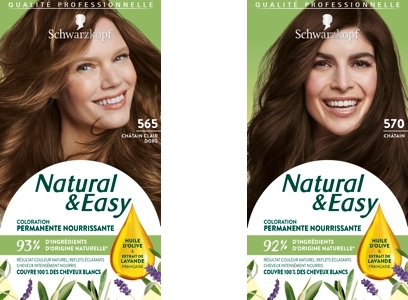 For its part, Elcéa offers a Permanent Color and Revitalizing Care Kit with hibiscus milk in pharmacies with 90% natural ingredients (120 ml, €9.03, 20 shades). In addition to the gloves, the case contains a pair of eyeglass protectors. Very easy to use at home, these permanent colorations (therefore with an oxidizing agent) are, again, accompanied by a duo of complementary care products to protect and boost colored hair (Shine-revealing shampoo, 250 ml, €6.50; Mask, 200 ml, 10.16 €).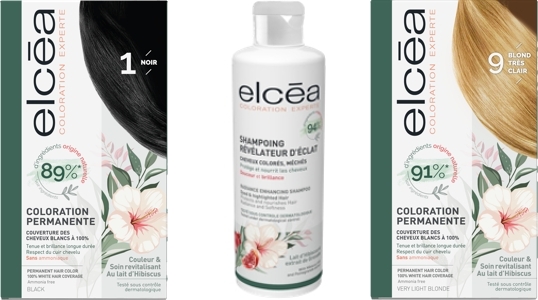 Ariane Le Febvre
© 2021 - 2022 CosmeticOBS