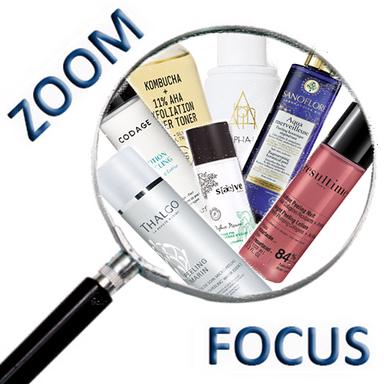 This is the gesture that wins the day this fall, to give a boost to the radiance of your complexion and encourage cell renewal. Welcome to this time of year when the skin begins to look grey, the newest ones are "flore-friendly". No one will be surprised!
Based on AHA (glycolic acid at the top), they offer a gentle micro-exfoliation, improve the skin's texture and erase greyness to revive radiance and even out the complexion.
Without adding any extra movements to the beauty routines (they are used on cleansed skin instead of a tonic), they will be applied in the evening (AHAs making the skin more sensitive to UV rays), twice a week to start with, gradually increasing (depending on the skin's sensitivity) until daily application.
Quite universal, they are not recommended for sensitive skin.
Whether they appear in anti-stain ranges (Yuzu Radiance Revealing Lotion, Bernard Cassière's Perfect Skin Care with Yuzu, 200 ml, €19.90), or in certified organic brands such as Sanoflore (Aqua Merveilleuse Botanical Regenerating Peeling, 200 ml, €28.80), this autumn we are seeing a real deluge of peeling lotions !
Sephora particularly "capitalizes" on this product with the cultissimes Liquid Gold with Gycolic Acid from Alpha H (100 ml, €39.95), which gives a new skin at night, or Glow Tonic, Pixi's exfoliating tonic lotion (100 ml €13 or 250 ml, €23.50) which contains 5% glycolic acid.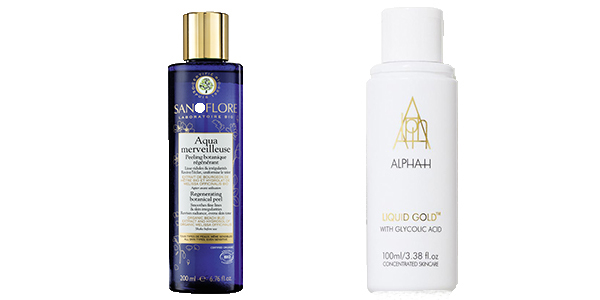 They can also be found in institutes at Resultime (Night Peeling Lotion with plumping collagen + AHAs, 100 ml, € 29.90), Codage (Peeling Lotion, 150 ml, € 75), or marine version at Thalgo in its new Marine Peeling range (Micro-Peeling Care Water "New skin" effect, 125 ml, € 32).
The lotion contains 3% acid ferments of micro-bursted algae titrated in lactic acid (a Thalgo exclusivity), very respectful to the skin, and 1.5% of AHA/PHA complex (glycolic and gluconic acids) which gradually renew the skin. The brand has the good idea to combine this fresh textured water with a sunscreen for the day (Post-Peeling Marin Sunscreen Cream SPF 50+, 50 ml, € 26).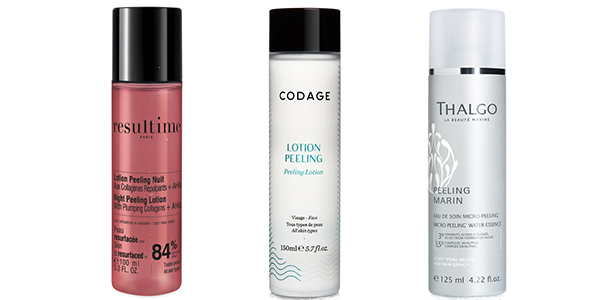 The softer ones preserve the microbiome
This is the case of the Powerful Kombucha Scrub Toner + AHA 11% (8% lactic acid and 3% glycolic acid) from Youth To The People (118 ml, € 29.90, at Sephora), the Californian "clean beauty" brand that only uses super foods.
Adapted to all types of skin, this balancing formula composed of Yosemite Tree Bark and Kombucha from the fermentation of black tea, acts as a prebiotic that helps to strengthen the natural skin microbiome.
But the most original is at Saève (in pharmacy) which launches in November in the Perfect Pisum range (anti-stain shine) the Essence F90 Radiance Activator (150 ml, €28.90) which contains 90% natural probiotics (Saccharomyces filtrate, a yeast from the mushroom family).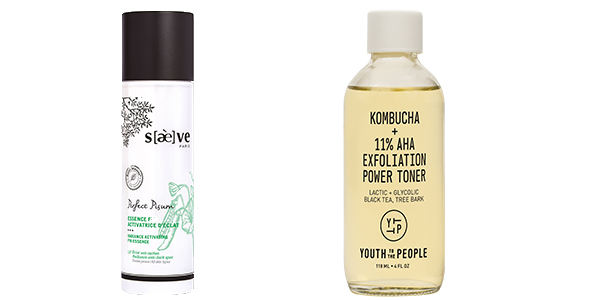 This natural filtrate is particularly effective in naturally stimulating cell renewal and skin lightening.
Combined with mild AHAs from blueberry, orange and lemon, which gently exfoliate the skin, this essence reduces all imperfections (spots, redness, acne marks) while respecting the skin microbiota.
It can illuminate without stripping, eliminate dead cells and even out the complexion, while strengthening hydration and the skin barrier.
Slightly gelled, this new type of water can be applied morning and evening to cleansed skin, directly with the hands, or with a cotton pad.
Ariane Le Febvre
© 2019- 2021 CosmeticOBS