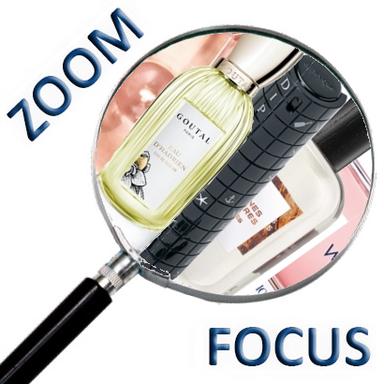 As perfume is by far the most over-packaged product in the cosmetics industry, it was logical that it was concerned about its environmental impact. It is undoubtedly the last bastion that is passing through the era of eco-responsibility, both in terms of formulas and packaging. And the great news is that luxury is finally getting into it! Welcome to a new era of perfume!
When you buy a perfume, you buy a lot of packaging, disposable, single-use, with components that often come from far away. And with more than 2,000 fragrances launched each year, the environmental impact is far from negligible. A new model and a global approach committed to the living is emerging. Sustainability, so closely associated with the very notion of luxury, should in fact be the general rule. Mugler, Diptyque, Acqua di Parma, Dior, Goutal, Lancôme, Giorgio Armani, Valmont… now offer refillable perfumes and cleaner formulas (sustainable and ethically sourced ingredients).
We are still in our infancy but these are already promising beginnings. We are waiting for Chanel, who is always one step ahead, to reveal its future projects…
Eco-responsible packaging, often refillable
It is the bet of many luxury brands this winter. L'Oréal and LVMH are battling it out in the race for innovation! Mugler has been offering "refillable" bottles (i.e. that can be filled in one of the house's 14,000 fountains) since 1992 and this is obviously the case for its latest launch (Angel Nova, 50 ml eau de parfum, €83), a new fruity rose (overdose of raspberry and lychee notes), powerful and eco-friendly. But the brand (which has belonged to the L'Oréal group since 2020) goes even further by integrating for this creation a new, super-natural rose, resulting from upcycling, which consists of reusing petals that have already been distilled. This biotechnological innovation not only saves natural plant resources (one flower = two extracts) but also reveals a new scent obtained from the residues of another production (enzymatic process). Mugler has the exclusive use of this process for one year.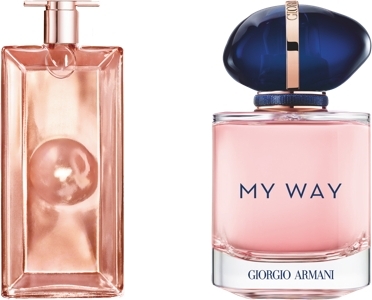 To remain in the L'Oréal group, Lancôme (Idôle L'Intense, eau de parfum 50 ml, €90, a trio of roses and jasmines with a chypre trail in an ultra-flat and light bottle) and Giorgio Armani (My Way, eau de parfum 50 ml, €88, a hymn to white flowers) also offer refillable bottles. "It is impossible to ignore the fact that the future of the younger generation depends on our choices," says Giorgio Armani.
His creation encapsulates the brand's eco-design efforts, both through the use of recycled and recyclable materials and through its sustainably sourced ingredients. Combined with the preservation of 650 hectares of tropical forest in Madagascar, they enable My Way to achieve carbon neutrality.
The Maison Goutal also offers refillable bottles (Eau d'Hadrien Eau de Parfum Rechargeable, 30 ml, €75), while Lolita Lempicka is designing a limited edition of its best-selling Original (eau de parfum 100 ml, €109), in a vegan version (labeled One Voice, like all its fragrances) and clean, "free of sunscreens, dyes and endocrine disruptors (therefore phthalate-free, editor's note)".
To avoid over-packaging, the brand is replacing its boxes with organic cotton pouches that are labeled eco-friendly and reusable.
Finally, Diptyque is offering four of its iconic eaux de toilette (Philosykos, Do Son, Eau Rose and Eau des Sens) in a new refillable travel bottle that can be personalized with 72 pieces, letters, numbers and a star, allowing customers to create an object in their own image (Travel Perfume pre-filled with eau de toilette, 12 ml, €95). Thanks to a patented system that guarantees the clean and secure transfer of the perfume, it is clipped onto the spray of the classic bottle (50, 75 or 100 ml) and, by light pressure, the juice is gently sucked out.
An easy to refill container at home that, despite adventures and the passage of time, keeps the beloved fragrance as it was on the first day.
The best of nature in bottles!
Since 2014 Sephora allows all its customers to bring their empty perfume bottles back to the store. These bottles are then recycled, notably through a long-standing partnership with CEDRE (Nord Déchets Group). This pioneering initiative has made it possible to recycle nearly five million bottles since 2014.
The Floral Street fragrances available on the Sephora site use raw materials from sustainable sources, with eco-friendly packaging that can be reused, recycled or composted (Neon Rose, London Poppy, Wonderland Peony, Electric Rhubarb, 50 ml, €59 each). Sephora Collection has also launched a range of six Do Not Drink eaux de parfums based on vegetable alcohol derived from beet, containing 87% of ingredients of natural origin: Acidulated Water (blackcurrant + passion fruit), Aromatic Water (sage + Tonka), Full-bodied Water (iris + mocha), Refreshing Water (tangerine + matcha), Spicy Water (jasmine + pink berries), Sweet & Salty Water (vanilla + fleur de sel), 10 ml, €9.95; 30 ml, €19.95 or 50 ml, €29.95.
Courrèges creates four "planet-compatible" mixed eaux de parfum baptized Les Colognes Imaginaires (2030 Verbena Crush, 2040 Nectar Tonka, 2050 Berrie Flash, 2060 Cedar Pulp, 100 ml, €79.50 each).
Each fragrance is free of dyes and preservatives, uses organic French beet alcohol and components of natural origin respecting the principles of sustainable development and local populations.
The glass bottle has been lightened by 40%, the pump is unscrewable (for easier recycling) and the ash wood cap with corn insert is biodegradable. All is protected in an FSC-certified recyclable paper case, with a compostable and biodegradable protective film.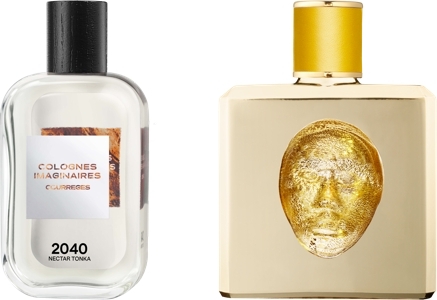 Finally, Valmont imagines sumptuous perfumes whose bottles created by hand by artists from Murano can be refilled at its points of sale (latest creation in its Storie Veneziane collection: Mica d'Oro, a gourmet oriental, 100 ml, €490).
Men are not forgotten
The major planet-friendly launch at the beginning of 2021 will take place at home with Dior's eau de toilette for men Sauvage, which becomes refillable (300 ml refill, €202, starting February 1). In its night-blue lacquered aluminum canister (therefore infinitely recyclable), the fragrance is well protected from light (Dior doesn't tell us there are no more sun filters, but we can assume so?). Lightweight (therefore less energy consumption for transportation) and easy to use, it screws upside down on the neck of the bottle and, thanks to an integrated hitchhiker, stops when the bottle is filled in one minute chronologically. Not a drop is wasted. The operation is clean, fast and intuitive. The cases have been lightened with FSC cardboard from responsible sources and the progressive integration of recycled materials. As for the "juice" it uses (among others) a bergamot from Calabria which is the subject of a sustainable partnership initiated more than 10 years ago.
Why did you choose this particular fragrance? Because the worldwide success of this "perfume of the great outdoors" designates it to pave the way for a new generation of more responsible fragrances, but "the story has only just begun and will continue tomorrow with other Dior fragrances," assures the LVMH group's flagship brand.
Still in the LVMH group but perfectly blended, this one, the aptly named Colonia Futura d'Acqua di Parma (50 ml, €88; 100 ml, €122 or 180 ml, €162).
The famous Cologne is now available in an ethical and ultra-vertuous version, both in terms of content and container. Its composition (99% of ingredients of natural origin) is rich in natural raw materials (DOP Calabrian bergamot, lemon, grapefruit, clary sage, lavender, vetiver, pink berry …), while respecting local cultures and human resources used. The sustainable packaging is composed of elements that have been made according to an ecodesign logic: replacement of the emblematic Bakelite cap by a recycled and recyclable plastic cap, label made from dust from marble quarries, cylinder case made from FSC-certified paper…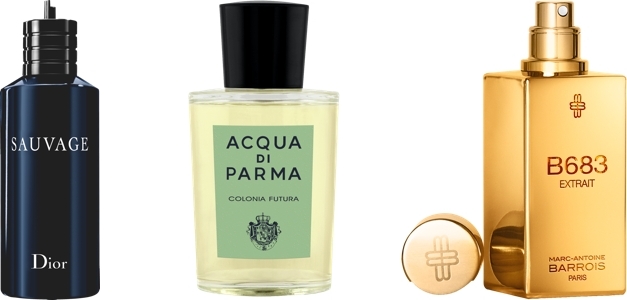 Another masculine product that goes even further in eco-responsibility, B683 Extract from Marc-Antoine Barrois (50 ml, €275), a "patchouli leather" with woody inflections, thought as a second skin with an intense trail, which can also seduce women.
This 40% concentrated extract is formulated without preservatives, phthalates, BHT or anti-UV filters (integrated so that the color of the juice does not change over time). It is packaged without cellophane or foam. Its packaging is entirely made in France by an ESAT and 100% recyclable. "Phthalates, still widely used in perfumery, are used to make the perfume unfit for consumption otherwise it would be taxed like alcohol. Here they are replaced by Bitrex (denatonium benzoate), a bittering agent reputed to have the worst taste in the world," says the talented designer who launched his first perfume in 2016, ten years after opening his men's fashion house.
Ariane Le Febvre
© 2020- 2021 CosmeticOBS