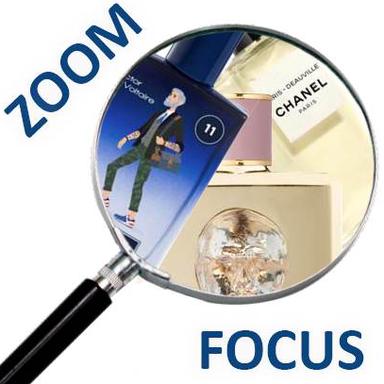 Venice, Paris, Miami, Deauville, Biarritz… Just pronounce the names of these destinations and you will instantaneously feel like you are miles away… Some cities possess such a rich imaginative world they can actually give substance to new olfactory adventures. Whether packaging or juices, urban perfumes are on a roll this summer.
City perfumes…
Valmont put Venice quarters in bottles with five olfactory tales which will take you on a journey into the heart of one of the world's most fascinating cities. The Storie Veneziane Collection offers pure essences chiselled like jewels in bottles and fitted with translucent glass masks to evoke Murano glass (perfume extract 100 ml, €390).
Chanel also pays tribute to la Serenissima with an eau de toilette simply called Paris-Venice (Les Eaux de Chanel Collection, 125 ml, €112). This creation manages to make the golden tints and the splendour of the Middle East cohabit (amber-based accord, Tonka bean, cedar wood, vanilla…) with a cotton, cosy sensation (musk). You can feel the oriental fragrances warm up your skin, only without taking power. 'This creation is both inspired from the long Orient-Express journey separating the French capital from the Italian city and from the destination itself,' explains perfumer Olivier Polge. By Kilian chose to be more demonic with the Miami Vice Collection featuring two limited editions: Love The Way You Taste, which recreates the aromas of a mojito cocktail, or Love The Way You Feel, a reinterpretation of the iconic monoï oil (eau de parfum, 50 ml, €195 each). Again, the white glass bottles topped with bright brushstrokes evoke the unique world of the Florida city. If the fragrances are infused with the 'Sea, sex, and sun' lifestyle, the packaging captures the essence of Miami, a wild mixture of contemporary art, urban culture, and Art Déco sensitivity.
… or holiday perfumes
You can also smell the air of the open sea in two other Eaux de Chanel, but this time they are inspired from seaside resorts: Paris-Deauville and Paris-Biarritz (125 ml, €112 each) – places dear to Gabrielle Chanel.
The first recalls crumpled leaves and offers an immersion into green (orange bark, petitgrain, basil leaf, rose essence, jasmine notes…). This striking colour oxygenates the body. 'More than the very reality of the destination, I liked its perception by city dwellers when they dream about a weekend in the country. I did not try to capture the Normandy countryside as it is, but rather the promise of a walk in the middle of the tall grass,' reveals Olivier Polge.
The second one evokes the open air and aquatic sensations (grapefruit, tangerine, an aqueous note, a lily of the valley accord, vetiver, white musks). 'I wanted the user to have the sensation on her skin that every ingredient is soaked with water', adds the perfumer.
As a new ode to freshness, Eaux de Chanel act as ethereal trails. The ingredients seem to be purified, fluidified, as if dozing. The new fine glass bottles (lighter than usual) are in unison. They are reminiscent of the lightness of the fragrances. Fitted with a pump as invisible as it is peculiar, they diffuse micro-droplets of perfume over a longer period of time than a standard spray. This spray creates the effect of a delicate, generous, particularly pleasant cloud. Last detail: the cases are made of ultra-matte corrugated cardboard (so black ink is even more densified) inspired from perfume fitments. Their relief evokes the moment when water trembles as it withdraws from the beach and leaves its print on the sand.

A new brand celebrating Paris
Paul Petit is a devout Parisian, a devotee of perfumes since childhood, and a lover of the City of Lights. He created Made in Pigalle, a brand specialized in contemporary perfumes which reveals Paris and its remarkable neighbourhoods as experienced by Parisians. Abel in Abbesses, Marie in Le Marais, Martin in Montorgueil, Victor in Voltaire, João in Jaurès, Simone in Saint-Germain, Gaspard in Raspail… there is a fragrance for everyone's taste (Cologne, Chypre, delicate floral, woody, green, slightly acid and fruity-like…)! These seven outstanding perfumes are elegant and have something crooked and cheeky about them – typically Parisian, according to Paul.
My favourite one? Gaspard in Raspail, a chypre fragrance with hesperidia notes associating the freshness of citrus fruit (tangerine, bergamot, green orange) and neroli with geranium leaf and offering a powerful cedar, oak moss, and white musk background (eau de parfum, 75 ml; with a drawing represented on the bottle, €100; without the drawing, €95).
Created in Paris, the brand chose to offer Made in France products (beautiful raw materials from Grasse, lacquered glass bottles, unique French craftsmen know-how…).
Diptyque also chose Paris for the latest perfumed candle in their City Candles Collection (190 g, €60). After London, Berlin, Beverly Hills, Tokyo… Paris was much awaited. If the adorning pattern makes us dive onto the capital with an aerial view, its chypre note immerses us into the chic Parisian atmosphere.
Ariane Le Febvre
© 2018- 2020 CosmeticOBS