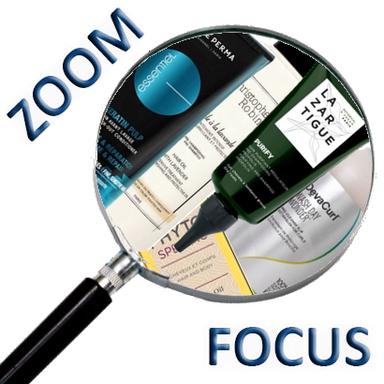 After the specific scrubs for the scalp, these expert treatments, which are mainly found in hairdressing salons (but also in Selectif and organic stores), now exist for (almost) all hair types: dry, sensitive, fine, curly, oily… Hair care is becoming more and more sophisticated!
Initially confidential, they were mainly found in premium brands such as Christophe Robin. Its Lavender Oil (Ultra-Nourishing Intensive Treatment and Pre-Shampoon Protector, 150 ml, €34), dedicated to weakened or chemically treated hair, is, indeed, a cult product.
But today, this new hair ritual is becoming simpler (application times are shorter) and seems to be taking hold.
Pre-shampoo care products can be found everywhere, even in pharmacies (Purifying Balancing Balancing Pre-Shampoon Mask with Tea Trea & Natessance Vegetal Keratin, for scalps that are quickly regreasing, vegetal tube with cannula tip 150 ml, €11.25) or in organic stores (Cattier Detox Hair Detox Pre-Shampoon Mask, 200 ml, €15).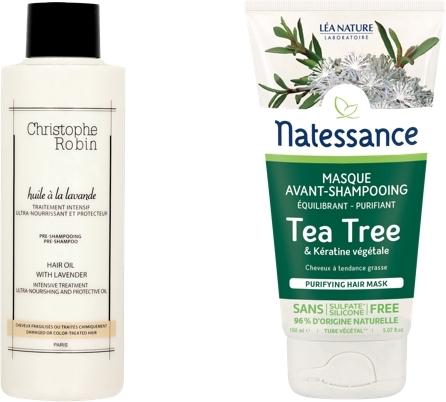 To each his own pre-shampoo care!
Itching, dull and asphyxiated hair, a sensitive and uncomfortable scalp?
René Furterer has just developed the Astera Fresh pre-shampoo care to soothe irritated scalps that are prone to irritation (Soothing Fresh Concentrate with cold essential oils, 50 ml graduated bottle, €41.90).
Even more "sharp", Wash Day Wonder Creamy Prewash Detangler for Curls by DevaCurl (355 ml, €31, exclusive to Sephora) relaxes (and therefore makes it easier to wash after) all curly, frizzy or textured hair.
Silicone-free, sulfate- and gluten-free, based on pracaxi oil, saffron flower extract and natural sugar technology, it eliminates knots, strengthens the hair and makes it more resistant to breakage.
Eugène Perma on the other hand offers a silicone-free formula with volumizing maca root for fine and sensitive hair (Pre-Wash Keratin Pulp Essential Volume & Repair, 200 ml, €25.40).
The newest and easiest to use (it can also be used as a leave-in treatment on dry hair), is Baobab Oil Bath Oil before shampooing from Phyto Specific for curly, frizzy, frizzy, or straightened hair (150 ml, €19.90).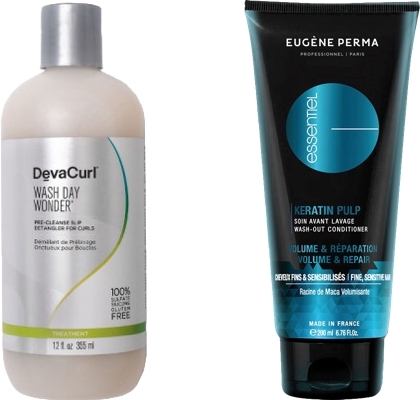 Lazartigue offers no less than two of them: the Exfoliating and Purifying Pre-Shampoon Jelly with fruit acids and jojoba pearls, for all types of scalp (75 ml, €31), or the Purifying Regulating Pre-Shampoon Care with Propolis (75 ml, €31), which is intended for scalps with a tendency to be oily. Not only does it regulate the production of sebum, it also detoxifies the scalp and removes impurities.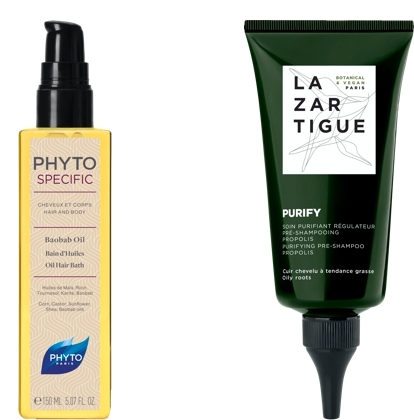 Another detoxifying treatment is the Clay Pre-Shampoon Detox Scalp Care in the Nativ range from System Professional (200 ml, €44.50).
For dry hair, you can replenish nutrition with L'Occitane's Pre-Shampoon Oil with 5 essential oils (100 ml, €29), infused with olive leaves, or Aveda's Multi-Use Hair Oil Nutriplenish™ (200 ml, €36).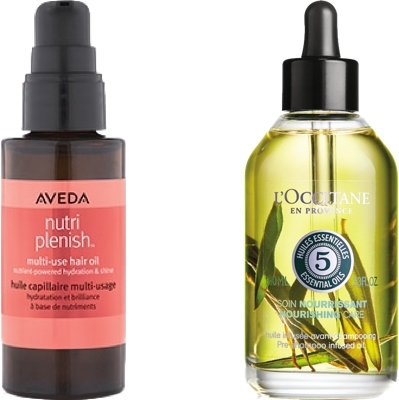 These two oils can be used from roots to ends just before shampooing (or the day before the shampoo).
Ariane Le Febvre
© 2020- 2021 CosmeticOBS