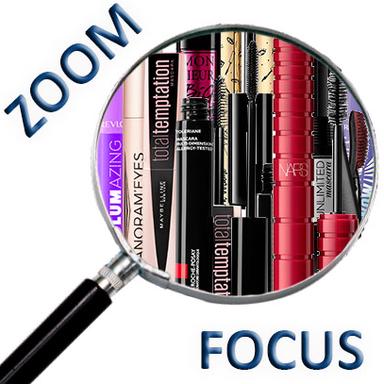 2018 is definitely a great year for mascaras! Truly new and more and more technical, those of the new school year offer brushes printed in 3D, reservoir fibres or dark red tints. Flexible applicators are a must. The care dimension, on the other hand, increasingly inhabits the formulas.
The first mascara brush printed in 3D
This is probably the biggest mascara innovation of the year! We owe it to Chanel (Le Volume Révolution de Chanel, €35) who partnered to create and produce it on a large scale with another French company specializing in 3D printing: Erpro 3D Factory.


Thanks to 3D printing which allows the shape of an object to be rectified in a few days and infinitely, the brush has been revisited more than 100 times! Manufactured by printing successive layers of a polyamide powder polymerized by laser beam, its specific shape would not have been possible with conventional production techniques. In fact, the surface of the brush has roughnesses that capture the formula (rice and bee waxes, natural gelling agents, provitamin…) and give it perfect adhesion to the lashes. It is also equipped with microcavities which make it possible to absorb the material of the mascara in order to deliver the right dose to build the volume of the lashes, without having to re-soak the brush in the bottle between the make-up of the two eyes. It doesn't look like much, but this point is essential in terms of time saving (a single gesture is enough to densify the lashes) and longevity of the formula (we know that the more we dip the brush in the bottle, the more air we let in and the more it dries out). The one-hundredth of a millimetre implantation of the pins and the conical end of the brush offer a volume result without overdose and a homogeneous distribution of the material.
This new generation tool is the subject of massive industrialization out of the ordinary. Thanks to the implementation of a production line co-designed and applied to six machines, Chanel and Erpro 3D Factory will produce 50,000 brushes in 24 hours, 250,000 brushes per week, or up to one million brushes per month. All follow a process all the more rigorous as the product is intended for the sensitive area of the eye: analysis of the raw material, preparation of the powder, polymerization of the powder by laser beam, cooling of the brushes, cleaning according to a process specific to Chanel, rinsing, quality control and mechanical tests. Everything has been put in place to guarantee indisputable performance and safety.
"A milestone has been reached in 3D printing. The production line we have developed with Chanel allows perfect reproducibility in the absence of a mould. It offers more freedom, flexibility and responsiveness for mass production. This is the factory of the future", explains Cyrille Vue, CEO of Erpro 3D.
Tomorrow, Asia and the rest of the world will in turn benefit from this innovative technology, which is beginning a new generation of mascaras. Last point: futurism does not exclude elegance because the black bottle with a brushed finish is a real jewel!
Flexible brushes and dark red tints…
Inspired by professional make-up artists who often fold the brushes backstage to work more precisely the small lashes at the outer and inner corners of the eye, these flexible mascaras easily catch all lashes and allow a clean and precise result from root to tip. Thus, with the same brush, two positions and a better application angle are obtained:
• Panoram'eyes Mascara Flexible de Nocibé (€16.95)
• Mascara Unlimited from L'Oréal Paris (€15.90)
• Wow Wings Scandaleyes Mascara by Rimmel London (€11.99)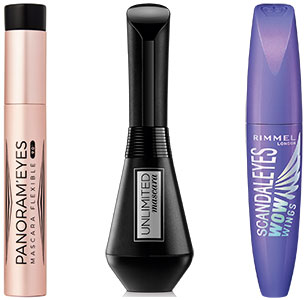 As for Givenchy's latest creation (Noir Interdit Mascara Effet Extension de Cils, €34, limited edition), it concentrates all the trends of the moment: a removable and foldable brush at 90°, a volume without overload or pack, a formula enriched with black rose oil and fortifying vitamin and a bold Dark Red colour, due to a red mother-of-pearl with metallic effects.
Another mascara with a Bordeaux touch: Mr Big Mascara by Lancôme in the Abstract Burgundy shade (€26).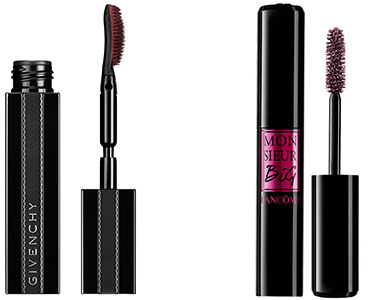 To each his little more
There are care formulas: panthenol and cassie wax for Clarins (Supra Volume Limited Edition Mascara, €30.99), olive oil and carnauba wax for Revlon (Volumazing Mascara, €9.90 at Monoprix).
Here a bright red packaging and a texture that resists humidity: Climax Mascara Volume by Nars Cosmetics (€25).
Or a fortifying formula with reconstituted tear fluid that offers a high tolerance (Toleriane Mascara Multi-Dimensions Allergy Tested by La Roche-Posay, €20).
Or simply a fragrant mascara with sensual notes for a unique olfactory experience (Total Temptation Mascara from Maybelline New-York, €9.90).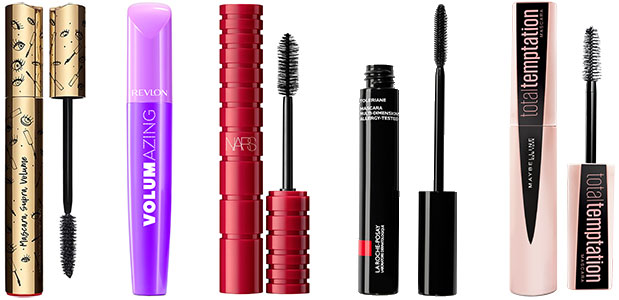 We will have understood it, it is all these small details which take the bet and make it possible to stand out in an ultra-competitive universe.
Ariane Le Febvre
© 2018- 2020 CosmeticOBS