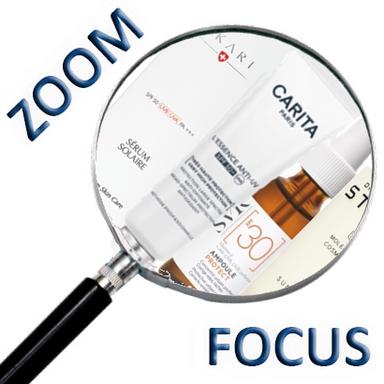 The noblest texture of facial care was previously unexplored in sun care. It must be said that it represents a real galenic challenge! Rich in active ingredients, the sun serum of summer 2020 combines high protection, specific anti-ageing properties and unique sensoriality. A champion of invisibility and transparency, it leaves no white film on the epidermis and encourages women to use a daily SPF on sunny days. A new gesture that will seduce all those who want to preserve the youthfulness of their skin, without altering their complexion.
Their formulation is quite a feat!
As a reminder, sunscreens are 80% fat-soluble (they like greasy substances), which is not very compatible with a fine, fluid and penetrating serum texture, often containing few greasy substances (except for serum-oils).
But it is true that the serum texture today covers many variations.
In addition to serum-oils, we can see ultra-fluid emulsified serums (white) or transparent serums, as liquid as lotions (serum essences).
Not only do these anti-ageing sunscreens prevent premature ageing and hyperpigmentation, but their great advantage lies in their cosmeticity, which is often disparaged in the sun.
With them, we completely forget the masking effect of the usual sun protection products.
Their imperceptible finish also makes them a perfect make-up base.
This is the case of Carita's Anti-UV Essence SPF 50+ (50 ml, €50) whose light, milky texture completely disappears into the epidermis. Not only does it offer very high UV protection, it is also rich in antioxidants and regenerating and firming algae extracts (Alaria Esculenta).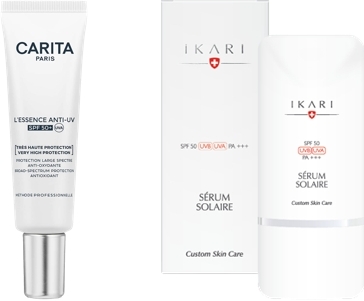 Other technological nuggets are Ikari Sun Serum SPF 50 (50 ml, €46) and Barbara Sturm Sun Drops SPF 50 (30 ml, €125).
Suitable for all skin types and all sunny situations (on the beach or in the city), the latter, described by its creator as a "liquid parasol for the skin", contains an active mixture of antioxidants (vitamin E), hyaluronic acid, beta-Glucan and purslane that strengthen the natural defences of the dermis and stimulate the regeneration of damaged cells.
The latest addition, Ampoule Protect SPF 30 Urban Protective Concentrate from the SVR Dermatological Laboratories (50 ml, €31.90) is an ultra-light dry oil that instantly fuses with the skin and corrects both wrinkles and pigmentation spots. Designed to lift the brakes associated with the daily application of an SPF (sticky, oily, whitening cream…), this ideal urban shield offers triple protection (anti-ageing, anti-pollution and anti-UV).
With a clean formulation without alcohol, nanoparticles or controversial filters, it contains only four sun filters (Diethylamino Hydroxybenzoyl Hexyl Benzoate, Bis-Ethylhexyloxyphenol, Methoxyphenyl Triazine, Ethylhexyl Butamido Triazone).
This new exclusive SVR filtering system with broad spectrum UVB / UVA + visible light + IRA is patent pending. It also contains ingredients that activate collagen production and cellular protectors against oxidative stress and pollutants (vitamin E, watercress extract and schisandra berries that stimulate ATP synthesis and cellular metabolism).
Last but not least, it can be applied over make-up during the day.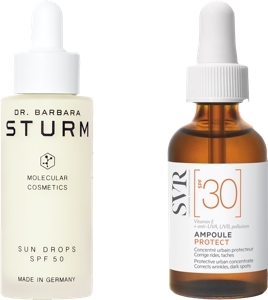 Finally, there is also SkinCeuticals Advanced Brightening UV Defense SPF 50, which helps to prevent as well as reduce existing hyperpigmentation (40 ml, €45).
Its ultra-fluid texture with an invisible finish evokes a serum. Its formula combines a blend of exclusive anti-dark spot actives (1% tranexamic acid, 2% niacinamide) with a broad-spectrum filtration system and mica that instantly evens and brightens the complexion.
Ariane Le Febvre
© 2020- 2021 CosmeticOBS