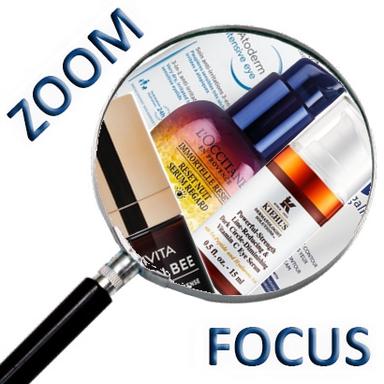 This is a big demand from women ( tiredness around the eyes impacts the whole face), which is why inventive formulas have been developed for this "eye contour" area, with specific care products for the night, draining ceramic applicators or sculpting tools… and of course respect for the microbiome. Eye contour care products are in the spotlight this spring.
Specific night creams eye…
Day or night care? The question deserves to be asked, as the eye contour does not have the same needs in the morning as in the evening.
When waking up, make way for decongestant formulas and fresh textures. At night, the focus is more on "rescue", comforting and regenerating treatments (creams, even oils or serums).
Dr. Pierre Ricaud has thus opted for a night cream with a creamy texture that reinforces the skin's microbiome (Contour Yeux de Nuit aux Probiotiques, 15 ml, €25), Merme for an oil dedicated to the contours of dry, marked eyes (Advanced Eye Therapy Contour des Yeux Thérapie Intensive, 10 ml, €38, at Oh My Cream), and L'Occitane for a serum (Immortelle Sérum Regard Reset Nuit, 15 ml, €54).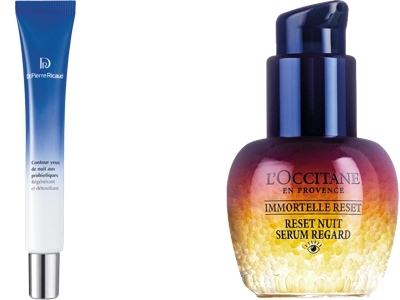 "Sharp" anti-ageing care and textures that illuminate the eyes
Anti-ageing concentrates all expectations.
Here the word "serum" reigns, as in Erborian's latest skincare product (Yuza Sorbet Eye, Radiance Eye Serum with a relaxing effect, 15 ml, €35), or those of LimeLife by Alcone with a ceramic applicator (Eye Arise Serum Anti-Aging for the Eyes, 15 ml, €74), Kiehl's (Powerful-Strenght Line-Reducing & Dark Circle-Diminishing Vitamin C Eye Serum, 15 ml, €43) or Dermalogica (Biolumin-C Eye Serum, 15 ml, €76).
These last two vitamin C formulas also lighten the eyes and reduce pigmentation spots (a growing demand because spots are a sign of fatigue!).
Beehive products are on the rise, as in Apivita's Queen Bee Holistic Anti-Aging Eye Contour Care with Royal Jelly Liposomes (15 ml, €49.90), or Guerlain's Royal Bee Eye Cream Multi-Wrinkle Correction with exclusive Ushant Island Honey (15 ml, €100). This one has just been reformulated with 94% ingredients of natural origin and a 30% lighter glass packaging. It targets wrinkles, fatigue, loss of firmness and pigmentation spots.
Its unique texture with a cataplasm effect is melting on the skin, making it easier to massage.
It can also be used as a mask in the evening in a thick layer.
Other global and luxurious anti-ageing formulas are Dr Barbara Sturm's Eye Cream (15 ml, €115), Sisley's Black Rose Eye Contour Fluid (14 ml, €110) and Maison Flamel's Smoothing Eye Contour Cream (Crème Contours Cu²+, 15 ml, €107).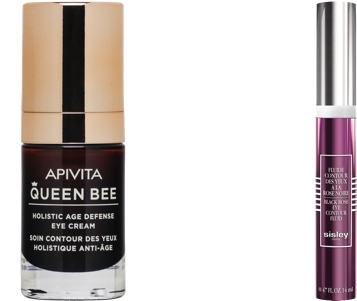 Sisley focuses on anti-fatigue with micro-pearls that illuminate the eye contour area, a cold ceramic tip and an aqueous extract of Black Rose that improves skin texture and smoothes the surface of the eye contour area, allowing it to better reflect light.
Maison Flamel gives pride of place to coppery mineral pigments that correct bluish circles and to the quick break texture that breaks up in water, releasing an aqueous freshness upon application.
24H formulas
Here we find Gallinée's Eye Contour Cream (15 ml, €24), or the Biome Firming Eye Contour Cream in Dr Jart+'s Vital Hydra Solution range (20 ml, €35), both of which reinforce the cutaneous microbiome (see our article "New on the biome friendly cosmetics front" of March 3rd).
Another trend is facial care that can be applied around the eyes (a habit that many women have adopted!), such as the new formula of Mystérieux Repulpant, Sérum Concentré Anti-âge Global Visage & Yeux by Garancia (30 ml, €58.90) with a "silk gel" texture.
Draining tools
Several brands offer them to massage the eye contour and optimize the effectiveness of the treatment, such as Cha Ling (Duo Eye Cream 15 ml + Resculpting Tool, €85), Erborian (Eye Spatula, €9.50), Jade Roller (Jade Gua Sha, €24.90), or the jade anti-dark circle roller from Inc.Redible (Need a Wake Up Call, €12 at Sephora), which reduces swelling around the eyes and can be applied over makeup.
Sensitive eyes are not forgotten
One person in three is affected by eyelid inflammation, says Bioderma.
The fold of the eyelids forms an area where potentially allergenic residues and dust easily accumulate (cosmetics, contact with shampoo and conditioner, nail polish…).
Highly exposed, the eyelids are prone to irritation (which can lead to palpebral eczema), especially since we touch our eyes up to 100 times a day, as we are constantly reminded by the health crisis we are going through.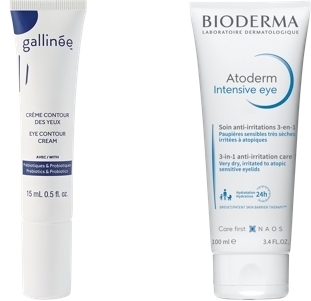 Dedicated to very dry, irritated to atopic sensitive eyelids, Atoderm Intensive Eye by Bioderma (tube airless™ with pouch and anti-reverse system 100 ml, €16,90) is an original multi-purpose care that moisturizes, soothes, repairs and… removes make-up from sensitive eyes!
In contrast to the products mentioned above, it simplifies the routine.
Ariane Le Febvre
© 2020- 2021 CosmeticOBS